Back to News
Play: Street League Skateboarding Courses in True Skate - the Official Mobile Game of SLS
June 27, 2014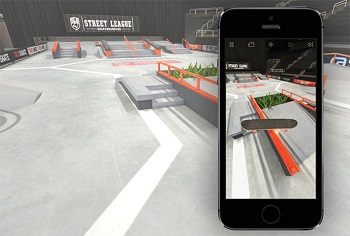 Play Street League Skateboarding Courses in True Skate - the Official Mobile Game of SLS
Launching today, True Skate is available for download from iTunes, Google Play and the Amazon Appstore for Android.
Press Release from Street League Skateboarding
We're excited to announce the official Street League Skateboarding mobile game is True Skate. Easily the most authentic skateboarding mobile game ever, this game has been keeping our fingertips busy for days.
Launching today, True Skate is available for download from iTunes, Google Play and the Amazon Appstore for Android. Download your copy today and make sure to grab the $1.00 in-app purchase of the Street League Skateboarding Kansas City course and rip it like your favorite SLS Pros.
Long term plans to create an authentic, near real life Street League experience. Including easy-to-follow, ISX™ instant scoring format, the same scoring format used to judge the SLS Pros during each SLS contest, in True Skate giving users the ability to compete in their own virtual SLS Nike SB World Tour. Plans to replicate SLS Pros actual skate tricks as they did them in SLS contests is also a long term vision for the True Skate.
---