Back to News
SHMOOZ: Secure Your Spot for the Shmooz at Agenda
July 1, 2014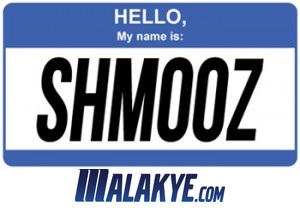 Malakye.com Presents the Shmooz at Agenda on July 11, 2014
The Shmooz is Back! Malakye.com's Career Fair & Professional Networking Event will be held at the Agenda Show in Long Beach, Calif. Don't miss out on this amazing (and free) event!
Event Details from Malakye.com
Manhattan Beach, Calif. (June 30, 2014) – Malakye (http://www.Malakye.com/), the leading careers website for professionals and companies in lifestyle-driven industries, presents the Shmooz at Agenda in Long Beach on Friday, July 11th, 2014, from 11am-4pm.
Malakye is excited to return to the Long Beach Convention Center this summer to host this FREE event that caters to the action sports and streetwear industries. The Shmooz will bring together some of the industries' most coveted brands to meet with talented and enthusiastic job seekers for current and / or future job opportunities.
"We have a great group of really strong companies on board. I hope everyone who comes out is ready to enjoy a relaxed environment to have a chat with prospective employers and peers. I'm ready to enjoy! And will be on-hand at the Malakye table to talk job search strategy." – Chad Mihalick, Malakye.com
Industry leading employers already committed to exhibit at the Shmooz include: Braven, Rastaclat, Quiksilver, Fox Head, Oakley, Pacific Sunwear, Asics, Zumiez, Jenson USA, Bamboo Skateboards; with the possibility of more to be announced prior to the event. These companies will be recruiting talented individuals for a wide range of positions, including sales, marketing, graphic design, retail, product design & development, and more.
Join us! Companies interested in participating can contact Chad Mihalick ([email protected]) or Ashlee Stater ([email protected]) for details.
Register! Job Seekers who wish to attend can order tickets on EventBrite – register now for FREE.
Get involved! Get the conversation started on Facebook, Twitter and Instagram by hash tagging #Shmooz and tagging @malakyecareers. And be sure to stay connected by joining the event page.
About Malakye.com
Malakye.com, based in Manhattan Beach, Calif., provides the lifestyle-driven industries with services in employment, recruitment and business & industry news. Throughout Malakye.com's 10-plus year history, the company has provided a platform to connect passionate jobseekers with companies looking to hire in action sports, the outdoors, fitness, cycling, power sports, and beyond!
Learn more about the company at: www.Malakye.com
About the Shmooz
The Shmooz is Malakye.com's version of a Career Fair and Professional Networking Event. The Shmooz features leading employers from the lifestyle-driven industries and is well-known for bringing together some of the most coveted brands in the industries to meet enthusiastic jobseekers with both the skill sets and mindset that would make them excellent candidates for positions within these unique organizations.
Learn more about the Shmooz by viewing a quick video recap at: vimeo.com/59123388
For any questions or for more information, please contact [email protected] or [email protected]
---