Back to News
SURF: Big Wave Event Live, Thursday in Peru
July 1, 2014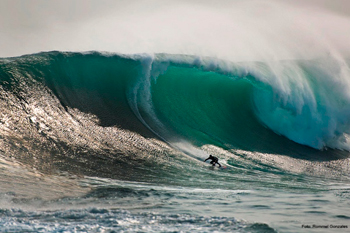 Green Alert: Big Wave Event Live, Thursday in Peru
With a giant ocean swell projected, Billabong Pico Alto will stream LIVE on Thursday, July 3, starting at 7:00am PST.
Press Release from ASP
Flights are booked, and boards are shipped. As a projected 35-to-40-foot ocean swell moves toward South America, the ASP Big Wave World Tour (BWWT) has called a green alert for the Billabong Pico Alto, Peru. The event, which will be the first of the 2014/2015 season, is set to start Thursday, July 3, at 7:00 AM local time (PET)/5:00 AM PST, and will stream LIVE on this site.
"The system has intensified off of Antarctica with ideal conditions projected for Peru," said BWWT Commissioner Peter Mel. "After closely monitoring the data and charts of the past couple of days, we have determined that Peru will have the ideal elements necessary for this particular swell. We're excited. It's on."
The 2014/2015 BWWT season is divided into seasonal holding periods in the Southern Hemisphere and Northern Hemisphere, with three possible events in each. Forecasters discovered a storm heading toward South America, and put BWWT competitions in both Chile and Peru on Yellow Alert. With the positive developments closer to Pico Alto over the last 24 hours, Mel put Chile back on standby, and gave the go-ahead for Peru.
"We have the best big wave surfers on the planet traveling to Peru from all over the world in anticipation of this swell and the event," Mel continued. "The last time we ran the event there was in 2012 and Carlos Burle, of Brazil, was victorious. The swell we have forming for Thursday's event will provide an incredible platform upon which these watermen will test their skills."
A team of experts tracks storm systems around the world, waiting for those that will produce waves 30 feet and up, to determine if a BWWT contest will run.
2011 Billabong Pico AltoCarlos Burle (BRA) (left) defeated Frank Solomon (ZAF) for the 2011 Pico Alto title.
Surfline, official forecaster for the 2014/2015 ASP BWWT season, is calling for the following conditions:
The largest swell of the year to date, and one of the more impressive swells of the last couple years, will slam South America over the next few days, with a peak in surf for Southern Peru and Pico Alto on Thursday, July 3rd.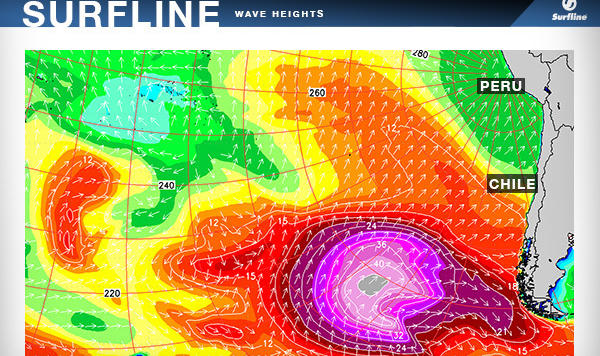 There are several factors that will make this a special swell for Peru and the rest of South America: A large, slow-moving storm that took a favorable track toward Peru and Chile, producing satellite-confirmed wind of 40-55 knots over a wide fetch and seas in excess of 45 feet; strong high pressure on the storm's northwestern flank, which greatly aids the consistency of wind in the storm; and a previously excited sea state.
We will see a very long period, powerful swell produce face heights in the 25-40 foot range on the sets at Pico Alto on Thursday, with some larger bombs not out of the question, with the swell remaining strong all day. Furthermore, thanks to the size and track of the storm we should see lots of waves in the sets when they do show. Local wind will be most favorable in the morning when we expect to see light and variable to light southerly wind early, with building onshore wind from the south around 9-15 knots in the afternoon.
The 24-man field for the Billabong Pico Alto will be comprised of the ASP BWWT Top 12, lead by reigning world champion Grant 'Twiggy' Baker (ZAF), as well as six ASP wildcards and six local wildcards.
ASP BWWT Top 12:
1. Grant Baker (ZAF)
2. Ken Collins (USA)
3. Nic Lamb (USA)
4. Shawn Dollar (USA)
5. Kohl Christensen (HAW)
6. Alex Gray (USA)
7. Greg Long (USA)
8. Ryan Augestein (USA)
9. Anthony Tashnick (USA)
10. Ramon Navarro (CHL)
11. Jamie Mitchell (AUS)
12. Tyler Fox (USA)
ASP BWWT Peru Wildcards:
1 Kelly Slater (USA)
2 Ben Wilkinson (AUS)
3 Makua Rothman (HAW)
4 Jamie Sterling (HAW)
5 Carlos Burle (BRA)
6 Gabriel Villaran (PER)
Local Peru Wildcards:
1 Miguel Tudela
2 Rafael Velarde
3 Kodiak Semsch
4 Tamil Martino
5 Alejo Loret Del Mola
6 Renzo Zazzali
ASP will webcast the Billabong Pico Alto LIVE on Thursday.
---