BACK TO NEWS
EVENT: SIMA Humanitarian Fund to Benefit from Switchfoot Bro-Am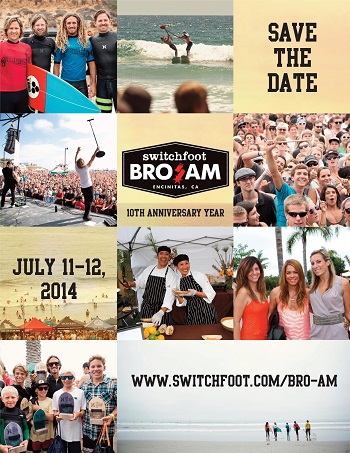 SIMA Humanitarian Fund to Benefit from Switchfoot Bro-Am
The Bro-Am weekend will kick off on Friday, July 11, with an auction night soiree that includes an exclusive, live performance by Switchfoot and more!
Press Release from SIMA
LAGUNA NIGUEL, Calif. (July 1, 2014) – The SIMA Humanitarian Fund has partnered with the Switchfoot Bro-Am as they celebrate the 10th anniversary of their event this July 11 and 12. SIMA will help solicit sponsors, donors, attendees and auction items for the event, and the SIMA Humanitarian Fund will receive a significant share of the net proceeds.
The members of Grammy-award winning band, Switchfoot, created the Bro-Am as a way to give back to the San Diego community while benefiting local children's charities through the funds raised at the pre-event auction night, as well as from vendors on the beach day-of, corporate surf team entries, and sponsorships. This year a portion of these funds will go to the SIMA Humanitarian Fund, whose goal of supporting organizations who are daily making a difference through the use of the ocean and surfing resonate with the efforts of Switchfoot. The 2014 SIMA Humanitarian Fund beneficiaries include AccesSurf, Best Day Foundation, Boarding for Breast Cancer, Cystic Fibrosis Foundation, Jimmy Miller Memorial Foundation, Life Rolls On, Mauli Ola Foundation, Outdoor Outreach, STOKED, SurfAid, Surfers Healing, and Waves for Water.
The Bro-Am weekend will kick off on Friday, July 11, with an auction night soiree that includes an exclusive, live performance by Switchfoot, opportunity drawings, and both a silent and live auction including a live auction painting created on stage by internationally recognized graffiti artist Erik Wahl. The following day is a free daylong beach event presented by Hurley featuring a variety of activities including a charity surf contest, a nerf surf jousting exposition, the Rob Machado Bro Junior, and live performances from Switchfoot, The Futures League, Run River North, Idesia, and Cody Lovaas. The weekend will come to a close with a screening of the band's documentary, Fading West, at La Paloma Theatre presented by Macbeth. Since its inception, the Bro-Am has raised more than $900,000 for San Diego-based children's charities.
In addition to the funds contributed by the Switchfoot Bro-Am, the SIMA Humanitarian Fund will continue to raise funds through its month-long Stokes Me campaign this September. The Stokes Me campaign uniquely incorporates surf industry brands, retailers, and consumers throughout the month, raising funds through multiple platforms. This year's campaign will introduce a variety of new aspects on both the East and West coasts; the industry can expect more details soon to come. For more information on Stokes Me and the beneficiaries, visit www.stokesme.org.
About SIMA
The Surf Industry Manufacturers Association (SIMA) is the official working trade association of more than 300 surf industry suppliers. Founded in 1989, SIMA is a non-profit organization that serves to promote awareness of the surf industry and participation in the sport of surfing through public relations efforts and a variety of services, educational programs and research. In addition, SIMA actively supports oceanic environmental efforts through its 501(c)(3) charitable environmental foundation, the SIMA Environmental Fund. In the past 24 years, SIMA's Environmental Fund has raised more than $6.5 million for environmental groups seeking to protect the world's oceans, beaches and waves. The SIMA Humanitarian Fund, also a 501(c)(3) charitable foundation, was established in to award grants to various surf or boardsport related social and humanitarian non-profit organizations whose efforts are focused on improving the quality of life, health and/or welfare of people. Since 2004 the SIMA Humanitarian Fund has raised and donated more than $1.6 million to surf-related non-profit organizations. For more information regarding SIMA, please visit www.sima.com.
About Switchfoot
Switchfoot is Jon Foreman (vocals/guitar), Tim Foreman (bass), Chad Butler (drums), Jerome Fontamillas (keys/guitar) and Drew Shirley (guitar). The Grammy-award winning rock band released their new album, Fading West, which debuted at #6 on the Billboard Top 200 Charts this year. They also released their first feature film, Fading West, across all digital and VOD formats. Part rock documentary, part surf film, and part travelogue, Fading West offers rare glimpses of the longtime surfers on their boards and in the waves, captures the frenetic energy of their live shows, and in the end portrays a journey both epic and intimate. www.switchfoot.com
---