BACK TO NEWS
EVENT: SLS Nike SB World Tour | Los Angeles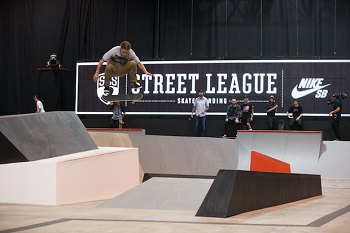 SLS Nike SB World Tour | Los Angeles
The SLS Nike SB World Tour brings the sport's best street skateboarding to a worldwide fan base.
Press Release from SLS
Street League Skateboarding, will host their second stop competition in Los Angeles at the Galen Center on Sunday July 27th. After a historical jaw-dropping show last weekend in Chicago, the 2014 SLS Nike SB World Tour will continue to deliver 25 of the world's best pro skaters competing for the chance to advance to the SLS Nike SB Super Crown World Championship in Newark on August 24.
Congratulations to SLS Nike SB World Tour Chicago champion Nyjah Huston. In addition to the trophy and $100,000 prize purse, Nyjah holds a "golden ticket" to the $200,000 Super Crown World Championships in August. With one more event before the SLS Nike SB Super Crown World Championship, is 2014 the year that Nyjah sweeps the season?
The 2014 SLS Nike SB World Tour brings the sport's best street skateboarding to a worldwide fan base with each star competitor seeking to win the Super Crown Championship and further cement their spot in skateboarding history -- and we invite you to be a part of this momentous event.
EVENT INFO: GALEN CENTER | 7.27.14 | BUY TICKETS
11:00AM PT – Outdoor Expo open to public
12:40PM PT – Arena doors open
1:40PM-4:20PM PT – Prelims (live webcast)
4:20PM-5:00PM PT – Intermission / fan entertainment / pro practice
5:00PM-6:30PM PT – Final (live on: FOX Sports 1, FOX Sports GO mobile app, international webcast)
6:35PM-6:55PM PT – Diamond Supply Co. Presents #DIAMONDLIFE Afterparty Jam Session (live webcast)
Fans across the country can catch the SLS Nike SB World Tour on Fox Sports 1 and FOX Sports GO, as well as the official Street League webcast on StreetLeague.com.

---