BACK TO NEWS
EVENT: SLS Nike SB World Tour Lands in Los Angeles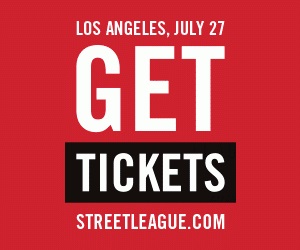 SLS Nike SB World Tour Lands in Los Angeles
This Los Angeles event determines the final eight skateboarders for 2014 SLS Nike SB Super Crown World Championship
Press Release from Vocal NYC
LOS ANGELES, CA (JULY 15, 2014) — The 2014 SLS Nike SB World Tour is set to take place in Los Angeles on July 27 at the Galen Center at USC, and with just one more event remaining in the season, skater performance here will determine the roster for the $200,000 SLS Nike SB Super Crown World Championship in August. With such a high standard of skating across the board and just a few points separating those at the top of the Tour Rankings, the pressure to progress into the Finals will ensure a competition elevated to levels that will surprise the competitors themselves.
The skater's next opportunity at a win is in the skate mecca of Los Angeles, after which only the eight best of the season progress through to the Finals. With Luan Oliveira and Shane O'Neill having skated amazingly in Chicago to land spots on the podium, and Luan being just a tenth of a point short of claiming Nyjah Huston's win, we can expect both to pull out the hammers for an even more impressive performance in Los Angeles. Although 2013 SLS Super Crown World Champion, Chris Cole, hasn't seen a win this season, his mind-blowing performance that sealed his title as Champ last year could yet reappear for his continuation onto the Finals in Newark. His main concern for the title last year, Paul Rodriguez, has been gaining momentum through this season, and as with seasons past, could easily come out strong to take the Los Angeles event by storm. What's most uncertain, for both athletes and fans alike, are the rookie wildcards such as Matt Berger that have advanced into the Tour from SLS Monster Energy Pro Open that kicked off the season. As is so common in skateboarding, it is the unknown young gun skating out of the public spotlight that breaks onto the scene to outshine the rest. With a $100,000 prize purse and express "Golden Ticket" straight to the Finals to be earned, skateboarding can expect a lot from the SLS Nike SB World Tour event in Los Angeles.
"This year's tour is picking up incredible energy heading into the Los Angeles event at the Galen Center", say's Brian Atlas, President of Street League Skateboarding. "Not only did we see the last event in Chicago come down to the final trick with Shane and Luan battling Nyjah at the highest level, we saw the new blood from the Pro Open skate at an elite level as well. All in all, the entire group of SLS will go all in at this stop because it is the final chance to qualify to the Super Crown World Championship. It should be one of our best events yet."
Continuing as the only enduring competitive platform for professional street skateboarding in Los Angeles, the SLS Nike SB World Tour will completely transform the USC's Galen Center with a custom built, one-of-a-kind concrete skate plaza. Constructed on-site by California Skateparks, Street League's innovative courses are a skateboarder's dream; complete with creative transitions, challenging ramps, and unforgiving steel handrails. Each street course built is completely different than the last, ensuring constant progression for the contest and added excitement for the fans. To win, the world's most elite skateboarders not only have to conquer these challenging obstacles but also continually one-up their competitors with trick difficulty, consistency and style. It is this unique format and the clarity of the ISX scoring system that continues to draw unprecedented appreciation of skateboarding from both the skate and broader communities alike.
REMAINING SLS EVENT DATES AND VENUES:
• July 27: SLS Nike SB World Tour: Stop 2 | Galen Center at USC | Los Angeles
• August 24: SLS Super Crown World Championship | Prudential Center | Newark
The SLS Nike SB World Tour airs on FOX Sports 1 and FOX Sports GO, in addition to the official live webcast on www.streetleague.com.
FOX SPORTS 1 TELECAST SCHEDULE:
• SLS Los Angeles: LIVE: Sunday, July 27 (8:00 PM ET – 9:30 PM ET)
• SLS Super Crown World Championship: LIVE: Sunday, Aug. 24 (9:00 PM ET – 10:30 PM ET)
The Finals of the SLS Nike SB World Tour in Los Angeles will air live on FOX Sports 1 and FOX Sports GO on July 27 at 8:00 PM ET.
Live coverage including the pre-show, as well as practice and prelims, will be webcast on www.streetleague.com, www.foxsports.com, and the FOX Sports GO app on July 27.
Following its inaugural season with presenting partner Nike SB, Street League Skateboarding continues to elevate competitive skateboarding and grow its audience. A new partnership with FOX Sports 1 expands Street League Skateboarding's live television coverage throughout the United States and abroad.
For more visit information visit www.streetleague.com. For all media inquiries contact Sarah Bronilla at VOCAL: sarah@VOCALnyc.com
About Street League Skateboarding
Street League Skateboarding (SLS) is the first-ever professional league for street skateboarding. The SLS season features 25 of the world's most exciting skateboarders competing in an easy-to-follow, ISX™ instant scoring format on one-of-akind concrete skate plazas, all for the largest prize purse in skateboarding history. Each arena stop of the 2014 SLS season will air live on FOX Sports 1 and FOX Sports GO with a live international webcast on Streetleague.com. For more information, visit www.streetleague.com and follow @streetleague
About Nike SB
Nike SB is dedicated to serving skateboarders, delivering product innovation and creating new consumer experiences. Since 2001, Nike SB has supported a diverse team of inspirational pros and upcoming amateurs who continue to meet the demands of a constantly evolving sport. With influence in all corners of the world, Nike SB is uniquely suited to bring skateboarding to new audiences and grows the sport globally. Based at Nike headquarters in Beaverton, Oregon, Nike SB is obsessed with finding new ways to support the skateboarder by championing innovation and individuality. For more information, visit www.nikeinc.com and follow @NikeSB.
About FOX Sports
FOX Sports is the umbrella entity representing 21st Century FOX's wide array of multi-platform US-based sports assets. Built with brands capable of reaching more than 100 million viewers in a single weekend, FOX Sports includes ownership and interests in linear television networks, digital and mobile programming, broadband platforms, multiple web sites, jointventure businesses and several licensing partnerships. FOX Sports includes the sports television arm of the FOX Broadcasting Company; FOX Sports 1; FOX Sports 2; FOX's 22 regional sports networks, their affiliated regional web sites and FSN national programming; FOX Soccer Plus and FOX Soccer 2Go; FOX Deportes and FOX College Sports. In addition, FOX Sports also encompasses FOX Sports Digital, which includes FOXSports.com on MSN, FOX Sports GO, Whatifsports.com and Yardbarker.com. Also included in the Group are FOX's interests in joint-venture businesses Big Ten Network, BTN 2Go and STATS, LLC, as well as licensing agreements that establish the FOX Sports Radio Network.
---