BACK TO NEWS
Industrial Profile
7/23/2014
Daniel Dhers, Founder and Owner of DDASC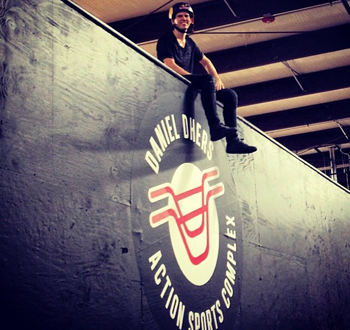 Daniel Dhers, Founder and Owner of DDASC in Holly Springs, NC
Daniel Dhers is a five time X-Games gold medalist, a premiere Red Bull athlete and the founder and owner of the Daniel Dhers Action Sports Complex in Holly Springs, NC. Daniel grew up in Venezuela and started riding BMX at the age of 12. He spent four years riding mainly as a hobby before moving to Argentina at the age of 16, where he was surrounded by a crew of better riders to learn from and emulate, and where he had access to nicer parks and more modern gear.
Daniel turned pro after a quick and fruitful adolescence and eventually moved to North Carolina to train and compete; where he has since gone on to lead a successful career on the pro circuit. He hatched the idea for the Daniel Dhers Action Sports Complex late in December 2012 and spent 18 months creating his dream training facility with the help of his business partners, Chelsea Nolander and Abel Zalcberg. The DDASC is an indoor/outdoor mecca for BMX riders, mountain bikers, skateboarders and more. The family-friendly complex is open year-round and features a street plaza, a foam pit, a pump track, half pipes, a beginner's area, bike shop, on-site medical and more!
"Ultimately, my legacy will encompass much more than my riding," states Daniel Dhers on ddasc.com. "It will include the building of action sports facilities around the world and inspiring young people to follow their dreams."
We interviewed Daniel Dhers, founder and owner of Daniel Dhers Action Sports Complex, to get the scoop on life in North Carolina. We asked him about how he got the idea to open a sports training facility, why he wound up in North Carolina via South America and much more – check it out!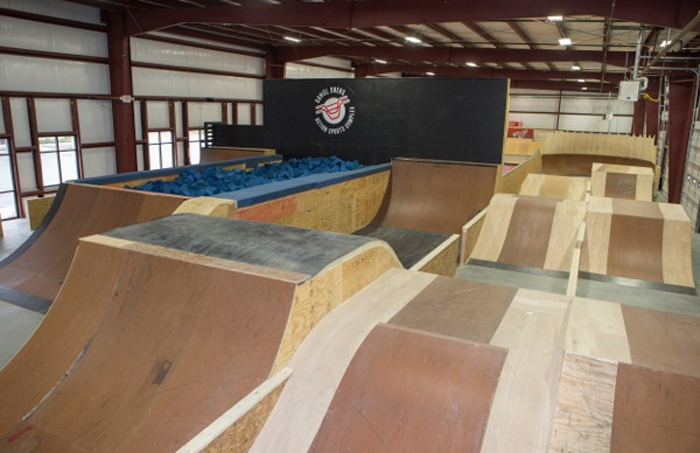 What has the response been from the local community since opening DDASC in May?
The response has been amazing. On opening day we had over a thousand people come out - BMXers, mountain bikers, skaters and their friends & family - and we have been going strong ever since. We have had kids from all over the east coast and beyond come out in the first few weeks since we've opened - it's been great!
Why did you decide to create a state-of-the-art training facility?
I wanted to create a facility where any young athlete could feel comfortable riding and the DDASC caters to riders of all skill levels and experience, from beginners to pros like me.
Did you model the complex on any existing facilities?
I've ridden in parks all over the world and I wanted to incorporate the best parts of them all into the complex. I still compete on the pro circuit and needed a place to train, but I didn't want to keep the park for myself or to cater to professionals only. That's why, when we began to design the complex, I wanted to do something that involved all types of bicycles, and wheels in general. We wanted to make the atmosphere friendly enough to where if already know how to ride a bike you can come and try it out. But, if you don't know how to ride, we'll teach you!
Why North Carolina?
I never really thought I would end up in North Carolina but I lived in Greenville for a long time while training and competing alongside Dave Mirra. There was nothing like DDASC in the area at the time and now we get people from all the surrounding states coming out just to try the facility and ride.
Are there plans to expand and open up new complexes?
For now, we're focusing on the facility we have up and running. We are in one of the fastest-growing areas in the country and everywhere I look when I drive around there are kids so I feel that North Carolina was a good choice.
How do you balance your duties with DDASC while you are still competing?
It has been a learning process. I have help from Chelsea [Nolander, DDASC General Manager] and Abel Zalcberg [partner/consultant], who have been living in the area for a long-time, they help me to run the business.
What has been the biggest challenge throughout this journey thus far?
Finding time to ride! As I said, it's learning process, but it's hard to find personal time. Having the complex open has helped!
What has been the biggest reward for you in opening the DDASC?
The growth! Seeing all the kids come out with their parents and learning how to ride has been awesome. Some of them are learning really fast and it's been excited to watch them get better and better.
Follow @DanielDhersASC on twitter and Facebook to stay up to date with all the latest.
---