BACK TO NEWS
EVENT: Etnies Kicks Off #SCOUT It Out Tour
Etnies Kicks Off #SCOUT It Out Tour
The etnies Teams Hit the Road for an East Coast Tour
etnies kicked off a more than 20 retail stop #Scout It Out East Coast Tour that runs from July 25 – Sept. 2 today. etnies will begin the journey in Des Moines, Iowa, venture towards New York and conclude the tour by traveling down the East Coast to Florida. etnies will be grilling out, stopping by local shops, hosting a few skate contests, and giving away some Scouts along the journey. Check the events section on etnies.com for all of the details.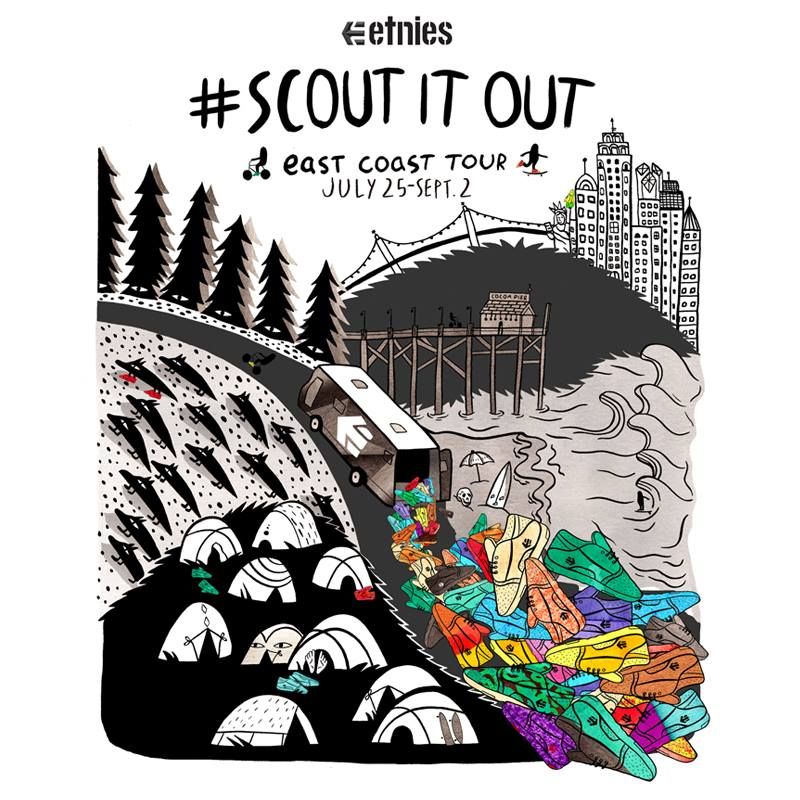 The following riders from the etnies skate, surf and BMX teams will be present at select stops:
• BMX: Tom Dugan, Aaron Ross, Chase DeHart, Nathan Williams and Tony Hamlin
• SKATE: Ryan Sheckler, Tyler Bledsoe, Julian Davidson, Nick Garcia, David Reyes and Aidan Campbell
• SURF: Parker Coffin, Conner Coffin, Pat Schmidt, Jeff Lukasik, Noah Wegrich and Luke Marks
#Scout it Out Tour Schedule
7/25 - Subsect, Des Moines, IA
7/26 - Reality Check, Dubuque, IA
7/27 - Shred Shop, Skokie, IL
7/28 - Moto Xtremes, West Harrison, IN
7/29 - Cosmic/Florence Outdoor Park, Florence, KY
7/29 - Galaxie, Newport, KY
8/04 - Action Wheels of PA, Bethlehem, PA
8/05 - Efinger Sporting Goods, Bound Brook, NJ
8/07 - 5050 Skatepark, Staten Island, NY
8/09 - Wooden Wheels, Newark, DE
8/11 - Pitcrew, Frederic, MD
8/12 - Vu Skate Shop, Baltimore, MD
8/13 - Nocturnal/Kinetic/Reign, Philadelphia, PA
8/16 - Homage, Brooklyn, NY
8/17 - NJ Skate Shop, Hoboken, NJ
8/19 - Pedal Pushers, Severna Park, MD
8/21 - 8/24 - ECSC, Virginia Beach, VA
8/31 - Sunrise Surf Shop, Jacksonville Beach, FL
9/01 - SB Skate Shop, Jacksonville Beach, FL
9/02 - Cocoa Beach Skate Park, Cocoa Beach, FL
The etnies Scouts are the go to footwear for any occasion. The shoe is lightweight, flexible, and comfortable, which makes it the perfect companion to keep the spirit of every adventure alive. The path is yours to choose, and the Scout is there to guide you along the journey.
Keep the conversation going with this hashtag: #Scoutitout
Connect with etnies on: etnies.com
Facebook: facebook.com/etnies.
Instagram: @etniesskateboarding and @etnies
Vimeo: https://vimeo.com/etniesvideo
Twitter: @etnies
---