BACK TO NEWS
B$Z: Skullcandy Launches Product for Fitness and Performance Market
Skullcandy Launches Product for Fitness and Performance Market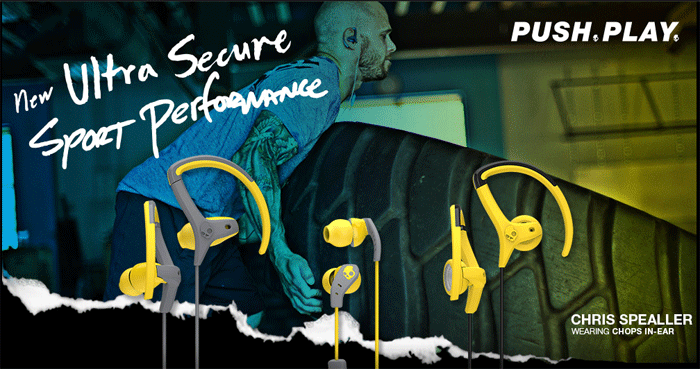 Today, Skullcandy, Inc. (Nasdaq: SKUL) the original performance lifestyle audio brand, unveils its Sport Performance collection. Tested by the most demanding competitors in the gym, on the field, the slopes and in the streets, Skullcandy Sport Performance (SSP) is designed to provide unparalleled stability to the toughest of athletes who not only enjoy pushing limits, but also spend their days balancing the joy of achievement with the power of play.
Each piece within the Sport Performance collection—consisting of the Chops In-Ear, the Method, and the Chops Buds—is designed to be the ultimate training companion, with no distractions, just the perfect way to deliver your music and motivate you to perform at the highest level. Constructed from the ground up, Skullcandy Sport Performance exceeds the expectations of the most demanding athletes engaged in high-intensity sports, relentless training and grueling conditions while maintaining the perfect balance of stability, fit and comfort.
With lightweight durable construction, sweat resistant (Method) and sweat proof materials(Chops In-Ear) as well as reflectivity and Sticky Gels™—a proprietary innovation that becomes 30 percent sticker (and more secure) than standard gels when you sweat—ensuring that the ear buds not only stay in place during the most intense workouts, but also delivering zero distractions, so the athlete can remain focused on his/her sport.
"When designing Sport Performance, we wanted to create a line of headphones that would withstand the toughest high intensity workout without creating any kind of distraction for the athlete using them," said Hoby Darling, CEO of Skullcandy and avid athlete himself. "The culture surrounding these sort of high intensity workouts has been disruptive in the world of fitness and we really wanted to ensure these buds could withstand relentless strength and conditioning drills. Unmatched stability and next level sweat resistance were two qualities we were going for, and after endless athlete testing, I'd say we nailed it."
Skullcandy's Sport Performance line boasts a myriad of additional product features and technologies that aid in stability and appeal to all types of athletes including; Pureclean, which gives the ear buds a soft touch when you sweat and prevents any buildup of dirt and oils, off-axis and fix technology, that provides an angled fit into the ear and optimized shape to create an unmatched secure fit. Finally, Skullcandy's Supreme Sound produces tonal balance consisting of punchy, powerful bass; warm, natural vocals; and precision highs that sound clean and spacious. All of this in a bud that's engineered for a precise fit no matter how you move or how much you sweat. Because one of the keys to great sound is a snug, reliable fit. Redefining stability to the sport consumer, Sport Performance is designed to provide athletes with zero distractions, allowing for elevated performance levels and offering a sound that will stick with you through it all.
The collection is set to online July 15, 2014 and in-store August 1, 2014 with prices ranging
from $19.99-$49.99.
Follow Skullcandy on social media: @skullcandy, #pushplay #skullcandy
---