BACK TO NEWS
GEAR: NEFF Announces "Disney Villains" Apparel Line Available Exclusively at Tilly's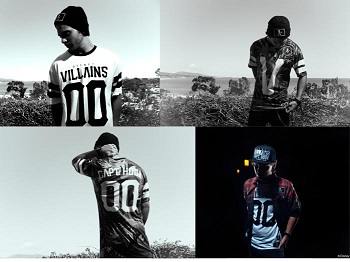 NEFF Announces "Disney Villains" Apparel Line Available Exclusively at Tilly's
This is the first time the Diseny villains get the spotlight in this manner on flannels, snapbacks, socks, and jerseys!
Press Release from Azione PR
Los Angeles, CA (August 4th, 2014) — Neff, a leading active lifestyle brand, is proud to introduce a new apparel line inspired by the "Disney Villains" property. The collection is now available exclusively at Tilly's, in-stores and online. The launch stars the infamous Captain Hook character. !
Each piece in the "Disney Villains" collection features the iconic Peter Pan villain in all his glory. He appears on comfortable and cool hoodies, baseball jerseys, raglan tees, t-shirts, caps, and of course, Neff's one-of-a-kind beanies. In addition, his initials, "CH", are branded on socks, sweatpants, and more. Disney and Neff fans will certainly treasure Captain Hook even more with this line!
Embed Code:
"It's a genuine honor to collaborate with Disney and Tilly's for this collection," says Shaun Neff, Founder of Neff Headwear. "We grew up watching Disney classic films and the iconic characters in these films. It's incredible to get the chance to honor their legacy and the respective histories of these characters through Captain Hook and the Disney Villains collection. Everybody really loves the villain!"
For more info on where to purchase the "Disney Villains" collection, please visit: www.tillys.com !
About Neff
Launched in 2002 by Shaun Neff in Southern California, Neff was the first authentic core snow and skate headwear company in the world. Neff is an active youth accessory brand supported by some of the biggest actions sports athletes in the world as well as key personalities across the globe. Neff World Headquarters is located in Camarillo, California and is internationally sold in 45+ countries to select action sports retailers. They also make Neff Vision and Neff Time lines unique collections of stylish higher end sunglasses and watches. Neff collaborates with household names such as Snoop Dogg, Deadmau5, Kate Upton and Scarlett Johansson. www.neffheadwear.com

---