Back to News
GEAR: Introducing SMITH's Fall 2014 Sunglass Line
August 5, 2014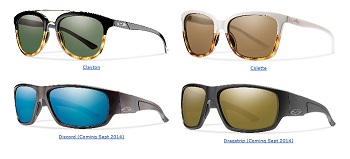 Introducing SMITH's Fall 2014 Sunglass Line
SMITH continues its commitment to delivering the world's best optical experience by introducing seven new frames with ChromaPop lens options.
Press Release from SMITH
KETCHUM, ID (August 5, 2014) - SMITH changed the way thrill seekers see the world when it introduced ChromaPop™, the world's most advanced polarized lens. Delivering a unique combination of patented polarization and color management technologies, ChromaPop provides exceptional clarity, high contrast, dynamic color optimization and reduced eye fatigue. Since its debut last year, SMITH continues its commitment to delivering the world's best optical experience by introducing seven new frames with ChromaPop lens options.
Designed with avid fishermen and water enthusiasts in mind, the new Wayward, Dockside and Outlier TI frames are each available exclusively with ChromaPop lenses and ChromaPop sun RX.
Strong on style for the fashion-minded thrill seekers, the new Clayton, Colette, Discord and Dragstrip frames are available with ChromaPop, polarized, non-polarized lens options or sun RX.
Come check them all out at Outdoor Retailer, Summer Market August 6-9, 2014 (Booth #30026E). All new frame styles with ChromaPop lenses (MSRP $209-269) debut at retail and online at smithoptics.com in August 2014.
About ChromaPop
ChromaPop is SMITH's proprietary color optimizing lens technology that is engineered to enhance color and increase visual clarity. By blocking light wave intersections that create color confusion for the brain, ChromaPop lenses ultimately enable you to recognize true color, faster. The result: increased depth and detail of objects, while reducing eye fatigue. Constructed of Trivex material - a common lens offering in the optical market - ChromaPop lenses provide the durability, impact resistance and lightweight properties of polycarbonate and the optical clarity of glass. ChromaPop lenses are also available in a Sun RX solution.
About Smith
Based in Sun Valley, Idaho, Smith Optics, Inc. was founded in 1965 with the creation of the first goggle featuring a sealed thermal lens and breathable vent foam. Today, Smith is known for its diverse line of sunglasses, snow and motorsports goggles, snow helmets, premium protective eyewear and ophthalmic eyewear. Smith's devotion to excellence, innovation, performance and style has made Smith the choice of action-sport athletes worldwide. Smith products are sold in more than 50 countries through sporting goods and specialty stores. For more information, check out smithoptics.com
---