BACK TO NEWS
TUNE-IN: World of X Games: ESPN Game of SKATE presented by Monster Energy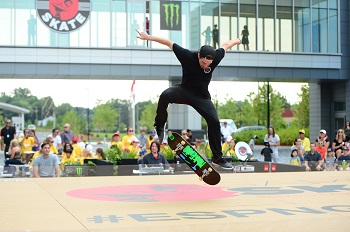 TUNE-IN ALERT: World of X Games: ESPN Game of SKATE presented by Monster Energy
SUNDAY, AUGUST 10 at 5 P.M. ET ON ABC
Press Release from ESPN
Tune into World of X Games this Sunday, August 10 at 5 p.m. ET on ABC for a special one-hour episode on Game of Skate presented by Monster Energy that was recently hosted by ESPN on its Bristol, Conn. campus.
The skateboard contest based off of the classic basketball game of H-O-R-S-E will feature athletes including nine-time X Games medalist, Nyjah Huston, five-time X Games medalist, Chris Cole, X Games Munich Real Street bronze medalist PJ Ladd, Mike Mo Capaldi who won the first Battle of the Berrics, and several more.
In Game of Skate, the first athlete completes a trick and the remaining athletes must successfully complete the same trick. If they are unable to do so, they receive a letter. Once an athlete has spelled out S-K-A-T-E, they are eliminated. The goal is to be the last skater standing.
The World of X Games series features a variety of X Games and athlete-focused content. For the most updated schedule and information on World of X Games, go to www.xgames.com. Check local listings for additional details.
---