BACK TO NEWS
Q&A with Stacy Lowery, Creative Director at Ridgemont Outfitters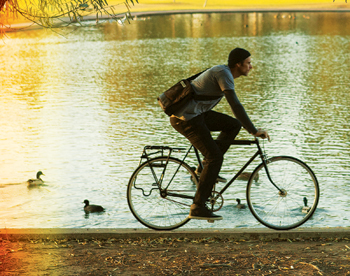 Q&A with Stacy Lowery, Creative Director at Ridgemont Outfitters
After very positive receptions at the 2014 Agenda trade shows in both Long Beach and Las Vegas, Ridgemont Outfitters' long awaited first collection of casual hikers is now making its way to retailers across the U.S. Ridgemont's debut collection of outdoor footwear unites rugged durability with designs inspired by an urban aesthetic and action sports culture, and satisfies the needs of those who want a footwear option that combines the essential technical qualities found in an approach-style hiking shoe with a visual appeal appropriate for off trail pursuits. Ridgemont was founded by footwear and action sports industry veterans Alex Hall and Stacy Lowery. The original concept for Ridgemont was born from necessity after a trip Stacy took to Costa Rica.
"I needed a shoe that could handle a solid day's hike, but I also wanted it to look normal when I went to dinner with my wife," said Stacy Lowery. "The underlying premise with Ridgemont is to create footwear capable of handling tough conditions that you can also wear afterwards without looking like you're preparing to summit Denali."
We caught up with Stacy Lowery, who serves as creative director for Ridgemont Outfitters, to get the scoop on launching a company with a unique take on rugged outdoor footwear.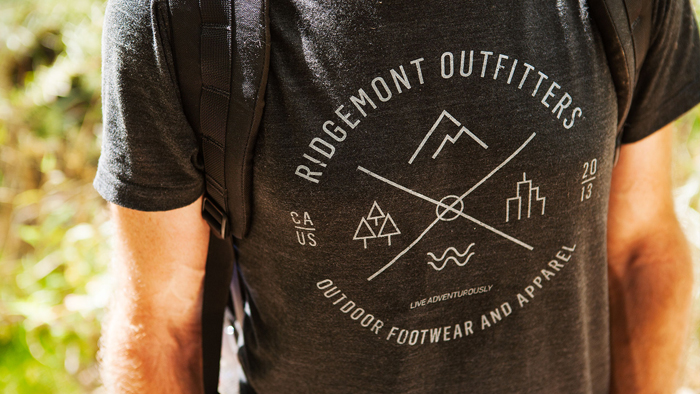 How have the last 18 months been as Ridgemont prepares its debut line of product?
Hectic. Nervous. Exciting. Exhausting. I'm the kind of person that would tweak little details forever, so calling something finished and putting it out there is tough for me. However, I'm very stoked on the product we're now shipping to retail and the feedback so far has been awesome, so we must be doing something right.
What has been the response from retailers, media and consumers?
The media has been very positive and very willing to help us get our message out there. I think that's because we're really unique in this space.
The forward thinking retailers have gotten it right away. If you look at the energy that has happened in the past at shows like OR, it's similar. When some of the action sports guys started showing there, or stand-up paddling made it into the mainstream, there was a massive level of excitement. These brands brought in something different to the traditional outdoor retailer's product mix.
That's what Ridgemont is in hiking footwear. We're very different, but also very appropriate. We're bringing a younger, more fashionable customer through their door that needs a light hiker, but doesn't want to wear something that looks like a hiking boot.
The more forward thinking retailers and the ones with a younger clientele have gotten the Ridgemont concept immediately. And when you look at programs like Agenda's 'The Woods' section, we're in good company in this space.
When did you notice there was a void in the men's footwear market for new school outdoor footwear?
November 2010. Like a lot of guys I know, I just wore skate shoes for everything, including hiking and camping. I didn't really worry about sore feet because my feet hurt all the time from skating anyway. Not to mention the fact that I skated for shoe companies so durability wasn't an issue.
When my wife and I were planning a trip to Costa Rica I was looking for something that could literally take me from the airport, to whitewater rafting, to the rainforest, to the beach and to restaurants and shopping. There are lots of tough shoes that could do it, but I didn't dig the styling, so I went with skate shoes again and threw them away when they were toast and bought more. When I got home I discussed it with Alex. We watched the space, did research, did designs, but sat on it for a while until we were certain we could make it work.
Ridgemont's foundation is building light hikers for guys that want a shoe that they can wear off the trail in their daily lives and not look out of place.Plain and simple.
What are the challenges as an action sports inspired footwear brand launching product targeted for the outdoors industry?
The biggest challenge was finding the middle ground. We're serious about making shoes that are fit for the outdoors, so we worked hard to maintain the silhouette we were after and still have it be rugged enough to survive off road.
The balance was making a shoe that wouldn't leave our consumer with a product they were uncomfortable with for daily use, both in terms of function and style. That's Ridgemont's value right there. The shoes are designed for light hiking, similar to what the industry calls 'approach shoes'. At the same time, aesthetically, they are not going to look out of place when you go walk your dog to get coffee Saturday morning.
What aspects of footwear designed for action sports is being incorporated into Ridgemont's products - where is there overlap, if any?
The most obvious aspect is the vulcanized construction. Vulc construction gives you a very specific silhouette that we're particularly fond of, so we wanted to start there. We won't only make vulc shoes, but leading with that helps set us apart right from the beginning.
Don't let the upper's aesthetics fool you. Ridgemont's shoes are very technical in terms of construction. For example, each model has a composite resin track board, similar to the steel shanks found in traditional hikers. For the type of hiking our gear is intended for, this gives the shoes an increased stiffness, but also allows flexibility that you really don't see in the traditional shoes next to us at retail.

l-r: The Outback and The Rover.
Can you share the differences, as you see it, between the industries?
The outdoor industry is dominated by brands that have been around for decades and have great history and heritage. As a result, things move along pretty slowly. In most respects, that's not bad, but in terms of style you kind of get what you get. For the most part, they're pretty homogenized. Then a brand such as Poler comes along, which is by no means on the level of The North Face, but Poler really shook things up.
An old brand in action sports is 20 years old. Things move very quickly and it's more influenced by youth culture, if not defining youth culture.
Ridgemont's co-founders have interesting backgrounds - how did Stacy and Alex meet?
Alex owned an actions sports distribution company which distributed, then acquired a skate footwear brand called Duffs. I was brought in to help bring Duffs' line back up to date as it had been somewhat neglected over the years. During the course of that relationship we also did various development projects for other brands outside of skate. Alex has a very strong business background. He uses Microsoft Office, if you know what I mean. I'm all Adobe Creative Suite all the time, so we balance out pretty well.
Does working in Long Beach influence design or marketing at all – what are the pros and cons of being based in Southern California?
Definitely. The brand has a Southern California aesthetic, which plays well globally, but it's not a beach vibe, which is Long Beach all the way. I also have lots of very talented friends here who inspire me and help me make things happen. This is a great place to build a brand.
Where do you see room for growth with the brand and the company in general?
We're already developing an outerwear line as well as growing our bag range. We've also had a great response from women so we're looking to add some women's styles to the mix.
Care to add any last words?
Ridgemont is built for those that live adventurously. Their day may include a three hour hike with some friends and then walking across town to grab some beers afterwards. Ridgemont can navigate the airport, city and trail all in the same day and look equally at home in each situation.
Other than that, we're excited to continue the momentum coming out of our second Agenda and through the fall.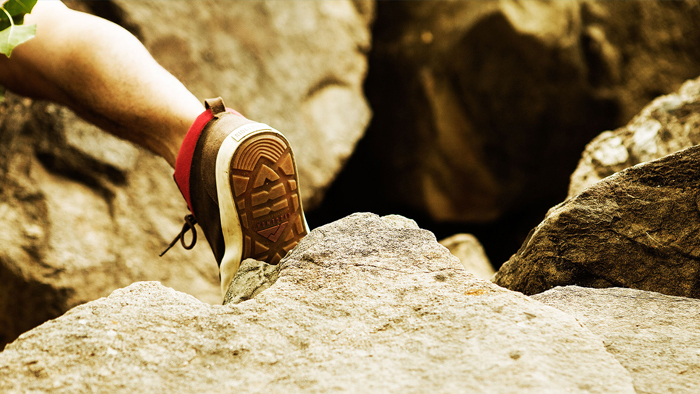 More information on Ridgemont Outfitters can be found online at:
http://ridgemontoutfitters.com/
https://twitter.com/RidgemontOutfit
http://instagram.com/ridgemont_outfitters
https://www.facebook.com/ridgemontoutfitters

---