Back to News
B$Z: K2 Skis and Boots Receive 53 Awards for 2014/15 Winter Line
August 26, 2014
K2 Skis and Boots Receive 53 Awards for 2014/15 Winter Line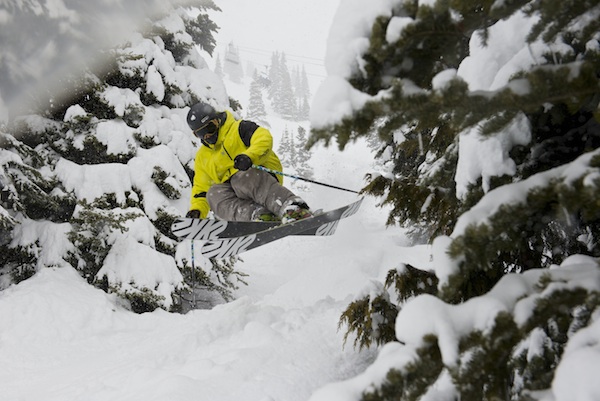 This season's gear reviews are in, and K2 Skis is having a banner year. With a total of 53 awards garnered for its 2014/15 line of skis and boots from the industry's top testers at Outside, Powder, SKI, Skiing, Freeskier, Backcountry and Mountain magazines, it's clear that K2 has impressed the ski world with its new offerings.
The award winning skis came from K2's AMP (All-Mountain Performance), Annex, Shreditor, Potion, Remedy and BackSide collections, all designed with Baseline 2.0, a new comprehensive build process where a ski's top shape is engineered to complement its side profile. The SpYne, SpYre, Pinnacle and Minaret boots also received high praise from testers, reinforcing K2's status as America's All-Mountain brand.
K2's All-Mountain AMP series of skis are made for performance and confidence within the resort boundaries, regardless of the conditions. The testers from Skiing and SKI magazine agreed, awarding top honors to both the AMP Rictor 90 XTi and 82 XTi, the two widest skis in the versatile 10-ski AMP line.
Designed by women, for women, the new Potion series also impressed testers from SKI and Skiing. More than ten years of technological advancements to its female-specific skis resulted in a total of seven awards for the Potion 74 XTi, 76 Ti, 90 XTi and 98 Ti.
K2's Shreditor line received praise for its versatility, performance and overall fun-factor, taking home a total of 10 awards. After riding the Shreditor 102 for a few laps at Jackson Hole, one Powder tester said, "This ski is quick and nimble through tight spots yet stable at speed in the skied-up pow." The popular Annex line, led by the Seth Morrison designed Annex 118, took home nine awards from six top ski industry magazines.
The women's Remedy 102 and 112 Freeride skis were a favorite of testers from Skiing, SKI and On The Snow, proving K2's commitment to versatile and playful female-specific skis. This unique balance is achieved by coupling K2's All-Terrain Rocker with its tapered tip and tail to provide the perfect balance between soft snow float and hard snow edge hold.
With an emphasis on performance while maintaining lightweight construction, K2 has developed a groundbreaking line of touring skis. The BackSide collection, which includes the WayBack, CoomBack and women's TalkBack, was recognized by Outside and Backcountry. The WayBack 96 was given top honors in the touring category. The editors at Backcountry found the new iteration of the CoomBack 104 to be the best yet, commenting, "Thanks to added rocker and tip and tail taper several [testers] noted how easy it was to smear, float and change direction."
K2's All-Mountain and Freeride ski boots once again earned high honors. The All-Mountain men's SpYne and women's SpYre were awarded medals by Skiing and SKI magazine while the men's Freeride Pinnacle and women's Minaret were favorites of Powder, Skiing, SKI and Backcountry. One tester from Powder was especially impressed by the Minaret 100, stating, "The Minaret has excellent lateral stiffness, with a firm and consistent forward flex."
---