Back to News
Mike's Mash | February 15, 2010
February 15, 2010


Michael Akira West is the Owner and Creative Director of 686 Technical Apparel. The following are some of his experiences inside and out of the industry across the globe. *Add Comments at Bottom of Page!
All Things BLUE and YELLOW
February 15, 2010
Being born and raised in America, while having the opportunity to travel the world, I've learned a few things. First off, America is the best country in the world that allows you to have the freedom to do just about anything. There are endless stories of people immigrating to the states who end up fulfilling their dreams. In my opinion, one of the downsides of being Red, White and Blue is that people here tend to become a little too "American-Centric."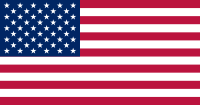 Back in the day when I first traveled to Japan trying to peddle my products, I remember walking around Shibuya, and I saw this one American dude (seemed like he had just gotten off the plane with his preppy attire and evenly parted hair) yelling in English to this one server that they didn't get his order correct. It was an easy mistake that anyone could have made, but the manner he was talking down to the server was demeaning and straight out rude. He later said in English to his fraternity boys that "this would never happen in AMERICA." I was about to come up to the dude and lay into him, but it made me realize that there's a lot of "those" types all over the place. In my world, if you're a visitor in any country; you respect the culture in a manner that suitably fits. For example, try to speak the language or learn to eat the foods or better yet, enjoy the differences and appreciate it. Easier said than done, but it's something I try to live by.
Back to present day and as you know from the hints, I'm in Sweden. I won't get into details, but this is my first time to Scandinavia. The sorry truth is that if you'd ask a typical American what they know about Sweden, they'd probably only tell you that it's where IKEA comes from and that they have hot blond chicks. Shit, I don't think they would even know the colors of the flag (Blue and Yellow) or what Scandinavia means. Maybe it's just me, but hopefully I'll be able to bunk some of the misconceptions.



I'm actually in Gothenberg, which is on the Southwest coast of Sweden and the second largest city outside Stockholm. I'm here to meet with our exclusive distributor and check out some stockists before I head to the ISPO tradeshow in Munich. It's kinda coooold and there's white stuff on the ground.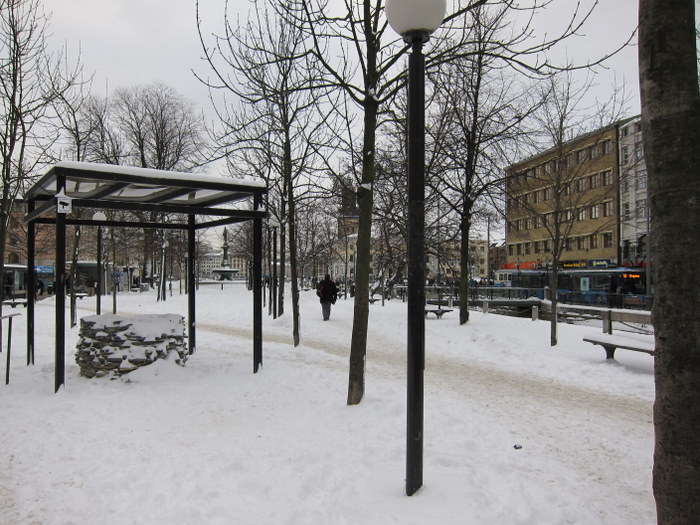 But it's also beautiful.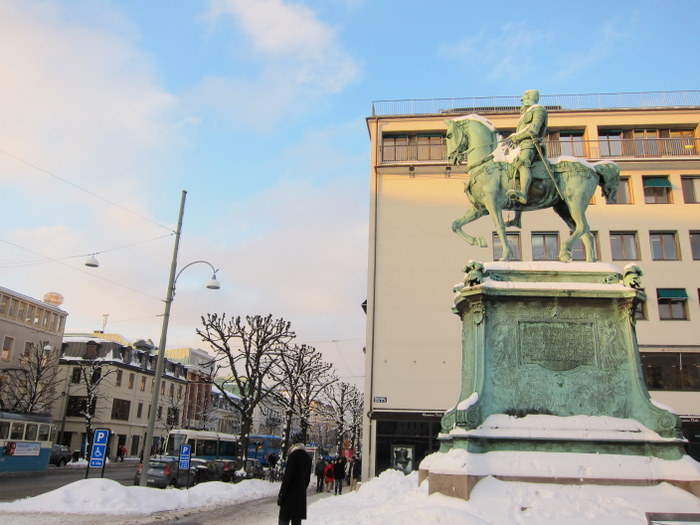 We headed to our distributor's showroom to meet Patrick. He's our main man here, say hello Mr. Flex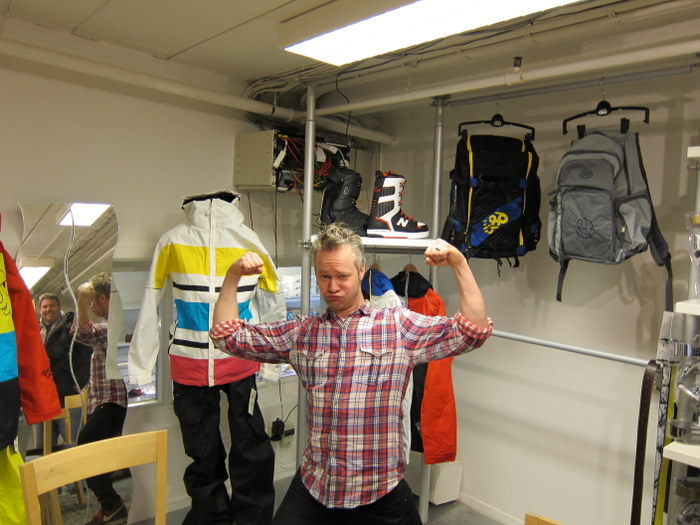 Are you ok P?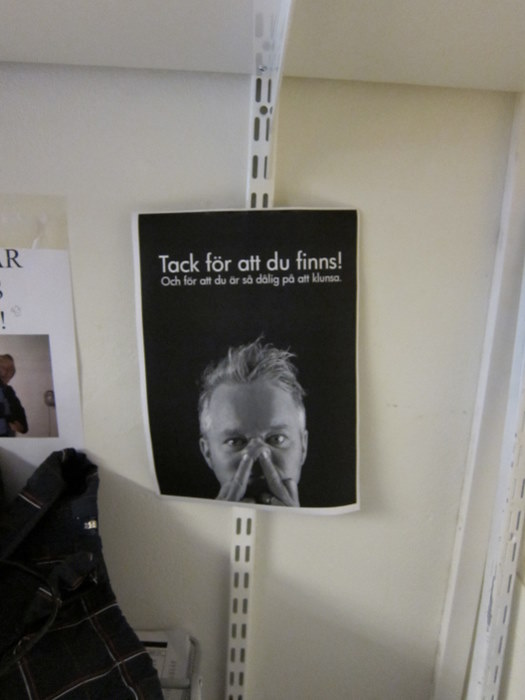 One of his employees is a guy named Gustov. He's young and has some great taste in fashion (his favorite Swedish brand is Acne, just like me... )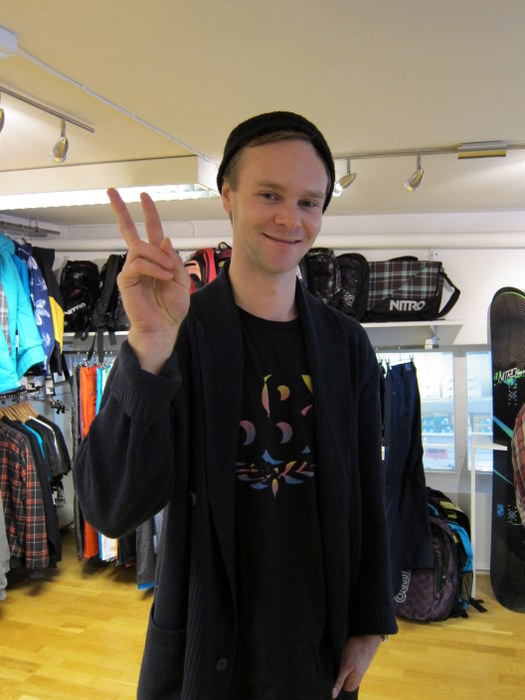 Patrick's showing us one of their web stores that kills it with our goods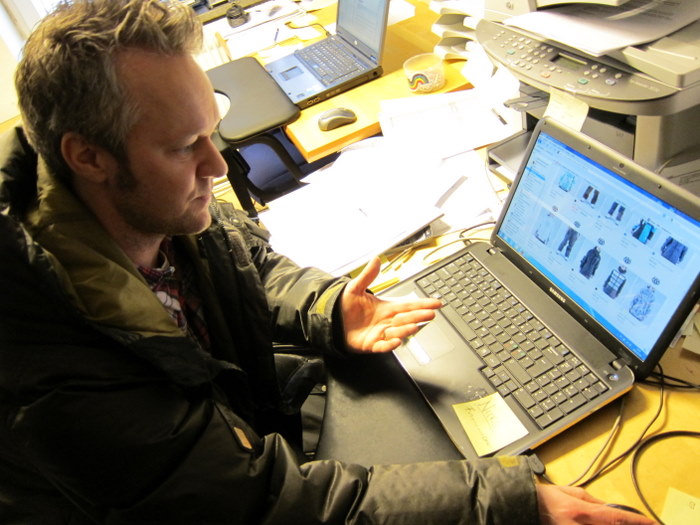 It's also nice to have a photo studio in-house to get them up quick!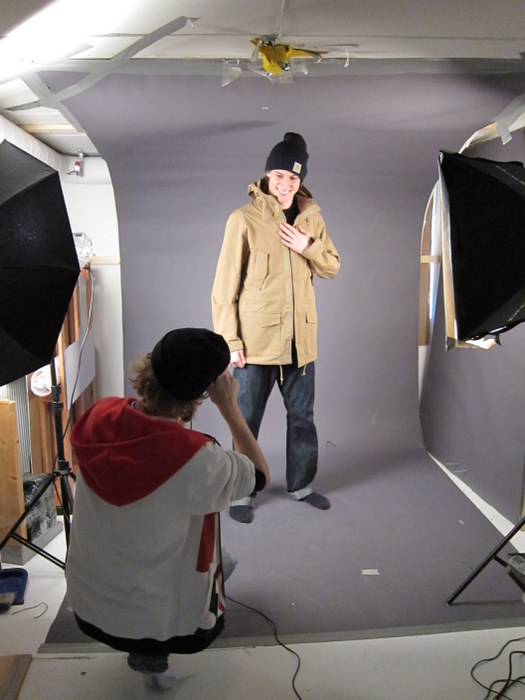 Aight, let's go outside and check things out. In LA, public transportation is not the easiest thing to use, but everywhere else in the world, it's game on. One important note is that pedestrians don't have the right of way outside of the States. I almost got nailed by this bus!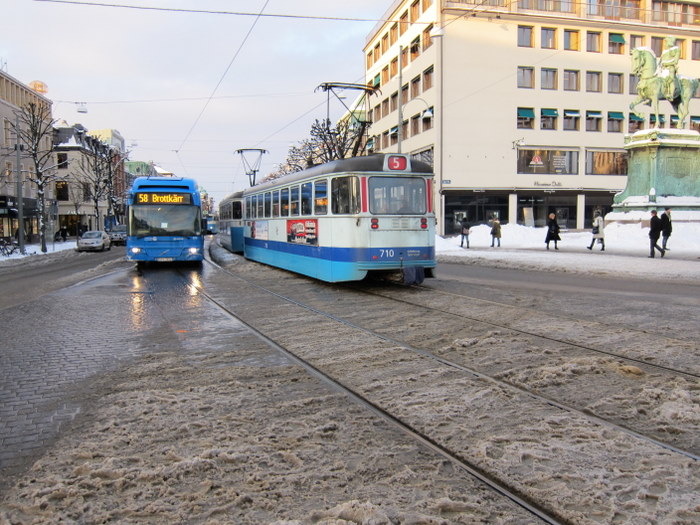 We roamed around the city and checked out random places. I like the feel of the neighborhood shops outside. Live, work, eat, shop style.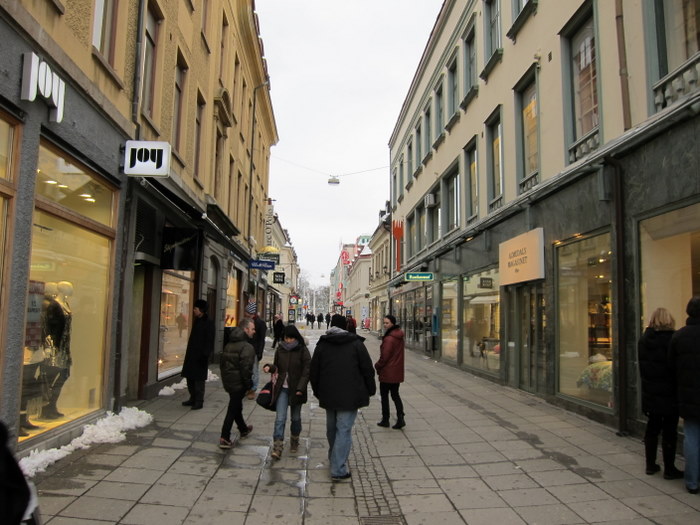 Just like most places in the world, malls are unfortunately filled with American brands like Mickey D's and Starbucks.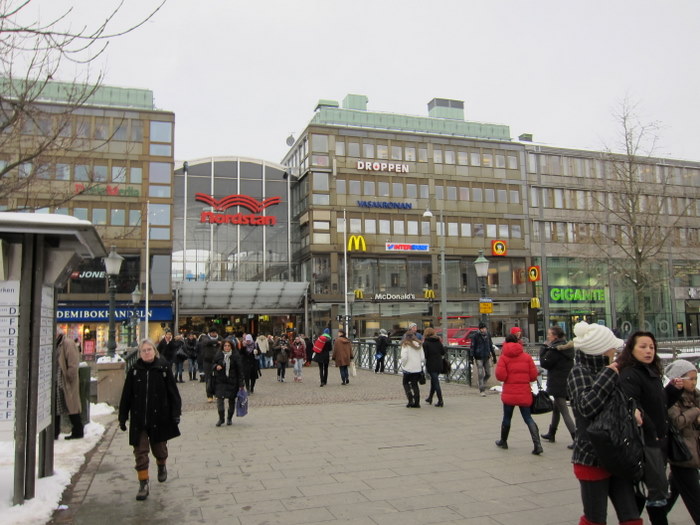 Inside the malls, people are moving and shaking.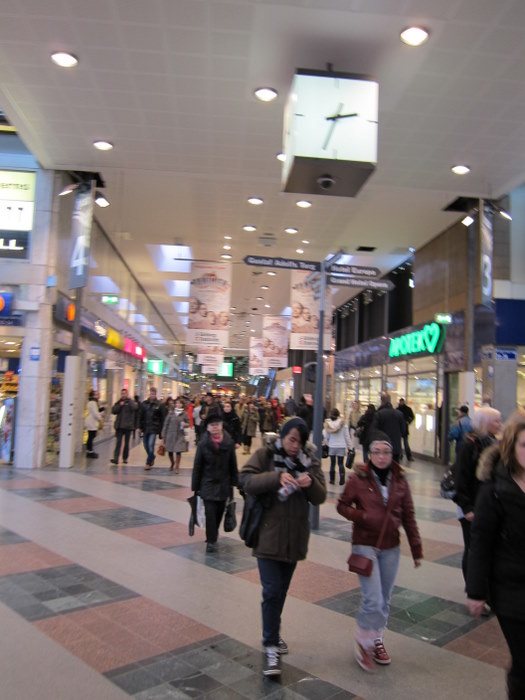 Patrick was showing me stores in different regions. This one place called Stadium XXL was like Sports Authority on steroids, but it was much better (themed like a race track, merchandised to the T with incredible lighting and open space)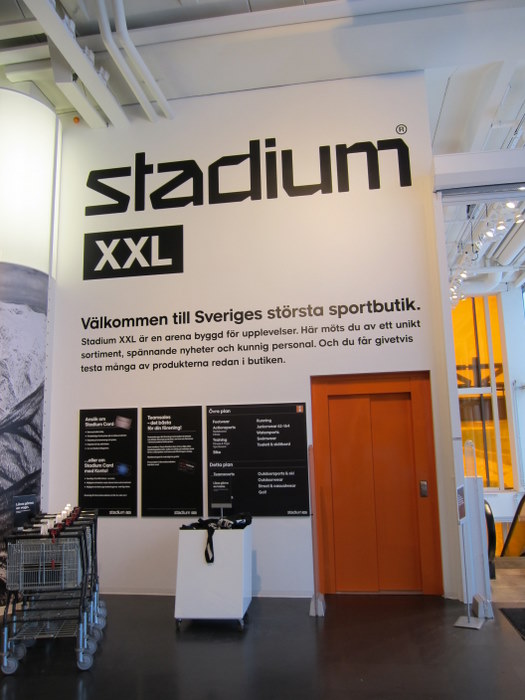 On your mark, get set, go!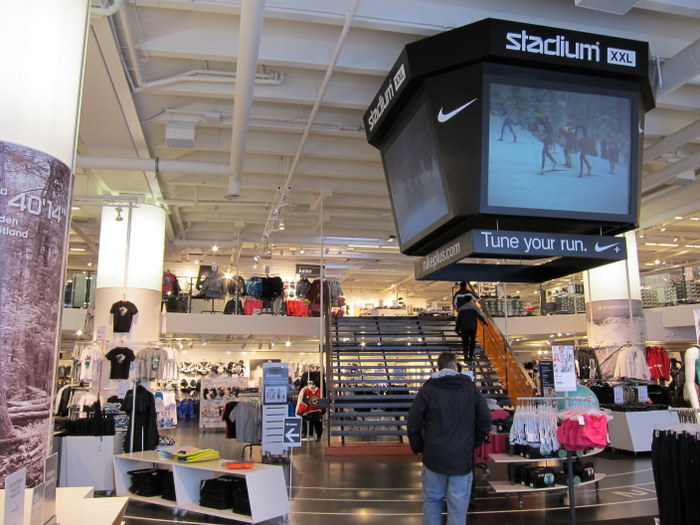 Next, we head to one of our stockists called Concrete.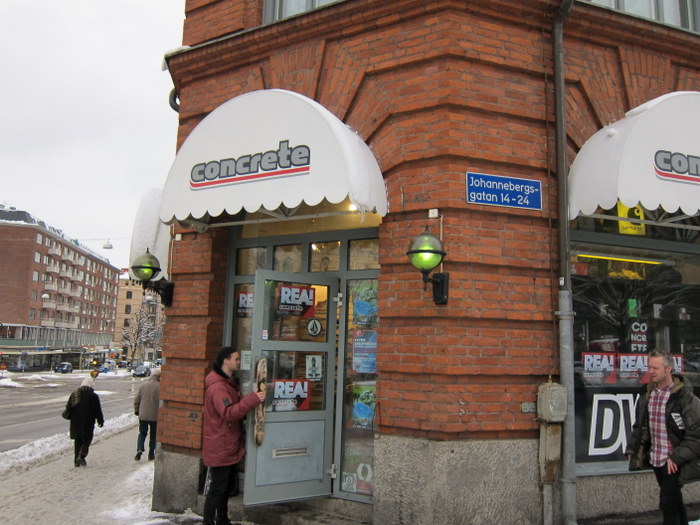 It's one of your typical core skate-snow stores mixed with lots of stuff.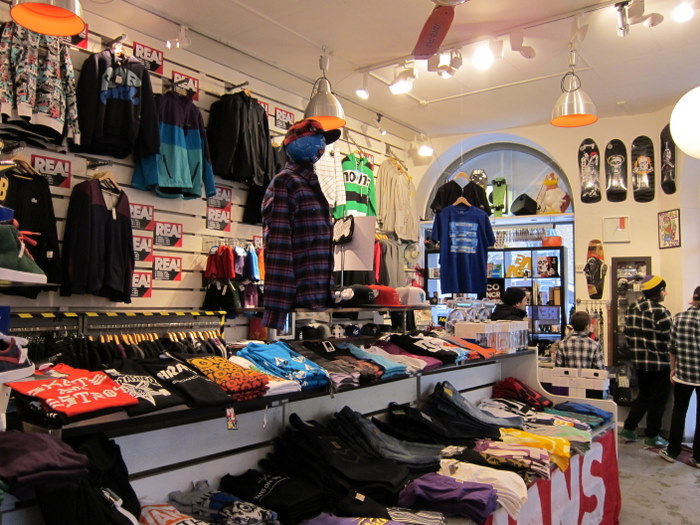 We have our own section, which I hear was the best selling brand, yeah!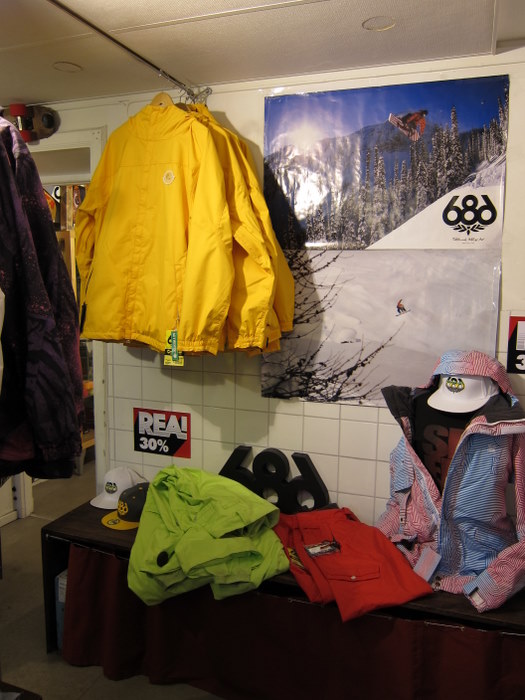 I met the manager of the joint. Say hello to a cool dude whom I forgot his name.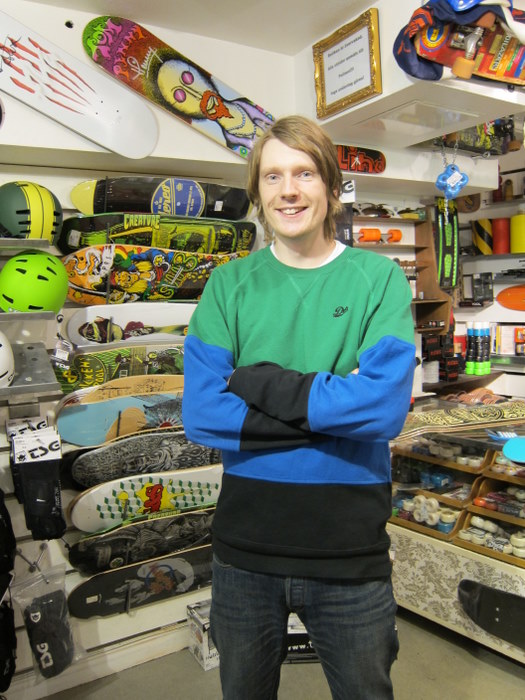 The dope part is that he began to show me his vintage skate collection. Interestingly enough, I've had half of these back in my skate days. Yes, I think my Ben Schroeder looked just like this.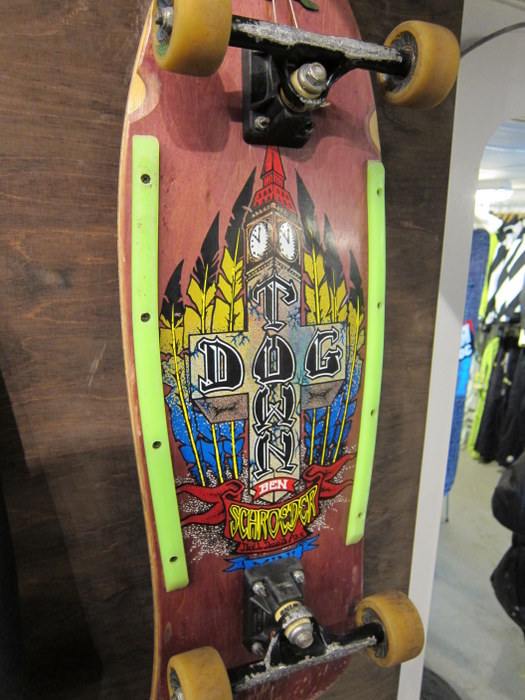 Jess the Mess Martinez was one of the dudes I looked up too while skating in Venice (although, look at him too long and he'll F you up). This is the SMA board before the World Industries "transition."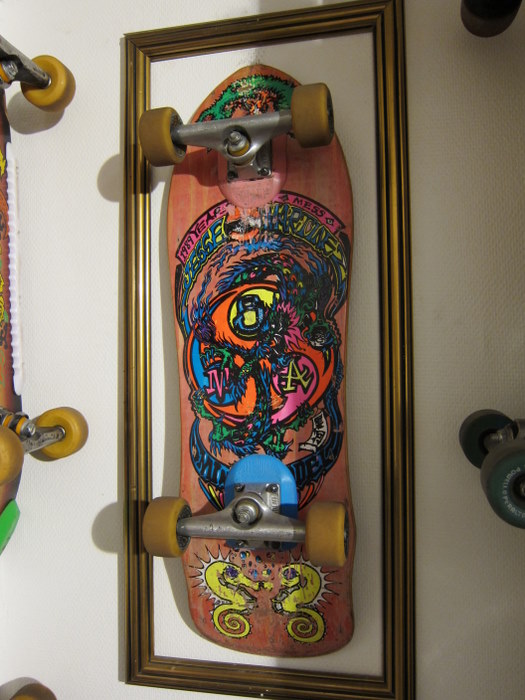 One of the first World Industries decks that changed the face of skate.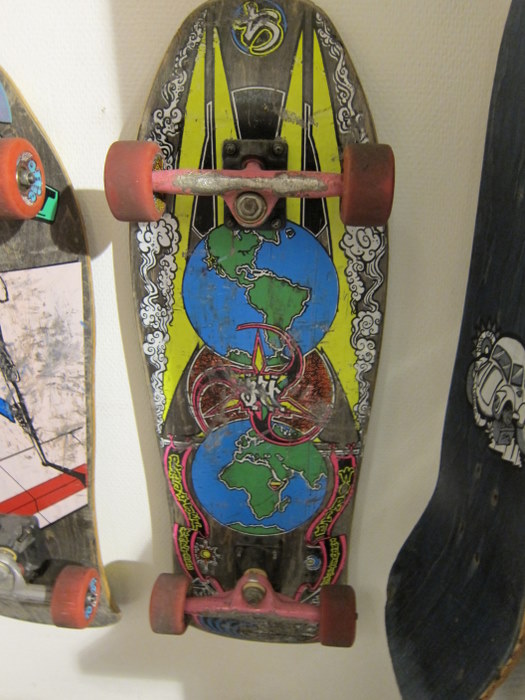 I remember when Vallely moved from Powell to Rocco's World camp. Shit went crazy in skateboarding.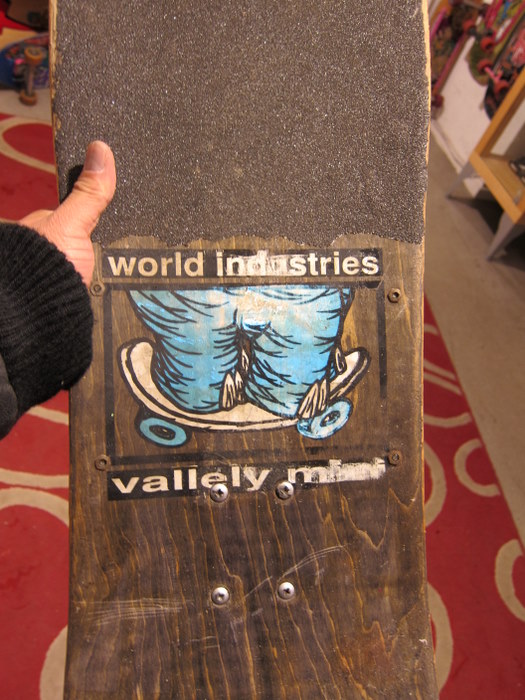 And yes, I had these same Rat Bone wheels, 85a!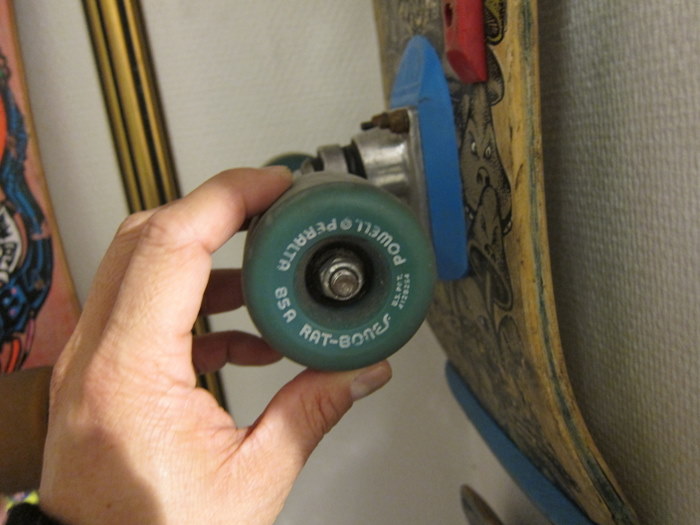 View Previous Post & Comments
Farewell Alexander | Feb. 12, 2010
Jetlaaaaaaaaaaag | Feb. 11, 2010
Where to Next? | Feb. 10, 2010
Clean Clothes | Feb. 9, 2010
Tradeshow Hell - Part 3 | Feb. 8, 2010
---