Back to News
Mike's Mash | February 24, 2010
February 24, 2010


Michael Akira West is the Owner and Creative Director of 686 Technical Apparel. The following are some of his experiences inside and out of the industry across the globe. *Add Comments at Bottom of Page!

Vancouver, I'm coming for you-Part 2
February 24, 2010
All around the way, heads rep their country. From painted faces to cardboard cut-outs, they are everywhere. I saw this dude wearing one of our Syndicate jackets as he started to show me what Canada was all about. Nice hat and glasses man…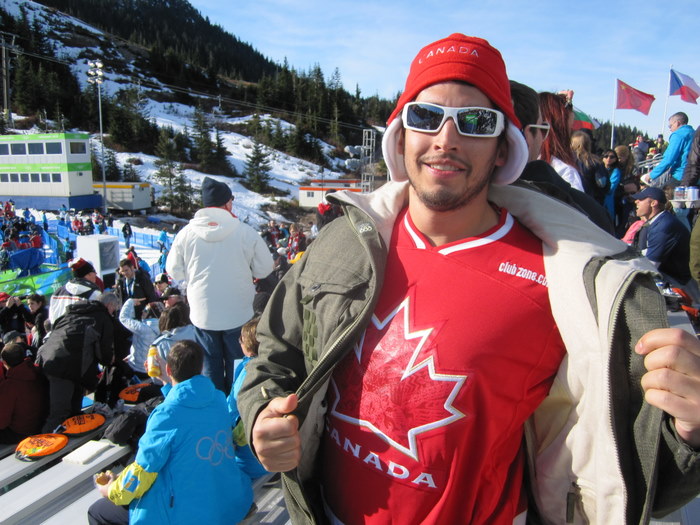 Rad Dad from somewhere in the Midwest brought his entire family to support the Red, White and Blue. Remind me not to get my kids hats like these.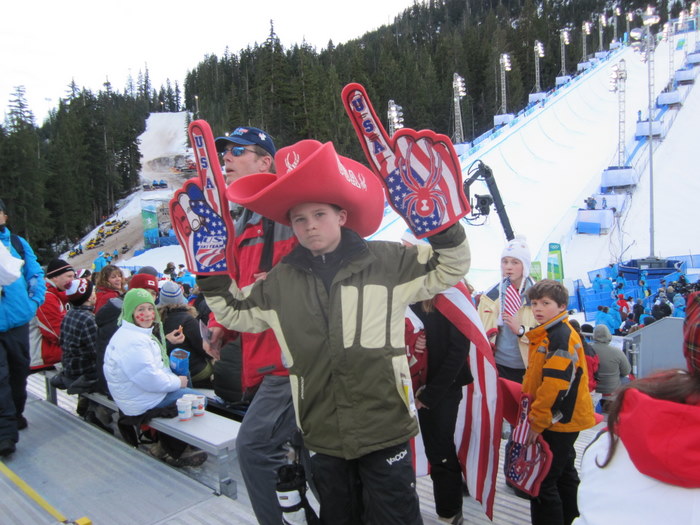 You know you're in a different place when mainstream culture only knows someone from what they see on TV. I can't remember how many times I heard the "Flying Tomato." It's even gone international with the Flying Kildo?


I ran into a few people from around the way. Annie and Nick from T-dub had work to do here. The golden ticket that will get you about anywhere to any event. Watch out for TMZ, Annie.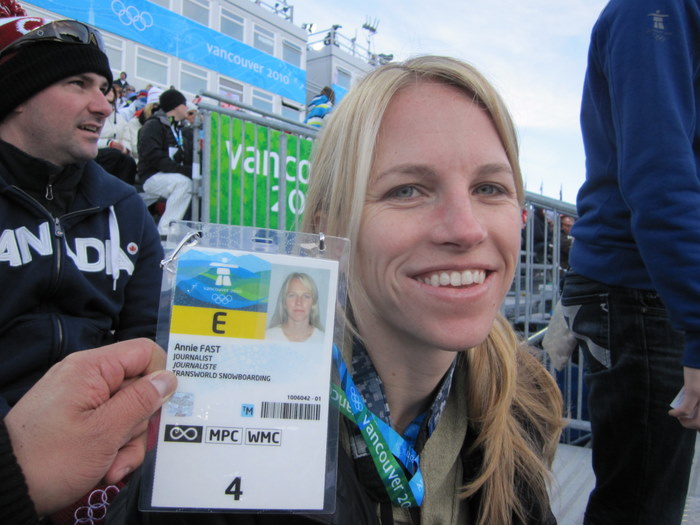 Hold up, Qualifiers are starting! Go Louie!!!!!!!!!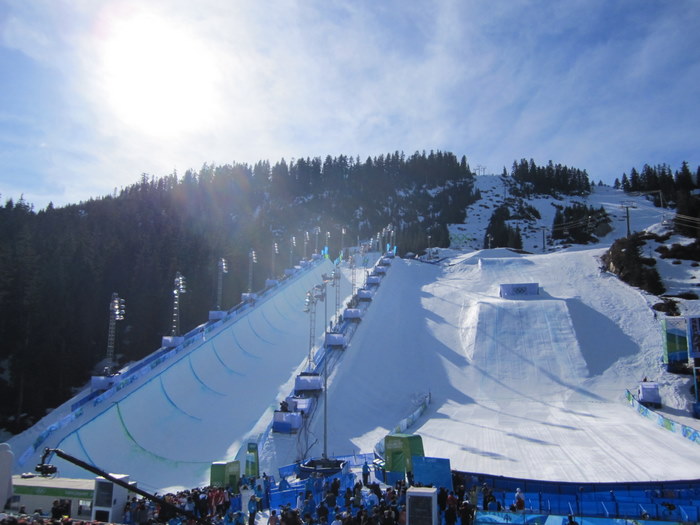 After a hitting the deck on his first run, but stomping the second, LV places in the top three and automatically goes to the finals!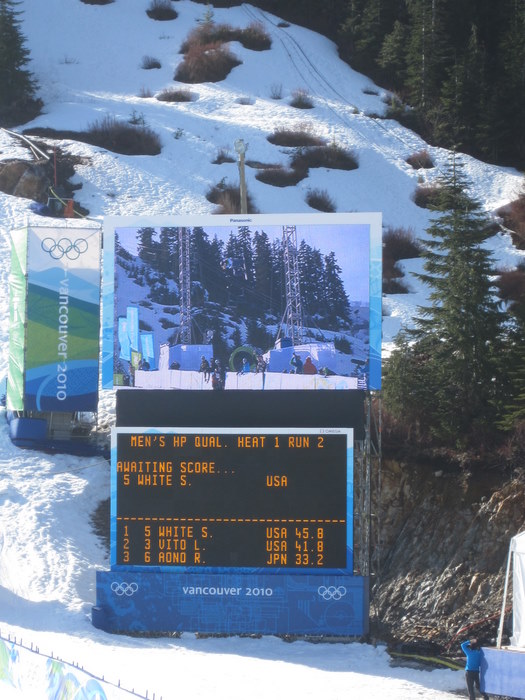 There's about 4,000+ in the stands. After the qualifiers, riders are free to come say what's up to their family and friends. All hell broke loose when Louie came up to say what's up to us. I mean hundreds of people starting mobbing in to get a picture, signature, etc. Good thing Lou (LV's dad) was the first to give the hug.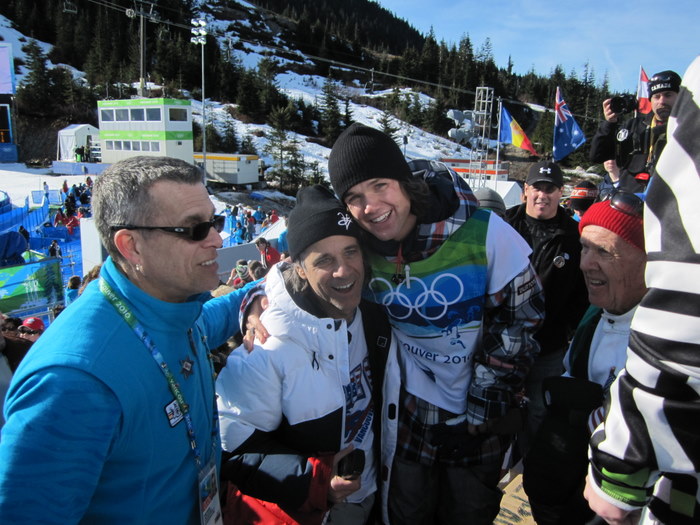 I think it's time to get something to eat and drink. Yes, there's only one area to get this and the line's long. Look what I saw, let's dance! (5 minutes after, this sticker was pulled off as they have people dedicated to remove anything/anyone that's not supposed to be there)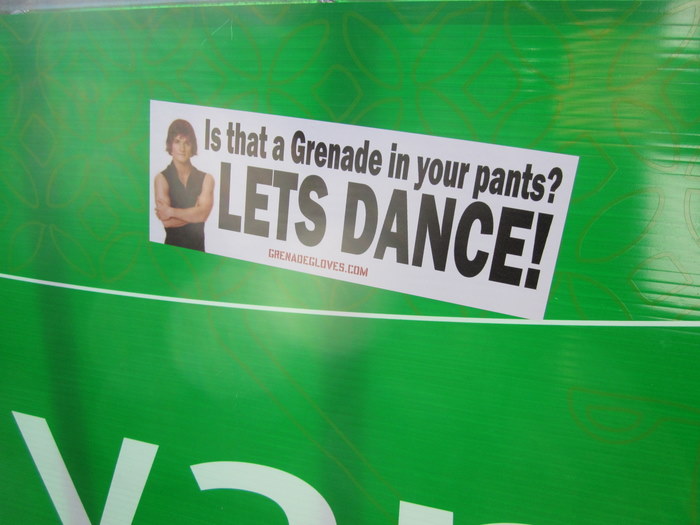 Speaking about the Grenade, I ran into Danny and posse. He was telling me this story about one of his friends being T Bagged by a chick. The pict, within the pict, within the pict.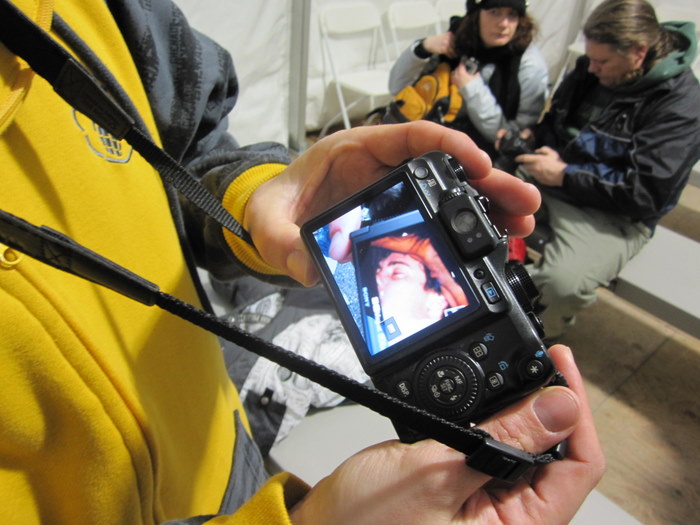 Cheers, it's Finals time!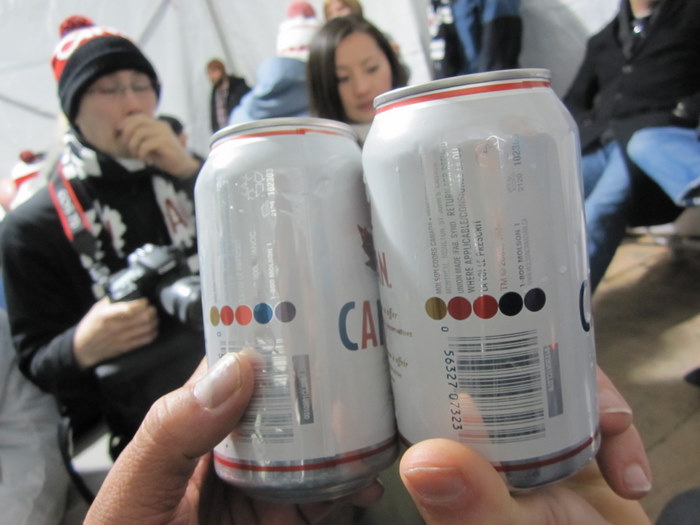 And people are psyched!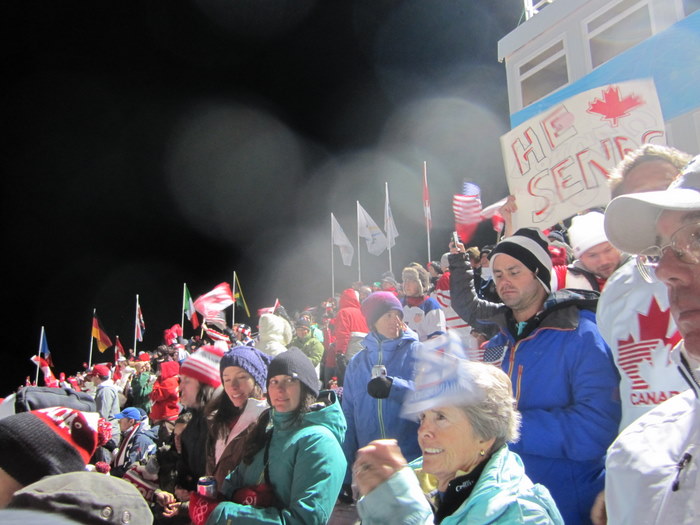 The top 12 go at it and it's a pretty rad thing.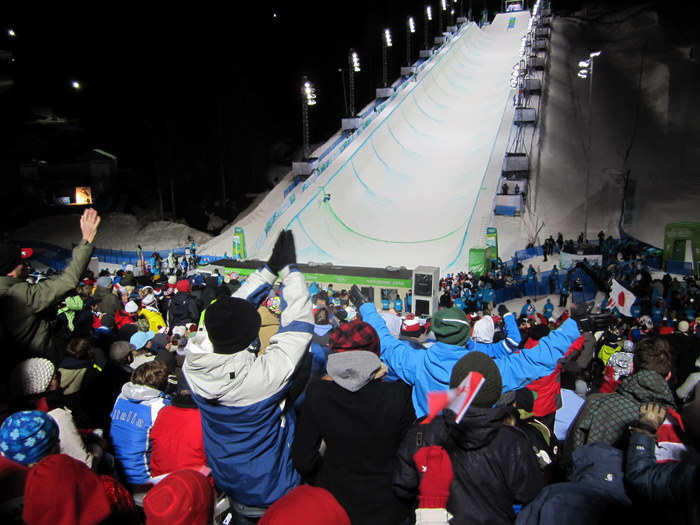 One of our long time ex-Canadian riders, Justin, was competing for his country. I guess being the "oldest" person in the Games has Canadians excited.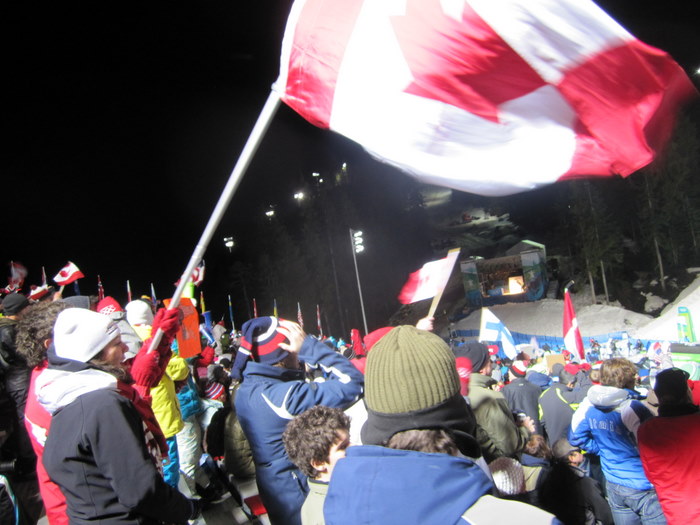 I was sitting between Lou (LV's dad) and (of all people) Joe Simpson (don't ask as I think something may be coming soon to TV), but we were all cheering for the little man. It's Louie's turn and his sister, Lindsey, is here repping US and LV from head to toe.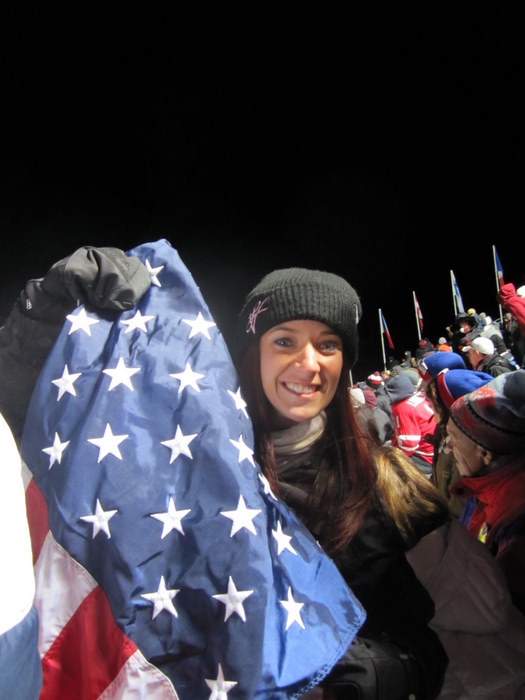 LV did really well and stuck both of his runs, but in the end, got 5th and Mr. White won. You have to give it up to Shaun as his talents are beyond human.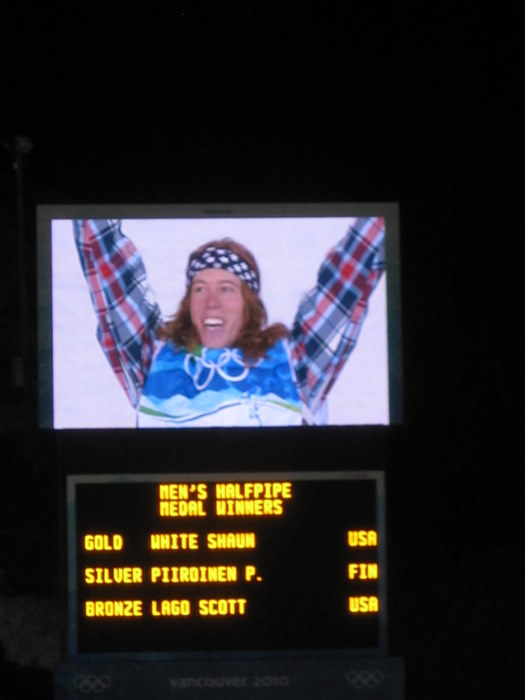 A great achievement regardless for LV. Everyone here is super proud of you (and so am I and Chad). Congrats and see you back in Cali.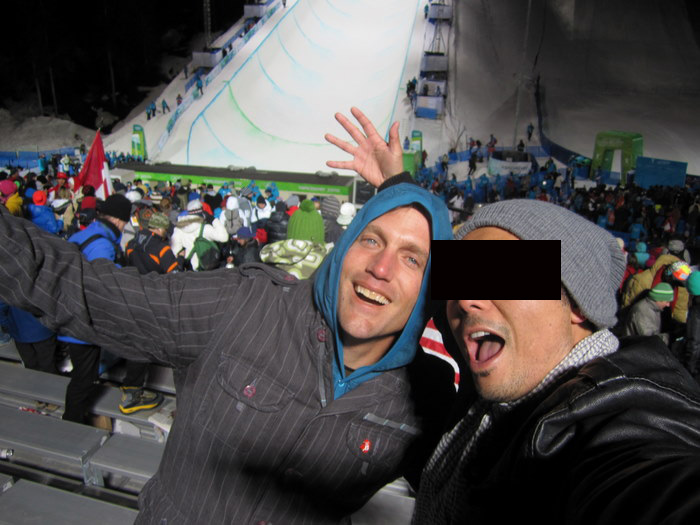 View Previous Post & Comments
Vancouver, I'm Coming for You | Feb. 23, 2010
DIRTY magic-CLEAN slate | Feb. 22, 2010
ITALIANO | Feb. 19, 2010
MORE | Feb. 18, 2010
Deutschland | Feb. 17, 2010
---