Back to News
Mike's Mash | July
July 30, 2010


Michael Akira West is the Owner and Creative Director of 686 Technical Apparel. The following are some of his experiences inside and out of the industry across the globe. *Add Comments at Bottom of Page!

Homebase
July 30, 2010
Little to no sleep in China and I'm back at our Asia homebase- Taiwan. During the day, we had our normal meetings and misc. catching up things on the list. Since we have at least 3 meals a day here I haven't been left with much of an appetite. I think I'll pass dinner tonight and go straight to dessert.
I met up with my homies around the way. Brandon (Greedy Genius) was in town.
Check out the new joints. Bet on red.
One of the illest stockists in Taiwan is Invincible.
I'll show you why.
Inside and out.
The wall.
Looks awfully familiar.
Nightlife in Taipei has gotten pretty interesting. They're doing some cool things- big and small. We got invited to this private Davidoff event. It seemed more like a rave, but it was cool nonetheless.
Lights, camera, glitter?
My homies here are connected with the who's who of the city. Although I have no idea who they are (or really care), I met some cool people. Funny thing is that most of them grew up in the states then hit it big as a pop super star in Asia. One example is this dude I met, Nick Chou, who's from Irvine, Ca. (of all places?!) I guess girls call him the Taiwanese JT? Don't ask, cuz I have no idea…
Let it flow.



Knocking Boots
July 28, 2010
I like getting up early, especially when you don't go off the deep end the night before. A short flight down the way, a 30 minute car ride after that and I'm at our boot factory. Since most of y'all haven't seen our second season of the NB686 boot collection, I'm only going to show you some snippets of what's to come in September. www.686.com Lets start off with the most important part of the process-The Last.
Almost looks like I'm making some kind of mechanical robot here.
(Note-The manufacturing process of boot making is much more of a complex and timely process than what I'm about to show- but for simplicity sake, and the fact that I can't show you too much just yet, here you go.) Fast forward a bunch of steps, this is what the outer looks like when we tear shit apart to see what else we can do to make it better.
Careful…
Down the line you go.
Stack 'em.
Box 'em.
I'm a curious one, so my boys at the factory took me to another place down the way to see what else goes into making hardgoods. This place specializes in bindings and these little things…
Yeah, I thought they stopped making these, but I guess in Europe someone still pretends to skate on the snow. Just like printing T's, you gotta burn the screens.
Slide and roll.

Done.


This is one thing I'll never get into making. Only a few people/brands do it right and I'd rather support my friends who really make it happen.



This is How We Do It
July 27, 2010

One thing that is for sure in HKG is that I'm into doing things at night more than the day. Maybe cuz it's too hot and humid in the daytime or maybe cuz I can't seem to wake up after staying out all night. Nevertheless, this time I'm making a conscious effort to not wind up in a bad place. A nice mellow dinner with some friends is more my style tonight and y'all know I'm always up to try something new. My friend Jasper told me to meet him at this one Thai joint in a converted apartment building. From the looks of it, I don't know if I'm going to the right place.
I guess he said #5... knock knock…
Ok, I'm at the right place… For a minute I thought I was walking into one of those movie scenes where a deal goes bad.
The family gathering.
Before...
After…
The Above Second space is hosting Oz artist, Meggs. Since he and a few other reputable street artists were in town, I tagged along to see how it all goes down. Do you know where I am?
I think Big Brother does.
No, no...
and no.
Tools of the trade.
You gotta be quick to have any skills at Wheat Pasting. This place looks like it needs some love.
A few seconds later.
Done.
Sign here.
Try it at home.



Little NY
July 26, 2010
After a short intermission and a few thousand miles around the world, I somehow made it to Asia. Since our manufacturing hub is Taiwan, I tend not to come to HK as much as I used to. However when I do, it's a "coming home" type of jittery feeling. Let me explain. Close to 17 years ago, I recall landing in the old Hong Kong airport for the first time (man that airport was rad), not having any idea what the hell I was doing. All I remember was that I needed to meet this dude named "Austin" who wanted to show me how he could make my jackets and pants. (Back when I started, it was all done by hand in Downtown L.A., of all places!) To make a long story very short, coming to a new country for the first time, not having any idea what to expect, it felt exciting and scary all at the same time. There was so much raw energy and countless opportunities to be filled. It may be a silly comparison, but it kinda reminds me of coming to NY for the first time. You may know "things" about it, but until you actually get a taste of what the city has to offer, you really have no idea at all. In addition, having an open mind about meeting people and checking out new things is great, but unless you have your connects, you can get eaten alive.
Since I usually stay at the same joint, I'll take snaps of Kowloon Harbor to see if anything has changed since the last time. Well, not much has changed here…
or here.
You can walk around Hong Kong forever, but next time ditch the taxi and take some public transportation like this double-decker bus.
How about this old one that dates back over 50 years. You can't tell here, but this 8' wide double story bus was hella bumpy.
People + Places.


In Living Color
July 23, 2010
I've been ranting about various methods of wall projecting for a minute. What started with something as simple as a 2D laser interface, has now become quite amazing...with 3D projection mapping. We've been working on several tests over the years and hopefully will come out with something interesting soon. For now, let me show you how the pros do it.



Cool Things Come in Small Packages
July 22, 2010
Although I don't have my own fleet of cars like Jay Leno, I do consider myself a car enthusiast. Just like sneakers, cars have an origin and, better yet, a story full of interesting finds. I'm a classic guy more than I am sporty or a tech, but ever since I ran into one of those Smart cars in Germany 5 years ago, I'm diggin' how cool things can be packed into small packages.
In an article in Good, British engineer, Gordon Murray shows us exactly what this means. If you didn't know, this is the same Gordon who has designed some of the fastest cars in the world. I think you've heard of the McLaren F1?! Can you see any similarities?
Interestingly enough, this little puppy gets 74 miles per gallon, has a punch of power, can seat 3 people and is about $9,000 pounds. Sign me up.



Classics Redefined
July 21, 2010
I typically like classics they way they are. What I mean is that great things are best when they are left alone. However, it's interesting when creatives are able to redefine a classic and interpret it using their own aesthetic and inspirations. One example is Japanese transplant, now living in Florence Italy, Ryusaku Hiruma of SAK. Ryu and Converse's First String Collection brings new life to the Jack Purcell and 1974 One Star. From the pics below, you can see Ryu's Italian influence in detail with qualities of Japanese distinction. From the upper, natural shades of crème and black are hand stitched down to the insole with perforated details throughout. The outsoles are a combo of leather and rubber with distressed printing. Top it off with leather lacing accents and I think you have some nice pieces. If you're as impressed as I am, check with my homies at Concepts in the East and Blends in the West.



Work in Progress
July 20, 2010
For the past 15 years, I've been fascinated with the various ways shipping containers can be used for alternative purposes. I've read countless books and been to several installations featuring this methodology. Our soon to be new offices in L.A. will have a little bit of this love. I think the biggest difference from 15 years ago until today is that it has transitioned into the residential sector of home design. To my surprise, I was walking down the street from my pad and saw something like this being put up. Check the before and after pics and decide for yourself.
After the planning, designing, engineering and foundation phases, the next step is to crane these suckers into place.
The containers are used as anchors for everything else. If shits not right here, everything else will falter.
Although this is not my design style, the cool thing is that, from the outside, you'd never even know the containers were even there.
The center of the house features an atrium which serves as a central breezeway. The staircase and bridge connect the 2nd floor rooms together.



Come to the Dark Side
July 19, 2010
I'm still running around somewhere between South America and Asia. Until I get to the next place, let me mash up some other things that are on my mind. For all y'all Star Wars heads, here's an ode to one of the best villains of all time- Darth Vader. Although the Vader Project has been around for a minute, it's still dope.
Comprised of 100 various artists from the contemporary and urban worlds, each one brings their own rendition of the Sith. It recently moved from L.A. to Philly for the final auction process. If you want something for yourself, cop it here. Otherwise, check some final looks before its gone.



Punta
July 16, 2010
Being able to travel my fair share, I've been blessed to have seen a lot of interesting things. Hailing from Cali, you tend to notice the differences on how people become "centric" around what their use to. Most of us live in a bubble and get use to the same ol' routine. There's nothing wrong with this, unless you strive to do different things, but to me the process of "evolving" is really important. I want to be put in a position where I can learn from people, places and experiences. I don't ever want to become too comfortable where I feel like I can just cruise. Call me weird, but that's what I do.
During the tail end of my South America trip, I was able to check out the southern tip of Uruguay called Punta del Este. Some call it the French Riviera of South America, I call it a cool place to wind things down for a day. When I was growing up, if you asked me where Uruguay was, I probably wouldn't be able to pronounce it let alone tell you where it was. My point is that you never know what the future brings, so try and be open to new things even though it may not seem "cool." Check out some of the new things I found. (First I have to find it…)
Oh yeah, here it is.
If you come down this way, check out Jose Ignacio. (Make sure you stay clear of the scensters and drunk D-Listers like Tara Reid.)
Punta is known for their beaches and I think I found some more dope spots.
Yes, I think I did.
There were a few interesting monuments in random places.
Yes, interesting.
I think the following two things best describe my time in Punta. #1 Clerico
#2 Nuff-said.


Iguazu
July 15, 2010
I'm going in deep. Just a short plane ride down the way, I headed to the boarder of Argentina and Brazil where the Iguazu river divides the upper and lower world famous waterfalls. I know it's crazy, but this is the first time I've ever been to something as gnarly as this when it comes to water dropping off a cliff or riverbed. Iguazu Falls is considered one of the New Seven Wonders of the World. Now that I've been to it I can understand why it qualifies, however, I think you should check the following out and decide for yourself. Let's start with a map.
Easy enough, I'll just follow directions and see where I end up. Rules, rules, rules….
We have one of these next to my pad back home, but I don't think its been lived in as much as this one.
Follow the brown steel road.
The good thing about bamboo is that it's the fastest growing plant in the world. The bad thing is that it grows wherever it wants to.
Tons of butterflies everywhere.
Also lots of hungry raccoons.
If you think we had it bad with ants back home, these puppies were as big as my thumb!
I love flying spiders.
What's that in the background? Those falls don't look so bad?
Oh maybe...
not from a different angle.
Just one wrong step and….
Wanna see something really scary? Introducing the Devil's Throat.
I think I've had enough for one day. All this splishing and splashing makes me want to go to the bathroom. Big ups Argentina!



Buenos Aires - Randoms
July 14, 2010
With every new place I check out, there's usually something a little unique that makes it different from the rest. Buenos Aires isn't different, but check out the pics and decide for yourself. Dope.
The city's free flowing vibes are rampant. I guess this opens up to everyone including young kids doing whatever they want to do. (These two 12 year olds were literally locking lips for well over 30 minutes straight.)
I probably don't have to tell you that the women here are gorgeous. However it's interesting how they give reasons to remind you.
Speaking of reminding you…
I'm rolling…
Maybe I'm weird, but I've never been to a city where I literally had to watch my step every friggin' second. After a while, it became interesting enough to see what and why.
Oh that's why.



Buenos Aires - Food
July 13, 2010
Y'all know how much I like eating so I have to show you some previews on what went down in BA. All I can say is if you come here, make sure that you spend 50% of your time checking out all the dope places to try new things. This is not something I would expect to eat here, but when you mix the light and crispy taste of good lettuce with hot and andante pasta, the shit tastes incredible.
Agua con gas por favor.
Ahhh, seafood paella made just right.
I think they eat this before every meal here.
Yes, you do drink this with every meal.
No idea what this is... but I'll take all 7.
Stuff is fresh here so I'm not afraid of helping myself to whatever works.
The real reason why I wanted to come to BA.
Yes!



Buenos Aires Places
July 12, 2010

While everyone was in Berlin for the Bread and Butter show, I took a detour and headed around the world to South America and Asia to take care of some biz. To simplify the process, I'll summarize my travels. The first part is Buenos Aires, in the land they call Argentina. Believe it or not, it is my first time in BA, let alone in SA. I've always heard of reasons to come here- food, drinks, beaches, mountains, great value, cool people etc., but never experienced it 'till now. Oh well, here we go...
From my room the city looks like most big cities- lots of buildings and traffic.
However, when you step outside and roll around the streets there's something special about this place. If you've ever been to Barcelona you know how rad the place is- Buenos Aires has a little bit of that feel, but it's more casual and laid back with some dope buildings all around.
Around the city, there are pods of areas worth checking out like this little village around the way.
Plenty of dancing and drinking everywhere you look.
I like this graphic- Caminito Tango!
Rock on...
Beaverton is everywhere.
The art scene is alive and well and mostly located in certain parts of the city.
I hate to be that guy, but since this is my first time in BA, I'm gonna be a tourist and check out the Barrio de Recoleta (aka the Beverly Hills of BA). But more importantly it houses the famous Recoleta cemetery where Eva Peron (aka Evita) is buried.
Since…
I'm not typically into checking out places where people rest, but this place was pretty incredible. The place contains elaborate Greek-like columns with statues and marble mausoleums throughout.
The cemetery was designed to look like streets in a city. As you walk through you can tell that some mausoleums are well kept while others haven't been maintained for decades. The inside of a typical mausoleum looks like this.
Lots of wild dogs and cats chill on the side.
Down the way I find Evita's grave. Surprisingly enough, it's not in a special location nor is it all done up.
There are lines of people who just want to see where she lies. Instead of listening to me explain the history of Eva Peron, check it out for yourself.



Men's What?!
July 9, 2010

Having lived and breathed the design world of apparel for almost 20 years, I've seen a lot, but when it comes to fashion shows that involve menswear, I'm typically not into going. I think it's mostly because the ones I've been to are, well, not that good.

There are, of course, exceptions and I believe the latest menswear show in Milan for Spring/Summer 2011 is one that I would have gone to in a heartbeat. Check it. Moncler does a pretty good job interpreting their history into something outside winter.
Classic Vivienne Westwood- modern punk meets new wave fashion.
Gucci transcends all boarders with their latest showings.
Etro Uomo and the man bag.
Christopher Bailey shows something a little different from Burberry's.
I think this is the reason why I don't go to menswear shows, but Mr. Armani may disagree with me.




Slake
July 8, 2010
The great thing about living in L.A. is that it's never just one thing. The people, places, food, personalities, attitudes, inspirations and talent come from all over the world. I'm sure you'll find a little bit of where you're from here.
If you've read this little mash up of mine, you probably already know that one of the most important aspects of what I like to do is storytelling. I'm more of a student when it comes to this so whenever I can learn from seasoned pro's, it's something I can't miss out on or miss sharing with y'all.
My old friends, Alex and Dan, shot an e-mail to me and passionately told me they just completed an incredible project. (A and D run a creative firm called Gama Function. Having gone back over 20 years during the best times of street skating and freestyle snowboarding, they've continued to do many other cool things as well. Don't sleep- check em' out.) The project I'm referring to is a new form of journalism, the essence of storytelling, called Slake.
Slake Media is run by no other than Joe Donnelly and Laurie Ochoa. (You may recognize their names from the nation's largest alternative publication, the L.A. WEEKLY.) I met Joe in the 90's while he was running Bikini Mag (way beyond its time) and recall his uncanny outlook on things. That was yesterday and today they're on a new journey to bring us something we haven't had in a minute. Capturing moments in time with a curated group of artists, writers, photographers and creatives into a story that can be kept forever. Instead of talking about it check out some snippets and then check out the site to see where you can cop yours.



Crabbed Out
July 7, 2010
I'm not one for long lunches, but when it comes to a once a year crab fest, how can you resist a 4 hour meal full of Blue Crabs from the east coast? I'm heading to Hollywood's the Hungry Cat to see what the hoopla's about.
Word to the wise, don't do walk ins cuz you won't get in. Either know somebody or be the first one in line. I guess I'm with the right heads cuz I ain't gonna wait 'till dinner time to eat these puppies. It all starts here after they're flown in from the state my Pop is from- Maryland.
First up, let's try em' fried.
Next how about some gumbo crab soup.
Or how about mixing it with some soft shells. If they're prepared correctly, they melt in your mouth.
Main course!
Let me inspect one closer.
Step one- take the claws off with a gentle snap!
Step two- carefully open it up with a strategic slip and peel maneuver.
Step three- Do it over and over again until you're completely exhausted and your face and hands are covered with leftovers.




DWELL on D
July 6, 2010

Between all the patriotic festivities this past week, I managed to stop by the convention center in DTLA to check out the annual Dwell on Design show going on. I've been a loyal subscriber to Dwell for a minute and since I was an architect in my past life, if anything has to do with modernism and functionality, you can count me in. The show is open to the public, but also caters to the trade, local design schools and just about everyone else you can think of that's into good design. As I walk in, it kinda looks like any trade show with lots of signage and a sea full of booths.
The difference is that this show has things I like and less of the "high fives" and trade show shuffles that I'm use to. I've seen these puppies in the mags and at my buddy's place, but never in real life or in this colorway.
L.A.'s home to some of the best all around Design (Fashion-Architecture-Graphic) Schools in the nation. It's cool when you can also see them at the show participating in one way or another. Case in point...
One thing lacking at our trade shows is how we tend to focus more on trade and less on educating the new generation. I personally like it when the show gives kids a chance to mingle with experience. Even better is when they're able to show off their talent in some sort of competition. Here, famed tablet company, Wacom, did just that.
Ideas gotta start somewhere.
Dyson technologies have made us re-think about how good design can change the way we buy and more importantly the way we use appliances.
Just like Apple, I think I need one of these in each room.
Water not only encompasses the majority of our bodies, but most of the earth, so why not reuse it. Grey water systems are not as complex or spendy as one may think.
The great thing about Modern Design is when you can create something new with just a simple process. Here this one manufacturer found a way to sandwich plexiglass with LED lights. What makes it look like an all in one glowing board is the laser etched spider web pattern which multiplies the lighting source. Why didn't I think of that?!
Miele makes appliances not look and feel like appliances.
Living walls are rad and the one in my new office will be too.
Just like Dyson, Method has brought some fun and functionality into a category we never paid attention to before.
It makes me want to do laundry and clean my pad twice a day.
I've said it before and I'll keep saying it. Don't just recycle, RECLAIM!
Something very similar is to come from us soon.
One more time.
Look closer.
Speaking about looking closer, check these out.



I am Ironman!
July 2, 2010

For the past 36 years, the city of Hermosa Beach has been tolerating this one of a kind event called "The Ironman." Not to be confused with the Ultra-Tri in Hawaii, the Hermosa Ironman is one hell of an event. It's also the longest guerilla type event going on in the nation. Let me explain what it is.

The 3-part event starts with about 600 men and women who bring their own board and beverages to a specified location at the beach. Multiply this by 10 from the spectators and the media as someone starts to sing the national anthem, all the while some famous punk band begins to play music, a mosh pit ensues, and then the 600 racers are off taking the one mile run in stride. As they come back, exhausted from not only running in the deep sand, but also laughing at themselves on why they're actually doing this, they grab their board, make their way to the water and begin to paddle the 1 mile. Deeply fatigued at this point, they drop their board and head straight to the main area where they take their "adult beverage 6 pack" and begin to chug. Question: What do you think happens when you have hundreds of men and women (over 21 years of age of course) super tired, breathing hard, stomach churning while drinking? Answer: One hell of an interesting time! If you think you're an Ironman, come on down and experience stupid fun.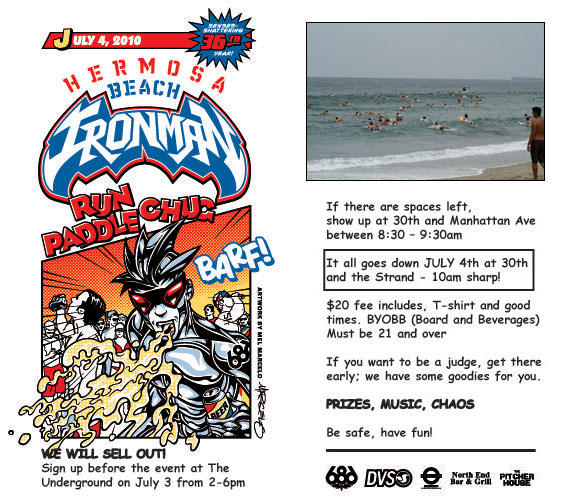 Check out some pictures from the 2009 event to get you amped to come down.
Up in the Sky
July 1, 2010
I admit it, I was a one of those dudes who was always fascinated with what's happening up in the sky. More specifically anything within the realm of astronomy that has to do with celestial objects. I took tons of classes in college because, in a sense, I think I wanted to figure out how I could get there someday. Crazy enough, but next time you head to the mountains on a clear night, away from city lights, chill out and imagine what else is out there. Better yet, check out this cool short capturing the Milky Way, via Time-Lapse.
Galactic Center of Milky Way Rises over Texas Star Party from William Castleman on Vimeo.
View Previous Post & Comments
June 2010
May 2010: Part 1
May 2010: Part 2
April 2010: Part 1
April 2010: Part 2
March 2010: Part 1
March 2010: Part 2
February 2010
---