Back to News
Mike's Mash | November 2012
November 1, 2012


Michael Akira West is the Owner and Creative Director of 686 Technical Apparel and MATIX Clothing. The following are some of his experiences inside and out of the industry across the globe. *Add Comments at Bottom of Page!
Crafted for your pleasure
November 30, 2012
I'm a man of my word.
Heads that know me know that a handshake is more important to me than any legal contract.
When it comes to product, I'm obsessively critical of only the best.
If I'm not into it, trying to hide behind something that's inferior is going to show.
One of the biggest progressions in our product lines is the ongoing collaborative effort with New Balance.
I know you've seen it, but I'm stoked on this so I want to show it to you it from a different angle.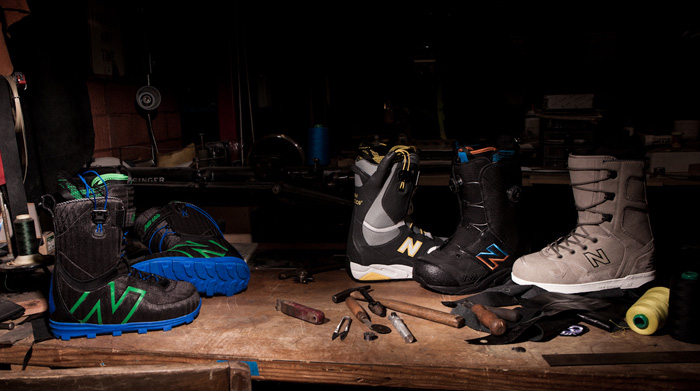 Our friends at Hypebeast posted it last week for your pleasure, starting with the NB686 580 Focus Boa.
The NB686 580 Speedlace
My personal favorite, the NB686 1971.
90 days
November 29, 2012
Having personally been through the construction process several times, I learn something new each time.
Mistakes being made is part of the process, but unfortunately its at the expense of something that's already lacking.
Maybe its me, but I've managed to learn the hard way of working with incorrect plans, changing city laws, inconsistent subcontractors and bank loan adjustments.
Working through all of this, it comes down to two ways of doing this - The Right way or the Wrong way.
The "Right" way is committing to a realistic budget, timeline and experience team.
The "Wrong" way is what I've managed to do.
Throughout this painstaking process I've also been fascinated at creating efficiencies that can be done well ahead of time.
The world of Pre-fabrication (Pre Fab) is something more attainable and realistic without compromising some of the custom touches that I desire.
It took almost two years to complete the Empire State Building and five years for the World Trade Center.
Next month, the world's tallest building will be constructed in China in 90 days!
Yes, a quarter of a year or 3 months or 90 days.
The world of Pre-Fab has stepped up to another level all led by construction Chinese BSB group.
Question - Can you guys help me on my next project?
Only in the middle
November 28, 2012
The man purse.
The woman purse.
DSLMAG
November 27, 2012
Independent + Style of Life + Curated Community + Avant Garde = Desillusion
Desillusion making it come to life with their latest "This is Dylan".
THIS IS DYLAN - TOME 5 from Desillusion Magazine on Vimeo.
Pretty Rad
November 26, 2012
Hollywood and the Skate worlds collided last week at the Orpheum theatre in LA for the world premiere of Girl/Chocolate's "Pretty Sweet".
If you didn't make it, then buy it today on ITUNES or watch Matix ambassador, MJ getting all pissed off you that didn't see it.
Pretty Sweet Teaser 1 from Crailtap on Vimeo.
Gobble and Wobble
November 22, 2012
I'm Thankful for:
- Being Happy & Healthy
- In company with Friends & Family
- Keeping it Simple & Casual
Happy Thanksgiving!
The Making of the 1971
November 21, 2012
At 686, we like to make things.
The issue is that a lot of the things we make don't necessarily get communicated on how it comes to fruition.
In the 686 world, People & Product are king.
I'll provide you an example of our 1971 boot with New Balance.
When it comes to collaborations, we spend a lot of time working with our partner to make sure the end result is something that a team put together.
In the past, we worked with the New Balance lifestyle group to do throwback vintage pieces and made it applicable for snowboarding.
This season, we made a shift to their performance and running group where they're more into technologies that really enhance the user experience instead of just look good.
From there, we came in and brought our textile background and worked with our team of testers and riders to make it legit in our world.
Michi is our lead boot designer - check him out working his magic with some of New Balance's running assets.
Everything starts with a sketch.
The biggest adjustment we made for the fourth season is to offer a more performance story, which better reflects what New Balance is all about, as well as what's happening in snowboarding.
Lightweight, low profile, and less is more are the main points we wanted to get across.
The most successful story that New Balance® currently has is their Minimus Collection, which is inspired from barefoot running.
We worked with their mad scientists in Boston and utilized a similar story in shredding.
Simple tech drawings on paper.
Basic colorups.
Fast forward to many proto types, trips to the Boston to consult with NB, rider testing, engineering, product development, material and sizing strikeoffs, samples, production and we finally have the 1971!
NB 1971 BOOT from 686 Technical Apparel on Vimeo.
Hidden Champion
November 20, 2012
Have you seen the latest Hidden Champion mag? Come with me and I'll show you.
Watch out.
Tell me how you really feel.
A familiar face-Manderson getting pitted.
Hahahahaha.
Matix – from the ground up
November 19, 2012
'Tis the season for sales meetings!
We're having our seasonal sales meetings for Matix and brought 40 of our closest friends to the party.
Reps, distributors, riders, employees, it's all good in the Matix neighborhood.
As usual, I'm at the back of the class.
I got something in my back pocket.
Essentials for me.
I'm not supposed to show you this, but I can't resist.
Matix is FITS.
Matix is DENIM.
Longtime Matix ambassador, Ryan Langhorne showing how to get it done.
Hammertime.
Manderson
November 16, 2012
Matix legend in the making.
Hello Mike Anderson.
Things that stick
November 15, 2012
The masters are at it again.
Red, White and...
"Tako" is Japanese for octopus.
I don't know if Japanese artist Yayoi Kusama had this in mind when she was producing his latest installation at LV, but it definitely works for me.
Can't stop Won't stop - Crooks & 686
November 14, 2012
2012 marks 686's twentieth anniversary.
In addition to the twenty special projects we've curated from 1992-2012, we're releasing a few joints with some of our friends.
It started in 1992 with a different point of view: To combine our street culture influences with technical mountain engineering roots.
686 has evolved into much more than just one thing for one person.
We are a brand for the people, by the people and want to work with like-minded heads who share the same passion for what they do.
From the denim kingpins like Levis Strauss and Co. to the workwear mavens, Williamson Dickies, 686 is not just one mold.
Since I owe a great deal of my inspiration to our beginnings in Los Angeles, why not bring in some friends who call LA their home as well.
Our friends from Crooks & Castles from D, Emil to the late Lewds (RIP) go back a minute. We've been talking about it for years, but finally got our asses moving on doing something.
It's a very limited project available at a handful of stockists and available direct at 686 and Crooks & Castles.
Buy the goodness before it's all gone, HERE.
The Cradle to the grave
November 13, 2012
With all my recent travels, I haven't had the chance to check out all the great things happening around my way.
Over the weekend, the good fellas at SSUR invited me to their opening of "From the cradle to the grave."
Welcome.
Crowded house.
HB got nuthin' on these Essentials.
Caviar cartel, from Russia with love.
Three the hard way.
Wise guy.
Cowboys & Indians.
SSUR classics.
Starlight.
SSUR says watch your back.
Good but not good
November 9, 2012
I'm a Laker fan for life, but this is ridiculous...
I'll spare you the details of what and why.
Instead come with me to check out some behind the scenes shenanigans.
About 5 minutes from my pad, the LA Kings and LA Lakers get their practice on.
A few blocks down the road is where the broadcasting happens for the Lakers and Galaxy at Time Warner Cable Sports.
If we had this at our receptionist area, we wouldn't get anything done.
Feel the love.
This place is huge.
Bring it.
Come on Kobe?!
John is my long time homie from back in the skate days.
He's done well for himself and currently the Creative Director of Time Warner Cable Sports. He invited me to check out the place.
Before the season started, he produced a photoshoot for the team.
You know this dude?
Damn, look at Howard.
Arrrrrrrgh.
John wanted to make them look bad ass for the season. Looks great, but I can't say the same about their game.
Yes, there is a style book for everything.
No Helvetica here.
Let's get outta here and see the fun stuff, starting with mission control.
Check out the guns.
Please make it this time.
Big game James Worthy and Kurt Rambis got nuthin on me. Light, Camera, Showtime!
The Mad Ones
November 8, 2012
Here it is. 686 Faction Filmer, Liam Gallagher just released his full feature shred flick, The Mad Ones..
According to Liam, Mad Ones is "inspired by the Beat Generation and specifically the writings of Jack Kerouac."
Catch the 686 team from Forest Bailey to Pat McCarthy do their thang.

The Mad Ones from Liam Gallagher on Vimeo.
"1993" continued...
November 7, 2012
There's a lot that happened in 1993, especially with Blind and the influence of skateboard graphics into mainstream media.
If you're cool with it, I'd like to show you a little more of the back story.
Marc Mckee is considered one of the godfathers in skate graphics spanning the past 25 years.
It's all explained in his Bible.
I know some of ya'll might not be able to relate to this era, but in my mind, the mid 80's to the early 90's in skateboarding was a defining moment that shaped everything else to come.
Marc was smack dab in the middle, creating, collaborating and conjuring it in skateboarding from yesterday to today.
I've said it before and I'll say it again - Skateboarding was my main influence in starting 686, by learning to do it myself.
I'm sure you now understand why this project with Marc and Blind has a special place for me.
Check out what Marc did with our upcoming with 686 x Blind collaboration.
He brought it back, way back, but with a twist.
All original drawings from original drawings.
Per Welinder ala Rudy Johnson ala 686.
Ray Rodrigues ala Mark Gonzales ala 686.
Tony Hawk ala Jason Lee ala 686.
Ripper ala 686.
Burger King ala Jason Lee ala Cease and Desist ala 686.
Cabbage Patch Kids ala Blind ala 686.
Jordan.
Henry.
Rudy.
Guy.
It's all you
November 6, 2012
Do it today.
Snow in So Cal
November 5, 2012
Well not yet...
So the next best thing is to support stockists who support you.
Surfside in Costa Mesa, CA had their 21st annual snow carnival this past weekend.
Lots of kids, customers, industry lurkers and good times all the way around.
Buy, buy, buy, buy, buy.
Oh Hell Yeah.
Hello Singapore
Novermber 2, 2012
Coming soon.
Can it be?
The # of the beast.
Hello Taiwan
Novermber 1, 2012
I mean, Hello Kitty?
I will
---