Back to News
Mike's Mash | January 2013
January 2, 2013


Michael Akira West is the Owner and Creative Director of 686 Technical Apparel. The following are some of his experiences inside and out of the industry across the globe. *Add Comments at Bottom of Page!
Good style never gets old
January 31, 2013
Although one's personal style will evolve and adapt over a period of time, the true essence of style is something that should come naturally.
I love it when style is timeless.
When it comes to products, there's a few out there that I automatically gravitate towards.
The Lincoln Automobile Company is one example of an iconic company that (in my mind) was the dominate force in the auto world, back in the day.
I can't speak too much of what they're doing today, but when it comes to yesteryear, Lincoln ruled it.
Come see.
California Love.
1937 was a good year.
Gangster White Walls.
I'm about to explode.
On my list.
To Serve and protect
January 30, 2013
What's behind the Black curtain?
Goodies for my Gadgets.
My iphone 5 says big ups, Erik.
Are Lost
January 29, 2013
I see something.
Not all those who wander, are lost.
The banger.
Support Independents.
Reclaim now
January 28, 2013
The mission of the 686 RECLAIM PROJECT is to change the way you think about "throw-away" items and realize that these discarded materials can have another life.
Reclaim is our social initiative to minimize our carbon footprint by utilizing minimal process of technical garment mfg.
Wanna learn more about RECLAIM?
The RECLAIM Project: The Process from 686 Technical Apparel on Vimeo.
The halo effect of Reclaim is that it fosters new ideas and creative cultures. All of which 686 is about.
Next week, we're embarking on our annual SIA and ISPO tradeshows in Denver and Munich.
We're putting on a Reclaim design contest which involves three up and coming amateur designers.
Check out some of the entries and see how it all starts.
Blair is one of the chosen designers for SIA. Good stuff.
Here's another entry. Sasquatch!
The Gopher.
Hand-Made.
Flavors of the world.
There's a huge difference of a designer who can sketch and illustrate vs. actually constructing a garment.
The ones that get invited to the Reclaim design contest must be capable of all above.
The devil's in the details.
On the other hand...
Pow Wow #3
January 25, 2013
The idea to do things with talented people is to create something that's much bigger and better than doing it alone, ie: 1 x 1 = 10
My friend, Jasper from Hawaii, is a prime example of what this means.
Pow Wow is his vision and over the past 3 years, has gathered a tremendous amount of energy.
Check what Pow Wow is about: POW WOW IS A GATHERING OF CONTEMPORARY ARTISTS THAT ENGAGES WITH THE BROADER COMMUNITY IN THE PROCESS AND CREATION OF ART.
"The beauty of art is most commonly enjoyed during its final stage. All the blood, sweat and tears happen behind closed doors. However, that is where the real grandeur lies. The process. Imagine for a moment a gathering of internationally renowned artists in one place. A place that will allow them to do what they do best: be creative. We give them the tools, the space and the freedom to paint for one week. We make that process open to the public, allowing them full engagement and interaction between the artists and their audience. They witness the creativity in its entirety and become an essential part of the artists' process. It's about the breaking down of those closed doors and making art accessible. Now take a step further and imagine transforming a whole neighborhood with art within a week. Seeing creativity happen all around you from beginning to end and bringing people together through the act of putting paint on surface. A POW WOW."
Support the Creative Community-Support Pow Wow
Dragon x 686
January 24, 2013
Nearly 10 years ago, Dragon x 686 got together and produced one of the very first collaborative projects that this industry has ever seen. On the eve of our double decade, we felt it was a great time to up the ante once again.
With the contribution of Dragon's Director of Product, Mike Tobia and founder and CEO, Will Howard, we used their revolutionary APX frameless Infinity Lens goggle as inspiration and designed a collection of jackets that speaks the same language of modern and minimalist design.
Dragon x 686 Thermagraph APX Jacket.
Men's Ltd Dragon Thermagraph APX Jacket from 686 Technical Apparel on Vimeo.
Men's Ltd Dragon Native Insulated Jacket from 686 Technical Apparel on Vimeo.
Did I mention we made a few Limited Edition Goggles. Get em NOW.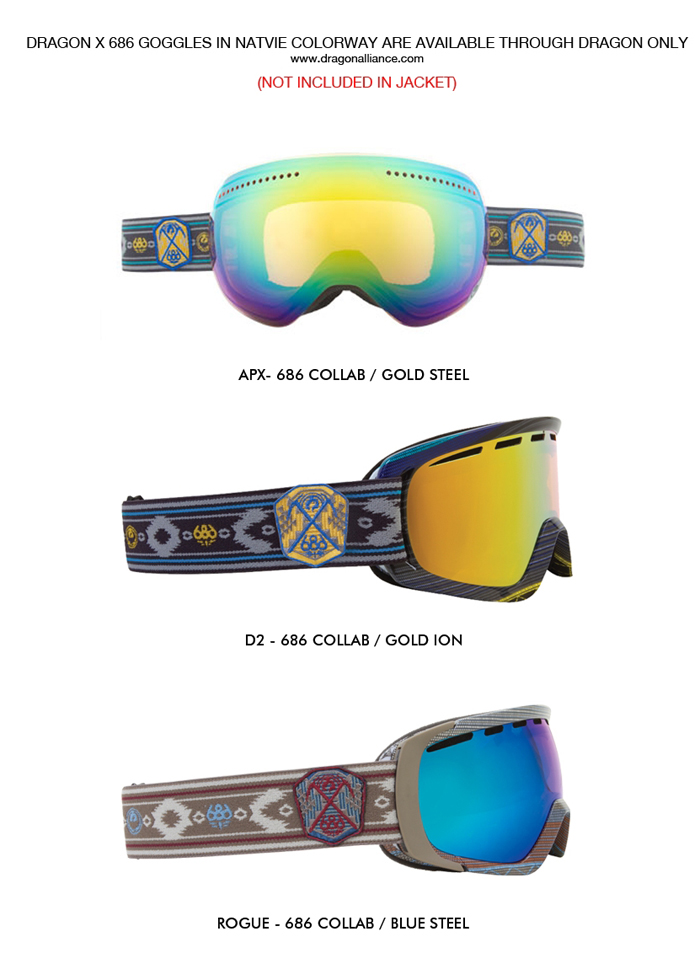 My favorite.
USSKB
January 23, 2013
Doing cool things with friends can be a good thing.
Some of best ideas start this innocent way and end up being staple brands. My friend, KB is the lead designer for Undefeated.
One of his side projects is with his good buddy, Michael Sherman and Dr. Romanelli, called USSKB.
Check the fun stuff.
Support friends!
Oh Canada
January 22, 2013
January is tradeshow season so I'm all over place in regards of traveling.
Part of the team went to Surf Expo in Florida; the other part went to Bright Show in Berlin.
I'm staying in the same time zone and taking a quick trip to Vancouver, Canada for the Know Show.
Instead of boring you with meetings and random stuff at the show, the highlight of my trip were two things.
The first being this.
Yes, it's still snowing somewhere in the world. Max from Endeavor feeling the same as me.
I'm just lookin'.
Good times.
The other highlight of my quickie to BC has to do with this place in Gas Town.
My friend Dan is Canadian, via LA and he recently opened Railtown Café.
More importantly, he's the team captain representing Canada in the world famous Bocuse d'Or cooking competition being held in Lyon, France.
Come inside the top secret Kitchen.
Check the weapons.
Mr. Chef Team Captain Olsen.
Dan is intensively working with his team to bring home the prestigious title. Lots of confidential stuff brewing in the kitchen.
Chef Alex knows what's up. You're going to have to wait until next month to see if team Canada comes out on top.
Gear on up
January 21, 2013
It feels like Christmas all over again.
Let's check out what we have here.
Yes!
Three's a charm.
My feet thank you Stance.
I'm not finished yet.
On
Your
Mark
Ready
Set
From the East to the West
January 18, 2013
If you live in Los Angeles and been to Dodger Stadium, you know there's something very special about the stadium in Chavez Ravine.
Only a few miles from the heart of DTLA, Chavez Ravine brings a long history about the constant changes in the city of Angels and somehow represents the opportunity of the American way.
The story of New Balance resonates from New England, where they were born and raised over the past 107 years.
California culture is synonymous with skateboarding and in my opinion; Dodger Stadium is an iconic landmark that represents this transition from the old to the new.
This is the reason why I wanted to bring some of my friends to Dodger Stadium and introduce New Balance Numeric.
Come inside and see some history.
Frank's lucky #6.
Starlight Starbright.
From Boston.
To LA.
If you're curious to understand more, check out the story that Lee wrote for boardistan HERE or the one from Bobby at the Hundreds HERE.
Geek it on
January 17, 2013
The good thing about Vegas is that it's only 2 hours from my doorstep to crazytown.
The bad thing is that it's only 2 hours from my doorstep to crazytown.
I had some meetings at the semiannual Consumer Electronics show (CES) in Vegas.
Oh boy, it's going to be a long few hours here.
If you've never been to CES, imagine a thousand Best Buys connected to each other, the day before Christmas.
It's literally chaotic.
The rad thing is that there's so much cool stuff to check out such as 3D everything.
Here we go.
Who needs stylists when you can have Big Brother help you out.
Check out the kitchen from the future. This fridge will do everything except make the food for you.
I spoke too soon.
I love ready-made plastic salad.
Anyone that's connected to the electronic world is here, including the auto industry. Check this whip out.
White walls!
Audi brought their clean minimal vibe to the show.
The entire booth was bright as light.
Coming soon.
I ran into some familiar faces from Transworld, Hypebeast, Hex, Zumiez, Beacon, and Lifeproof.
I also made some new friends including illustrator/designer/fashionista/bun master extraordinaire, Sophia Chang.
Check the goods.
On my way out, I stumbled upon the good folks at Skullcandy.
Their booth was located outside in a mega tent where they're showcasing all their upcoming projects.
Aaron is part of the executive team and in charge of their expansion overseas.
I didn't know Aaron way back in his Real World days, but soon after, we've had some good times during his tenure at Oakley and Dragon.
What's happening man?
Aaron shows me some of the new things brewing in the kitchen.
Skullcandy was the first to market headphones to the market.
They've also committed to be leaders in the space with being one of only 2 other global electronic brands to design, develop and produce their own DRIVERS.
Warning--The end result is something you've never heard before.
Something's coming #1
Something's coming #2
Made here
January 16, 2013
I'm a dude that enjoys the "process" of making things.
I like the touch and feel of putting time into the parts and getting a finished product in the end
Matix has been around for close to 15 years and has stuck to their US manufacturing standards of always making part of the collection in here.
Welcome to the Matix Workshop.
The best denim made here.
Labeled for your pleasure.
Stamped for your pleasure.
The finished product.
Coming soon?
The BIGGEST tradeshow
January 15, 2013
Once January hits, I tell my lady that I'm out of town until sometime in March.
In between the winter season, sales tours, tradeshows and everything else in between, I feel like I'm going on tour with a band.
A different city or country each week may seem exciting, but after doing this for a long time, it starts to hurt.
My body doesn't seem to recover as much as it used to.
The flip side is that it's always fun and great to see old friends and make new ones.
This time around, I'm in Keystone, Colorado for the world famous Zumiez 100k - Hello Keystone.
First chair up with Danny Kass, our new director of marketing, Brent and Austin Smith.
Droppin.
It doesn't take long to remember that LA is always close by - Seventh Letter represent.
Good times on the hill today, I better get ready for the craziness happening tonight.
The 100k is an annual event dedicated to Zumiez employees who sell over $100k worth of product per year.
The invite only event is truly the biggest tradeshow in the industry because every pro athlete, industry exec, musician, personality is here (along with 1,200 kids who sold over $100k).
It's themed each year-I wonder what it is this year?
Here are some more hints.
Lots of people everywhere.
These two are from Bellingham, Washington are 686 fans and asked for my autograph.
Are you sure you have the right dude? I sit at my desk and design things.
The important dudes are on stage...
Hey Theotis!
Hey Ray Barbee!
Hey super 686?
Hey Mr. Squareface, Mr. Burton and Mr. Neff.
OC meets LA (Wooly from Volcom and Bobby/Ben from the Hundreds).
Raise your weapon .
Deadmau5 raising his weapon.
Sell lots of product at the store, get lots of stuff, good night.
I got 5 on it
January 14, 2013
Guess where I am?
Somewhere here.
It's cowboy country in the mountains
For the past 5 years, I've been heading to Steamboat, Colorado about this time to get my shred on with some old friends from around the way.
Marty and Tammy have been graciously hosting a few invited guests from the industry and the entire Zumiez buying team for the past decade.
After some fun times sledding at Buff Pass, Stagecoach and the mountain, the highlight of the trip was playing dice.
YES, dice...
Jimbob from Zumiez and Gerfried from Blue Tomato are trying to figure out who's doubling down.
After many hours of playing, guess who rolls home with this stack? OG freestyle shred legend, Dale Rehberg.
Stackin'
Dale-you hold onto that stack, while I take your Noboard outside and try and do something stupid.
Believe the hype
January 8, 2013
Everything starts with an idea.
The difference between something you think about vs something that comes to life can be worlds apart.
I've always preached to the choir that it comes down to PEOPLE and TIMING.
With New Balance Numeric it definitely involved both of these important points.
Product won't be available until July, but we've recently gathered a curated group of heads of retailers to the tastemakers at the world famous Dodger Stadium in Chavez Ravine this past week.
Check out what went down via our friends at Hypebeast.
Girls who like Boys
January 4, 2013
Girls who like Boys and Boys who like Girls - well sort of.
The heads at Skateboarder Mag felt the same when they launched their recent Holiday lookbook with the help of some Girls, who in fact like Boys featuring the Matix Hemsworth Jacket.
Whore?
January 3, 2013
The freedom of speech is a powerful thing.
However the freedom to surf is something completely different...
2013
January 2, 2013
We made it.
View Previous Post & Comments:
December 2012
November 2012
October 2012
September 2012
August 2012
July 2012
June 2012
May 2012
April 2012
March 2012
February 2012
January 2012
---