Back to News
Mike's Mash | April 2013
April 1, 2013


Michael Akira West is the Owner and Creative Director of 686 Technical Apparel. The following are some of his experiences inside and out of the industry across the globe. *Add Comments at Bottom of Page!
The new generation
April 30, 2013
We're gearing up for the pre-season marketing push, with our new TEAM and CAMPAIGN. Lots of incredible good shit coming your way starting in September. So stoked on Brent (marketing director) and Pat (team manager), leading the charge. Big ups fellas!
Trojan Life
April 29, 2013
I was shuffling through my old boxes during the move to our new headquarters last week. During this process I ran across old stuff I somehow hoarded over the years. Photos from my skate days, old catalogs, my Star Wars card collection, you name it. I also found my diplomas from school, dating back to High School, Community College, Undergrad to Grad. When I looked at the commencement from undergrad, it said "University of Southern California Undergraduate School of Business- May 13, 1993" It will be nearly 20 years to date that I stepped off the campus as a student. Today, I return to campus for another reason. Just like I remember it, Doheny library.
Cardinal and Gold all day.
Trojan life.
Hello Tommy Trojan.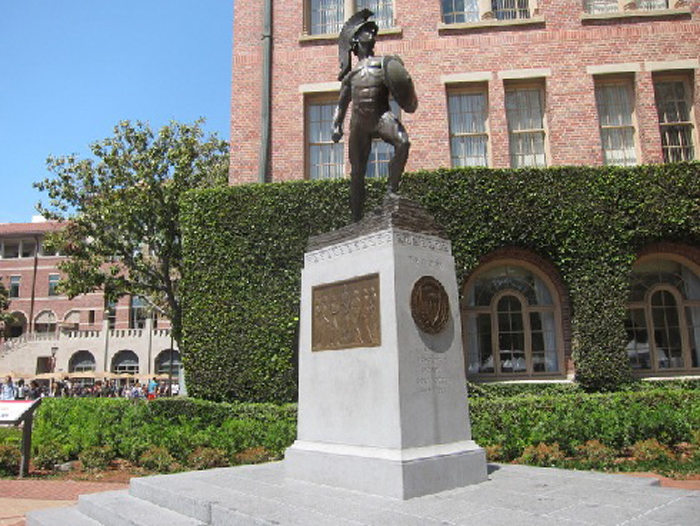 I guess 1 out of 5 isn't that bad...
In actuality, I'm here today to speak to the class about my journey as a student to starting 686. I get invited once in a while to do this, but being nearly 20 years since I walked off campus having no idea what was next, it's pretty surreal this time around.
Yesteryear, I was that kid in the back barely able to keep awake. Today, I'm up front to tell you what's up. Pay attention aight!
If I'm able to be a positive influence on someone's life by telling them "how I did it," damn that's a blessing. My friend and industry notable, Tommy Knapp had that same influence on my when I was a student. Today he's teaching this class, inviting me over. Just maybe you might see me in this same spot as a professor sometime very soon... Cheers Tommy.
There goes the neighborhood
April 25, 2013
We've barely moved into our new headquarters in LA and interesting enough, we have some cool cats around the corner from us. OG SLICK is one of the original graf heads from way back. Since his studio is next door to us, it's only fitting to say what's up to the neighbors. Check the container showroom in the middle.
Back in the day, Slick founded the original streetwear brand, FUCT with Erik Brunetti. Today, Slick and his wife run Dissizit making misc. Items like T's and Hats.
One off's like this leather joint.
Baseball bats always come in handy around this hood.
Don't mess with me.
Bringing it back.
Way back.
Slick's always busy doing anything and everything. Check out some of his latest pieces.
One of Slicks trademarks by way of LA.
I'm gonna continue snooping around and see all his goodies.
EZ.
One of the all-time best.
Big ups shaolin master and OG-SLICK.
Art of Dress
April 25, 2013
Beauty is in the eye of the beholder. Art is a form of alchemy. Movana Chen and Man Fung Yi take this one step further showing how the exterior garments we wear are actually something else.
One form.
To another one.
Rusted and re-purposed.
I would rock this.
Good things come in small packages.
Stiff as a board-Light as a feather.
Only in the middle
April 24, 2013
Only in the middle
Worn and Wasted
April 23, 2013
The Dickies x Matix 874 boardshort is now available .
Everything we do has a story to it. Check how this came to life from our Matix surf team manager, Chase Stopnik.
Matix X Dickies 874 Board Short video from Matix Clothing on Vimeo.
Hypebeast-eating
April 22, 2013
About six years ago, I stopped by the offices of Hypebeast in Hong Kong and met this one dude named Eugene. Back then HB comprised of 3 people, Eugene (editor in chief), Season (editor) and Kevin (founder).
Today, it's a juggernaut with close to 50 heads deep. Hypebeast is the leading online fashion-art-sneaker-apparel blog site in cyberspace.
Usually when I see Eugene, I'm rushing between layovers to China. However to my surprise, Eugene's actually in LA for a few days and decided to stop by.
Hello Eugene and Brandon (HB photog).
What the hell is he smiling about?
Something's brewing in the kitchen...
Speaking about the kitchen, it's lunch time. This is how we do it at Westlife.
Eugene's nickname is "extreme". Everyone ordered one dish while Eugene ordered three dishes and counting.
Oh yes, I'm ready, thin crust with mushroom and arugula.
Made to Work
April 19, 2013
The foundation of our roots.
Matix x Dickies
April 17, 2013
Inspired from.
Finally HERE.
Details, details.
Iconic.
Lovely dirtiness.
Introducing the first and only boardshort inspired directly from Dickies original 874 twill pant, made by our very own and cycle zombie frontman, Turkey http://matixclothing.com/ambassadors/surf/turkey-stopnik Stopnik.
Get em NOW before it's all gone.
Coachella 2013
April 15, 2013
The Coachella Music and Arts festival was this past weekend in Indio CA. For the past decade, its been a customary ritual to drive 2-1/2 hrs to the desert and totally engulf yourself into the free spirited environment. The good thing is that it was an incredible time. The bad thing was that for some reason or another, I lost all my photos. Maybe you can help me fill in the blanks starting with this at night.
What comes around, goes around.
Daytime madness.
My hometown heroes.
RESQ to the Rescue.
The aftermath.
COACHELLA 2013
April 12, 2013
By the time you read this mash, I've already staked claim to my tent and being a happy hippie the next 72 hours. It used to be all about the lineup. Now today, it's a lot more. If only DP was here…The "in my dreams lineup".
The "wake up you're here lineup".
Matix x Broza x South Bay
April 11, 2013
It's nice when you can work with friends who share the same vision to create and give back. Local photog, Brent Broza and Matix Clothing have recently released a limited collection of Printwear and Headwear dedicate to the roots of our foundation- The South Bay.
Available only at local stockists - Spyder Surf, Surf Concepts, ET Surf and Vanguard Surf.
Support local, support South Bay just like Pennywise front man, Jim Lindberg.
BAM!
April 9, 2013
This is Forest Bailey and this is the Dickies 686 work pant.
Amplitude 2013
April 8, 2013
A few months ago, an old friend of mine emailed me about coming up to his mountain in Canada to go ride. Typically during this time, I'm still traveling a grip but low and behold, I was around. The other thing he told me was that he was organizing an "informal" conference at the resort catering to both the music and action sports world. When I hear the word "conference," I gradually start to back pedal as I've been to one too many of those in the past. Instead of bowing out, I called my friend up and ask him what's up. Fran Richards picks up the phone and he assures me that its more of a riding and get together gig, than anything that requires power point presentation. There are only a few people these days that can relate to the backstory of snowboarding more than me, and Fran's that dude. From his early days as one of the first employees of the iconic Wave Rave shop in Boulder, CO in the mid 80's, to being a reputable photographer, then taking the helm at Transworld Snowboarding during the heydays of shredding, to being the founding partner at Future Snowboarding publications and then moving to the brand side at Spy Optics, Mr. Richards has done quite a bit. However, I think he's finally found his calling at his latest gig, the head of Marketing at Red Mountain in Rossland BC, Canada.
I've landed at Red just in time for this little beauty.
Red Mountain has history. Founded in the 1920's, the resort has recently gone through a lot of updating (thanks to the passionate plays of owner and operator Howard Katkov and team), but the cool thing I love is the nostalgic feeling of yesteryear. The locker room is just like it was since the 1940's-wooden lockers and all.
Red Rum #333.
Stuck in a time warp? Nah this is how they do it up here.
Although spring conditions, the day was epic hanging with a slew of music and gaming execs, talking shop and shredding the gnarr. Fran's reserved a snowcat at the top so I better get my ass up there. One of the only selfie shots you'll ever see of me.
Just in time! Check my ride for the day.
It's beer-thirty already.
It's nice when you get out of the office, do what you love to do and rap with others who share the same passions of getting people stoked, regardless of the type of industry there in. Big ups to Fran, Josh, Howard and the rest of the Amplitude crew of 2013-Cheers!
The Wizard of Oz
April 5, 2013
People sometimes tell me that I live an "interesting" life. When they said that to me, I didn't quite understand what that meant. I guess what they are referring to is that I'm neither here nor there, I'm everywhere.
I consider myself a determined dude that is obsessively compulsively focused, but at the same time very curious and open to anything.
I have a diverse range of friends I hang out with. Most of which you would never see each other in the same room. Case in point is JC, who's the CEO of Grenade Gloves
JC is one of those guys that people "love him" or really-really "hate him." Today, I love him because he always tells me what he thinks. He doesn't hold back and I can appreciate a dude that tells me how it is.
Next stop is to see the wizard of OZ. Well not really, but kinda sorta. One of my old 686 family members is taking the lead at Nike in outerwear design. Since I was in the area, I might as well stop by and say hello. Dammit, Derek Jeter took my parking spot.
If you haven't been to the "campus" you haven't seen why the swoosh is king. Sweeping views.
Lakes.
Indoor climbing walls.
Roaming geese.
Recreation of the 18th hole at Pebble Beach.
Familiar faces.
I'm scared, Danny.
World class athletes like this guy.
Details, details.
As TIGER recently put it, "Winning takes care of everything".
One of the most sacred buildings on campus.
Mr. Steve Prefontaine.
Ie: the Soul of the Swoosh.
The goods by Steve.
Everything seems to start in this little thing-Phil's VW.
Spike Lee's 1991 commercial is forever cemented in my mind.
"Is it the shoes?" Yes it is.
The one that started it ALL.
The 3 or 4?
3 all day
.
Rules were meant to be broken.
Thanks for the inspiration.
A few more steps to Clymb
April 4, 2013
Portland is only about a 3 hour drive from Seattle or in LA terminology, about as long as it takes to drive to work.
I'm doing my rounds and today meeting with an old friend from around the way. He's located in this non-descript building in the Pearl district.
Maybe this will give you a hint where I am.
Their mission is to increase the well-being of the planet...
How about these Clymbing accessories.
Ok, I'm at the headquarters of the CLYMB. The nation's largest member only flash site dedicated to the Outdoor and Action Sports industry.
Say hello to Cec. Him and his partner founded the Clymb only a few years ago and today have built close to a 2 million members. Cec is a tall dude, but not as tall as these custom made surfboards in their board room.
Cec respectively tells me they've increased their staff year over year to keep up with their rapidly growing business. An open arena format with lots of young folks that live what their actually selling. Sounds like an ongoing theme here in the Pacific Northwest.
In LA, we have tons of cars in the parking lot. At the Clymb, they have bike gridlock.
The locker room filled with goodies galore. Live what you sell, sell what you live.
Creativity can come from anywhere, including one of their employees making art come to life in blue masking tape.
Cut and stick.
I value the time spent with people who are doing it for the right reasons. Yes, we're running a business and have to deal with the volatile cycle of what this entails, but the journey is what really matters. The great journey to meet people who are smarter than you, embracing the culture of living outside and taking the steps of "doing" more than talking. I've told my lady if I was to move outside Cali, Portland would be on top of my list (as long as the sun shines a few days of the week). Thank you Cec and thank you Portland.
They Devour Everything
April 3, 2013
Next on the agenda today is stopping by to say hello to my friends at C3 Worldwide-Capita snowboards, Coal headwear, Union bindings and hOme watches.
COAL!
UNION!
CAPITA!
Mr. Capita himself, Blue working on some top secret shit while Tedore is playing devil's advocate.
C3 Worldwide.
Bob "Gumby" Gundram is the CEO of C3 and today he looks like he has a little boo boo.
Looky here.
Look there.
Gumby was on a recent trip to Baldface and had a little mishap on the Ultra Natural run. Regardless, he's doing just fine.
I don't get to this neck of the woods that often and it's always good catching up and talking shop with friends. Excuse me, while I eat my pasta at Mondello's.
HA!
April 2, 2013
Yesterday, was April fools and yes, to a lot of people's disappointment, I'm still here.
I'm also in the Pac Northwest for some more (you guessed it) meetings.
The first stop is the folks at Zumiez www.zumiez.com.
Comprised of close to 500 retail stores across North America and now Europe through Blue Tomato, Zumiez is one of largest accounts for both 686 and Matix.
Not only have they been darlings in the public market, they've also done a pretty good job in the industry on a larger tier level.
Here are a few reasons why, with the first one being this.
And the other being because of these two dudes, founder Tom Campion and CEO and fearless leader, Rick Brooks.
Rick's showing me around the new offices.
All very open for all depts to talk to each other.
Outside next to the cafeteria, they built a concrete skate park which is opened to the public - Market research is front and center.
Check the snap shot of all their brick and mortar locations.
We stopped by to say hello to Tom Campion, but he was out on one of his excursions across the globe (maybe to see his polar bears?).
In all, we had some insightful conversations about what lies ahead for Zumiez, their Omni-channel strategies, how brands need to stand for something, what the snow and skate markets are missing and taking calculated risks throughout the markets.
People have their own opinions about Zumiez, but until you get to understand them from both a consumer and business side, you realize their incredible nimble, listen to the kids and here to support the generation of what's next.
Thanks to Jimbob (Head of Buying) and Rick for taking the time to rap out. (Rick was nice enough to take a photo but like me, not a fan for being in front of it).
RIP - Mikes Mash Up
April 1, 2013
It was good while it lasted, but everything good must come to an end. Sadly, this is my last day on the blog universe. I'd like to give big up's to everyone who's been a victim of my therapeutic mashes throughout the past 4 years. All I wanted was to show a glimpse into the quirky and creative processes I've been blessed to be a part of, across the globe. I couldn't have done it with my compadre, Chad and the Malakye family. Y'all know I'm into quotes, so I'll leave you with this one from Ms. Winfrey.
"Be thankful for what you have; you'll end up having more. If you concentrate on what you don't have, you will never, ever have enough."
View Previous Post & Comments:
March 2013
February 2013
January 2013
December 2012
November 2012
October 2012
September 2012
August 2012
July 2012
June 2012
May 2012
April 2012
March 2012
February 2012
---