Back to News
Mike's Mash | September 2014
September 3, 2014


Michael Akira West is a partner and creative director of 686 Technical Apparel, MATIX Clothing and NRI Distribution. The following are some of his experiences across the globe. *Add Comments at Bottom of Page!
Day Trippin'
September 30, 2014
The Matix fam took a day trip up North to Leo Carrillo and ended finding some good stuff. Can someone tell Trevor we're here
JJ is eager and ready to go
I think Turk is already trying to find the good stuff
Chase is waxed up
Lean
From the ground UP
Head Straight
September 29, 2014
Today, I'm heading 40 miles east to visit the purveyors of all things headwear. Hello Flexfit
In order to predict the future, you must understand the past
1978
Did you know that Flexfit invented the trucker hat in 1978?
Wanna see how its all done? Jeff Hamada x Boooooom x Flexfit shows us how its done
Booooooom x Flexfit: "All In A Day's Work" from Flexfit on Vimeo.
I like to wander around someone's home
The think tank
Head First
Head Line
Head Straight
The man with the plan. Big ups to Andy and BSCMP
Who is Jon Contino?
September 18, 2014

New York native Jon Contino is widely known for his unique style which combines old & new world aesthetics into a modern, minimalist style imitated all over the world. His work reveals the influences of historical New York, contemporary street art, and the lost art of hand lettering. Through these images, his story is told as a designer and a consultant for brands ranging from the smallest boutique start-ups to the largest international corporations.
When designing, Jon is proud to say that he got to "push the boundaries a little bit and get rowdy". With the collection, Jon brings some new life to an old subject...America. He rediscovers the attitude of our forefathers without shame or regret. All said, we are proud to present you with the Matix x Contino collection
Matix Clothing presents "Who Is Jon Contino" from Matix Clothing on Vimeo.
The 686 Takeover
September 16, 2014
This week, 686 is taking over the Transworld website. From Forest Bailey's Cosmic Collection to Cam's obsession with the Moniker, check the madness here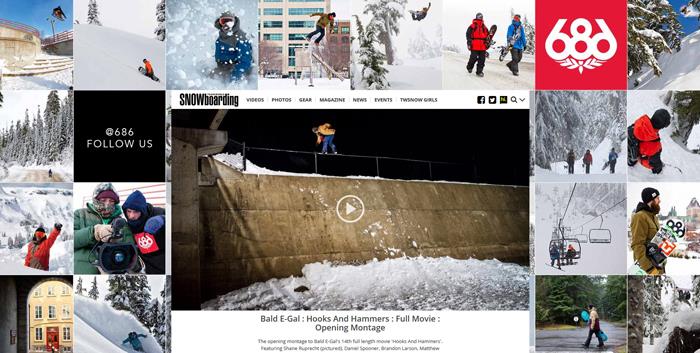 Have you heard?
September 10, 2014
Marc Newson x Jony Ive
X
According to Vanity Fair world renowned design icon, Marc Newson and Apple design chief, Jony Ive have teamed up at Apple. "Marc is without question one of the most influential designers of this generation. He is extraordinarily talented. We are particularly excited to formalize our collaboration as we enjoy working together so much and have found our partnership so effective."
No Shirt, No Shoes, No Trunks, No Problem
September 8, 2014
From the dirty streets of downtown, to the skateparks of suburban neighborhoods and straight into the salty ocean-Matix Denim is built with durability and quality to with stand the day to day use of what you are going to put your jeans through. JJ Wessels puts my favorite pant, the Gripper Indigold to the test after forgetting his favorite pair of board shorts at home and paddles out for a session at Old Mans.
Check out the Gripper Indigold, guaranteed for life

And check out JJ
Matix Clothing presents JJ Wessels in No Shoes, No Trunks, No Problem……. from Matix Clothing on Vimeo.
The Shot
September 5, 2014
It may be in the mid 80's here in LA, but winter is always on our minds here at 686 Our friends at Snowboarder dropped latest edit called Reel Talk, to get everyone ready for the season. The 686 am squad (Riley, Austin, John, Tarbell) was full in effect. Here's a little teaser of what it takes to get the right shot
Hand made by precision making instruments

The run-up

On it

Oh hell yeah

686 presents Reel Talk from Snowboarder Magazine on Vimeo.
Behind The Scenes

September 3, 2014
You know when you have a meeting on the calendar and it keeps getting pushed back and then never happens? I'm a victim to this, but I'm proud to say that I've broken the cycle to this viscous disease! I took a quick 35 minute ride to the Beverly Hills to have lunch with Rickey from Machine Shop.
If you didn't know Machine Shop is the creative arm of Linkin Park. From strategic partnerships to music videos to merchandising to what the stage set up looks like, it starts with the guys in LP and Machine Shop
Work in Progress
Looks familiar?
Hello Rickey
LP is currently on their Carnivores world tour, along with 30 Seconds to Mars and AFI. Rickey and the crew at Machine Shop took back the reigns of merchandising and approached the direction from a brand point of view
A sneak peak
The artwork is on point. The ever talented James Jean for LP. See you guys in a few weeks at the bowl
View Previous Post & Comments:
August 2014
July 2014
June 2014
May 2014
April 2014
March 2014
February 2014
January 2014
December 2013
November 2013
October 2013
September 2013
August 2013
July 2013
June 2013
May 2013
---