Back to News
Project OR - Kathryn Choquer
July 7, 2010
Project OR - Kathryn Choquer
Apparel Design, Fashion Institute of Design & Merchandising, 2010
Contact:
[email protected]
I am looking for apparel design work in Southern California, Washington or Portland.
Statement
I started sewing when I was eight years old. My Mother, a fantastic seamstress, taught me how to pin perfectly-cut edges together and sew a straight line. As a senior, I toyed with the idea of going to school for fashion design but was too afraid artistically, financially, and emotionally. I couldn't draw so I didn't think of myself as a creative person. I convinced myself I should go into business instead, much safer. Years later, I caught myself telling someone "I am a frustrated designer." and it was as if I had finally woken up.
In 2008, everything lined up and I made the decision to pursue the career I had always truly wanted. I uprooted my life and my family to come to California from Canada to go to school (FIDM) and finally learn how to design. I was really nervous. When I started to get positive feedback on my assignments and was reassured that my designs are marketable, I was able to exhale and enjoy juggling a demanding schedule with my family life. I learned the difference between inspiration and motivation.
I had two hobbies as a child: sewing and figure skating. I didn't associate with being an athlete though until much later in life when I was able to pick up other sports with relative ease, thanks to my years of skating. Skiing, water-skiing, karate, snowboarding, weight-lifting, running and then surfing. I love them all.
I am the right person for this competition because I want to win: against myself, against my peers. I want to combine my athletic experience with my design skills and build fresh, smart apparel. As an added bonus, winning would make my Mom (who is fighting late stage cancer) very happy and would show my daughter that success comes when you are true to yourself.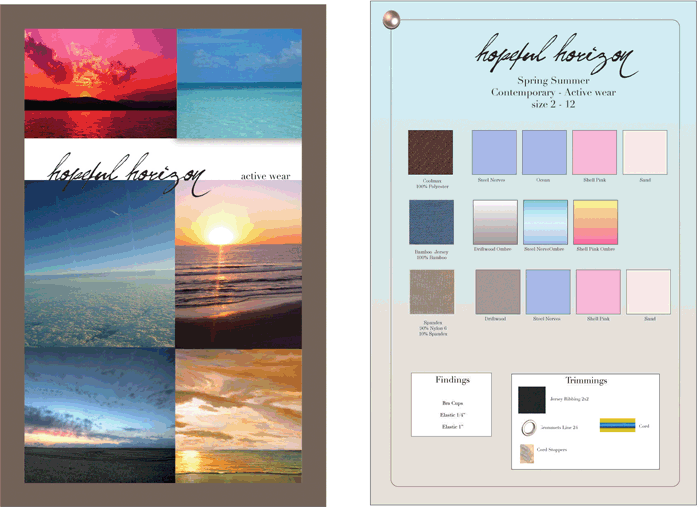 ---