Back to News
Crowd-Funded | Archives October 2013 - January 2014
January 28, 2014

Malakye's Crowd-Funded blog tracks the newest, most relevant and compelling crowd funding campaigns of companies which are involved in the industries served by Malakye.
*Add Comments at Bottom of Page!
Surf's Up 2014
January 28, 2014
What: Surf's Up 2014 - Autism Surf Camp. A free one day surf camp in Tofino BC.
Why: The 3rd annual Surf's Up takes place in Tofino BC on September 13, 2014 where children and families living with Autism come together and enjoy a free one day surf camp. Smiles are plentiful and laughs are contagious. Enjoy the Aloha Spirit!
When: Dec 27, 2013 - Feb 25, 2014
Where: Surf's Up 2014 on Indiegogo
Funding Goal: $1,500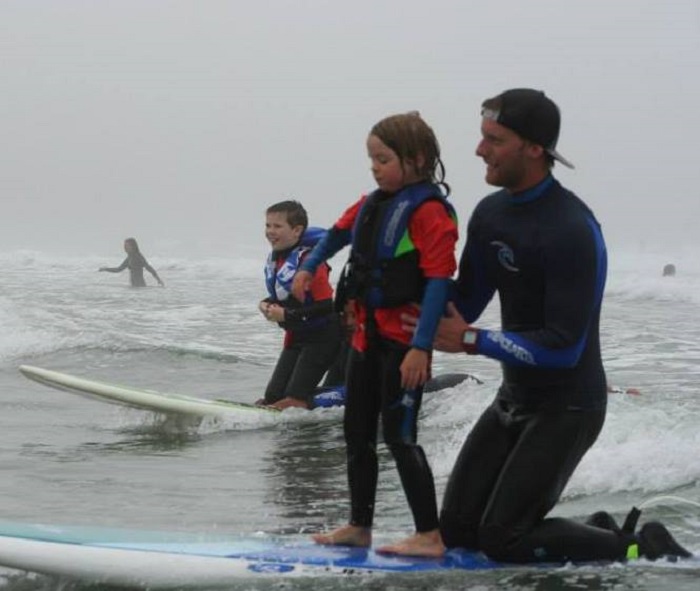 You can make a difference in a child's life. Help make the 3rd annual surf camp for children and families living with Autism a success.
"1 in 88 children are diagnosed with Autism."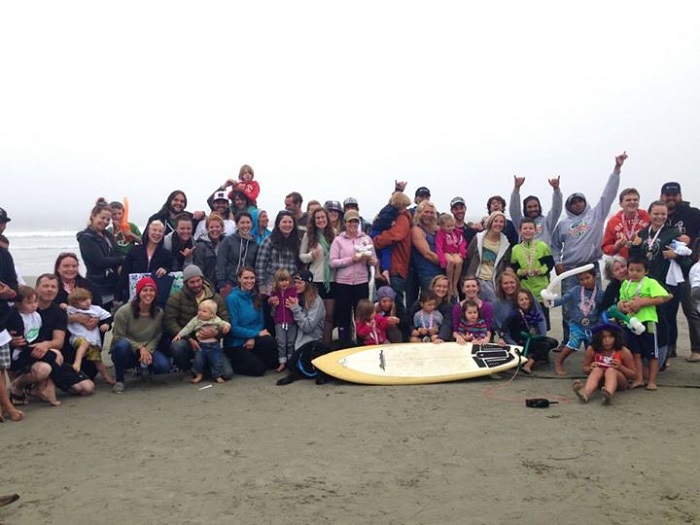 Surf's Up is not a large organization but an event inspired by a father and son's dream to share their love of surfing with other families living with Autism. Every cent raised goes into the cost of running this event.
Purpose Speedboard
January 21, 2014
What: Skateboard...Longboard...Speedboard! A new skateboard with Purpose, designed for speed, control, and stability for Downhill Riding!
Why: This board was designed with tons of feedback from downhill riders; it is a hybrid featuring a modern twist in the design: being laminated with Carbon Fiber. This will result in a deck that will be thinner, stronger, and lighter.
When: Jan 7, 2014 - Feb 6, 2014
Where: Cor-9 Speedboard on Kickstarter
Funding Goal: $15,000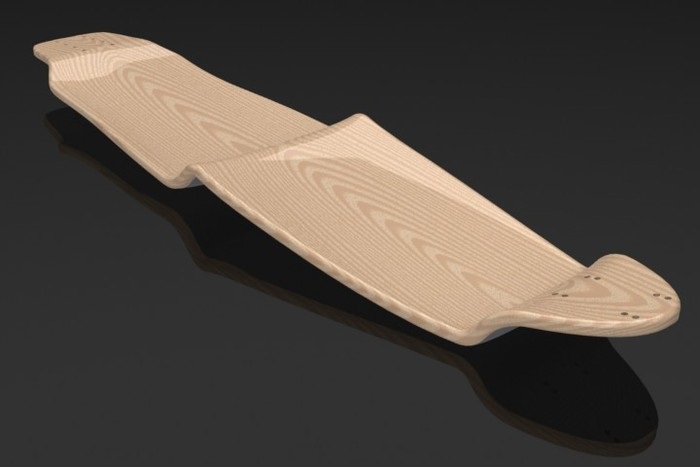 This is a unique kind of board with a drop center. Designed to promote a riders stance in Downhill Longboarding.
"Lighter, stronger, faster, better...and whatever else Daft Punk says."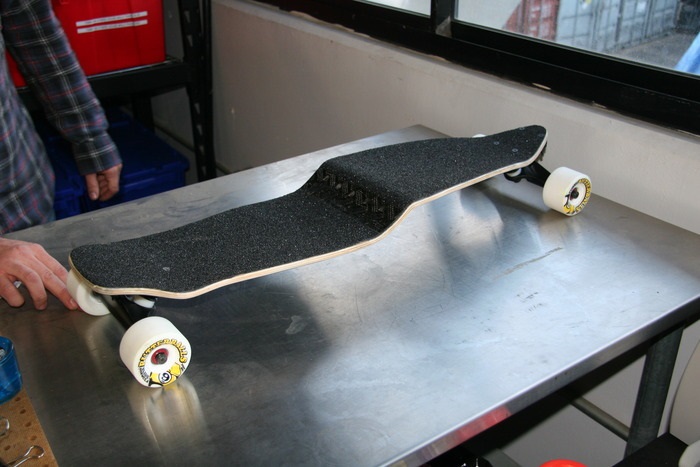 Hand-made, one-of-a-kind custom Boards with a Purpose!
Wooden Surfing
January 15, 2014
What: Wooden Surfing: The Lost Art of Vintage Surfing Boards
Why: To recreate the beautiful wooden boards of early surfing from California and Hawaii and to bring the heritage and culture of San Diego surfing to life.
When: Jan 7, 2014 - Feb 6, 2014
Where: Wooden Surfing on Kickstarter
Funding Goal: $4,250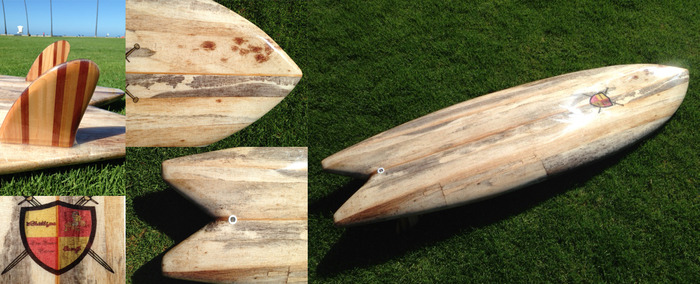 "You don't need to surf to appreciate the beauty of a wooden surfboard. If you are looking for something to add a little flare to your home or business and want to give it that California feel then this would be perfect for you. Maybe you want to hang it on the wall of your house, or you have a classic car that is missing something. Regardless, a wood surfboard is sure to turn heads."
All boards will be shaped by Philips Surf Company based in La Jolla, Calif.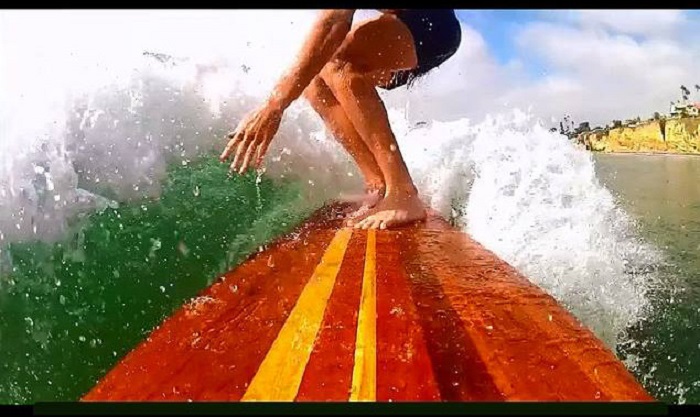 Handmade Wooden Surfboards of Redwood, Balsa, Century Plant, Cedar, Eucalyptus and more for Decoration or Riding!
Power-Lines Bluetooth Earbuds
January 10, 2014
What: Power-Lines Bluetooth Earbuds from Free2Ride
Why: Remove the cord and change how you listen to music!
When: Jan 6, 2014 - Feb 20, 2014
Where: Power-Lines Bluetooth Earbuds on Indiegogo
Funding Goal: $25,000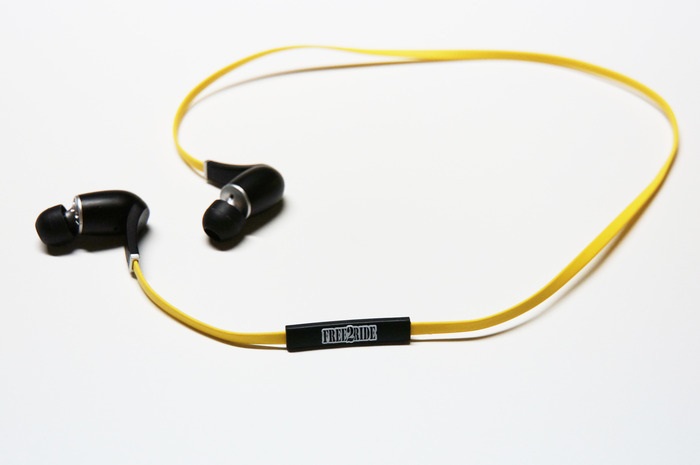 Power-Lines provide a user-friendly way to connect to any Bluetooth device and allows you to LOSE THE CORD, because electronic devices are cool but only if they are easy to use!
Power-Lines contain a built in battery that easily recharges with USB clip, a microphone built into earbud, and includes built in play, pause, and volume controls.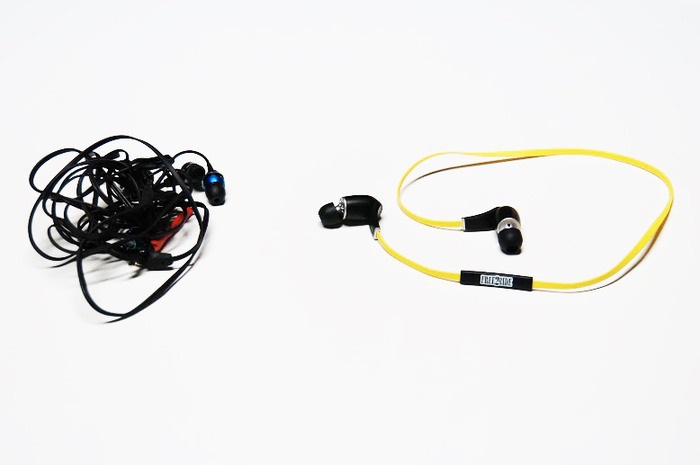 Lose the cord. Why? It gets in the way!
The Hawaiian
January 7, 2014
What: The Hawaiian: A Watch Made With The Spirit Of Aloha!
Why: Swae, the newest timepiece to hit the action sport/urban lifestyle scene, is releasing a new wooden watch called "The Hawaiian" made from koa wood selected in Kona. When purchased, the customer will help plant a tree in Hawaii as a reforestation project that SWAE is conducting. Buy a watch and help promote the environment!
When: Jan 7, 2014 - Mar 8, 2014
Where: The Hawaiian on Kickstarter
Funding Goal: $30,000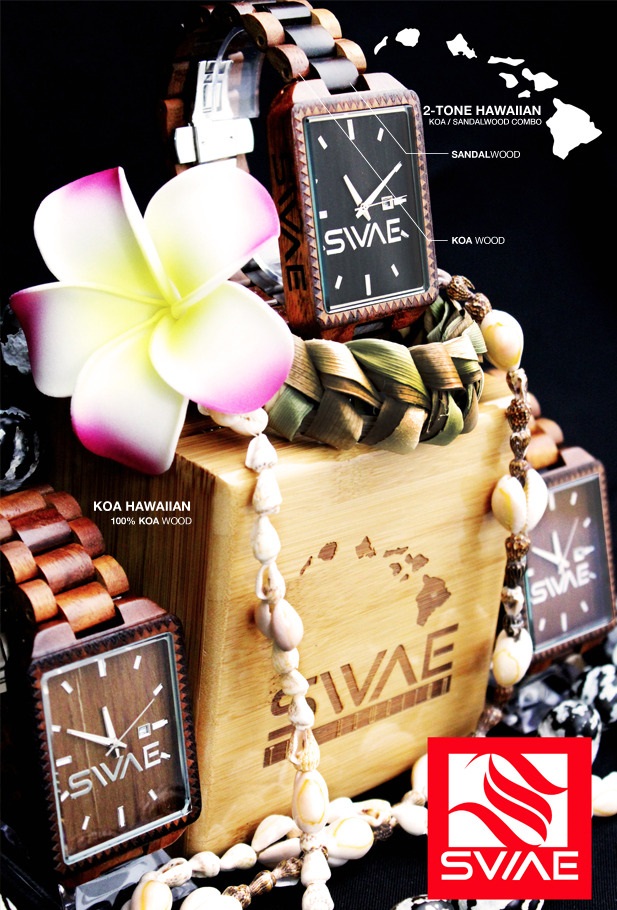 ALOHA! Grown on the northeast slopes of Mauna Kea and handmade from fallen trees free of any toxic chemicals, SWAE is launching The Hawaiian on Kickstarter. 100% original in design, this watch was created with some of the island culture within it.
NOT A SINGLE KOA TREE IS CUT DOWN TO MAKE THIS WATCH!
With the purchase of this watch, a koa tree will be planted and you will receive a certificate with GPS Coordinates as to where the tree is planted which will be in Umikoa, Hawaii (northeast side of Mauna Kea), land that was once owned by King Kamehameha the Great and was his personal Koa forest during his reign.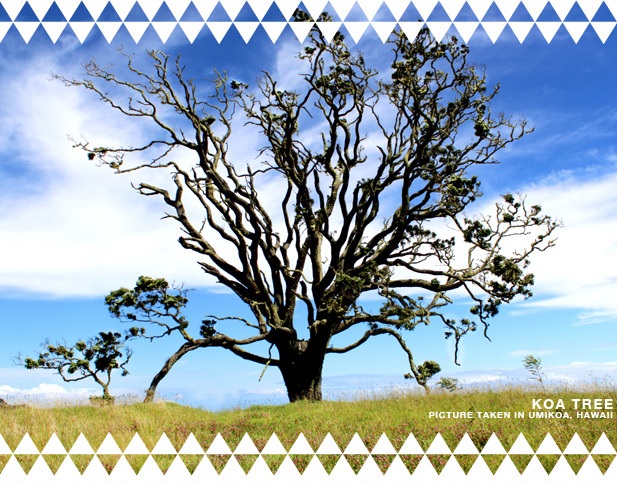 Handmade from beautiful Hawaiian Koa Wood hand picked from fallen trees on the Big Island of Hawaii.
DirtBaggies
December 18, 2013
What: DirtBaggies - Thermal Short & Knicker Mountain Bike Bib-Liners
Why: To bring pro-roadie comfort to mountain bikers who spend long days in the hills. The original FEATURE bib liner from DirtBaggies has been very well received, but they are only really viable in warm weather...
When: Dec 2, 2013 - Jan 2, 2014
Where: DirtBaggies on Kickstarter
Funding Goal: $1,000
DirtBaggies' are the world's first, patent pending, mountain bike specific bib-short liners and are made in the USA with soft, stretchy, single sided, wicking fleece over the legs and butt.
DirtBaggies' Feature Thermal Short and Knickers serve as cool weather variants of the acclaimed, patent pending MTB bib-liner.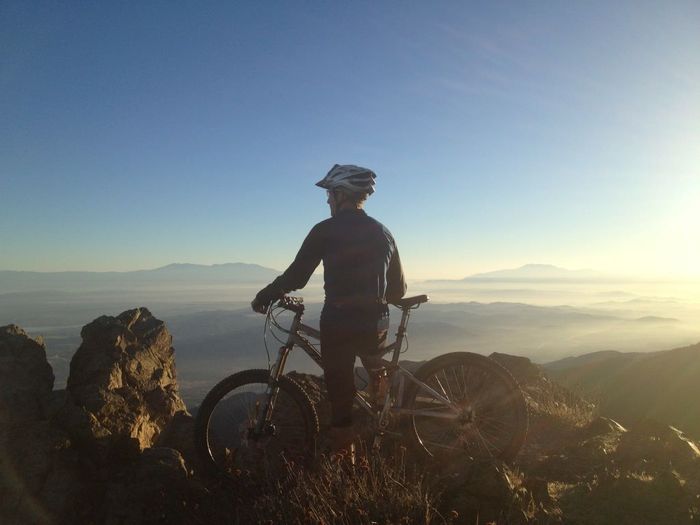 "...don't let a chill in the air stand between you and a day in the hills."
Pakems
December 9, 2013
What: Pakems - Lightweight packable shoes engineered to go anywhere!
Why: Pakems started as a statement that designer Julie Adams made from the top of a mountain while sitting in the snow with her ski boots off because they were so uncomfortable. She was there having a few beers post-ski, when she said out loud, "I wish I had a pair of packable shoes to put on!" She thought about all of the times when she and her son would get to the bottom of the mountain and he would sit down and start crying because his ski boots hurt so bad that he couldn't walk. Being a single mom, she was always carrying her skis, her poles, her son's skis and she was in ski boots herself, so there was nothing she could do but carry him...Pakems would have made that walk very different.
When: Nov 20, 2013 - Jan 3, 2014
Where: Pakems on Indiegogo
Funding Goal: $40,000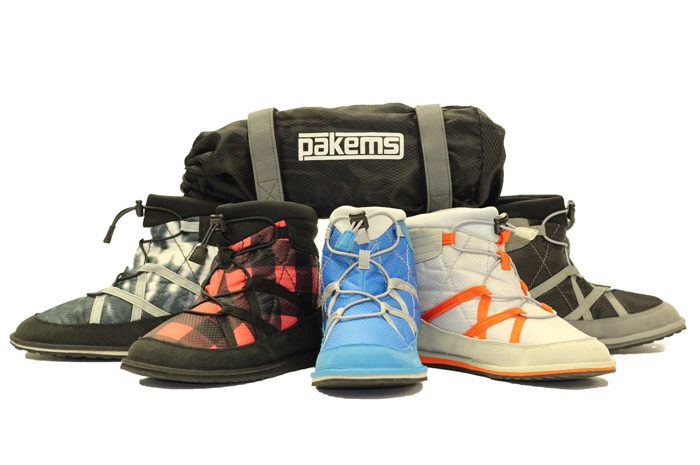 Pakems is on a mission to fundamentally change what active people wear on their feet before and after their favorite activity. Not only are Pakems a comfortable solution to getting where you want to go outdoors and relaxing afterward, they are perfect for your commute to work, to wear when you travel, to walk the dog, to run an errand - they are truly a "cool weather flip flop."
Pakems can really be worn anytime, whether it's mid-mountain for lunch, après ski, walking around camp après backpacking or fishing, commuting to an office or even after sports requiring cleats.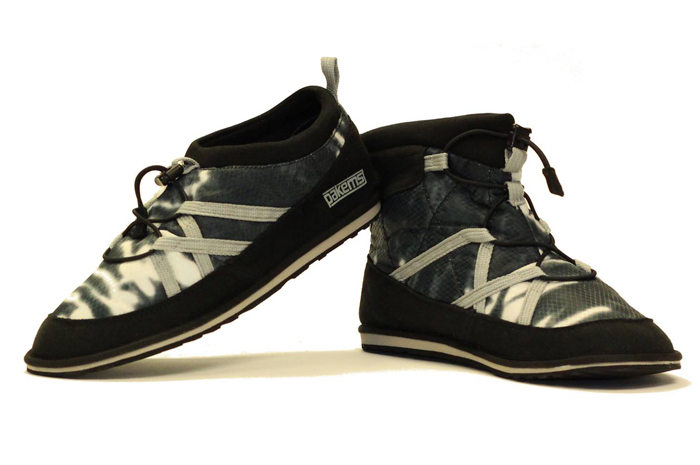 "Since Pakems stay on your person for the entire day, you can slip out of your ski boots any time you want - at the end of the day, duing lunch, during a break, etc. Yourfeet enjoy instant relief rather than suffering in rigid, constriting, damp boots." - Gizmag
Shrine Sneaker Pack
December 5, 2013
What: Shrine Sneaker Pack - A carry-on sized, weekender travel backpack with dedicated compartments for a sneaker enthusiast's shoe and accessories.
Why: The Shrine Sneaker Pack is a weekend travel backpack designed with two large dedicated sneaker compartments for your limited edition kicks. It also has storage for all your important accessories: caps, watches, jewelry, and tech. Whether flying to another city or just staying with friends a few hours away, your gear will always be ready.
When: Nov 18, 2013 - Dec 18, 2013
Where: Shrine Sneaker Pack on Kickstarter
Funding Goal: $40,000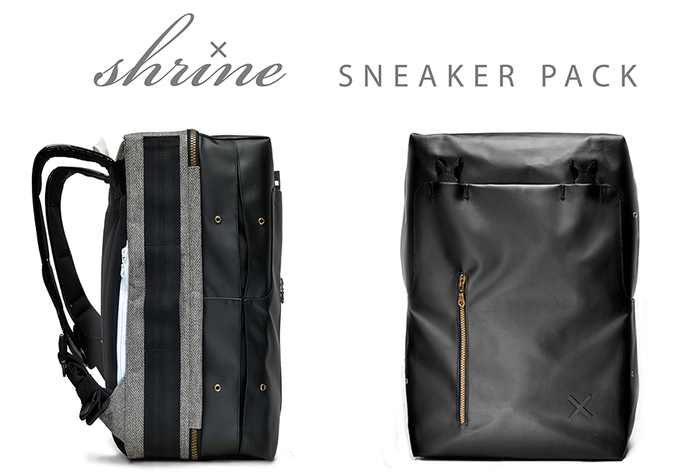 Sneaker collecting is more than just a hobby, it's a lifestyle. Your sneaker collection takes you where you want to go - from the studio to the club to court side. You're always on the move, and you need a BETTER way to take your favorite pairs with you. Meet the Shrine Sneaker Pack!
You realize that how you pack defines how you travel. If your clothes are folded and neat when they're put down, they'll get there in the same condition. When everything goes in a typical one compartment bag it's chaos, and you don't like chaos. The Shrine Sneaker Backpack has specialized compartments for all of your gear. Not only can you safely carry your two favorite pairs of sneakers, but there are compartments for all of your cool stuff...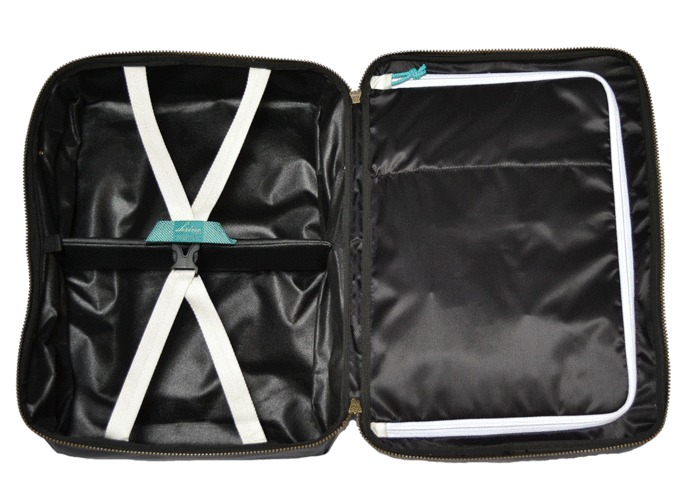 "I am in love with this product," gushed a fan on the Kickstarter page. "Being a Sneakerhead who travels constantly, this is a dream for me. THIS IS A MUST HAVE."
RaceDots
December 4, 2013
What: RaceDots - RaceDots hold your race number in place without damaging the expensive clothing you wear to walk, run or bike.
Why: The objective was simple: to hold a number plate in place without damaging your clothing (and look good doing it). "We know that the right clothes can make the difference between a brilliant day and a bad one. We aren't talking about the mis-matched old stuff you use for training. We're talking about game day—when it really matters: that's when you break out your Sunday's finest. And yet after months of preparation for an event...we all reach for the free safety pins and poke holes in the expensive clothing we've been waiting to wear. We knew there had to be a better way."
When: Nov 18, 2013 - Dec 26, 2013
Where: RaceDots on Indiegogo
Funding Goal: $30,000
At what point did holes and tears become acceptable?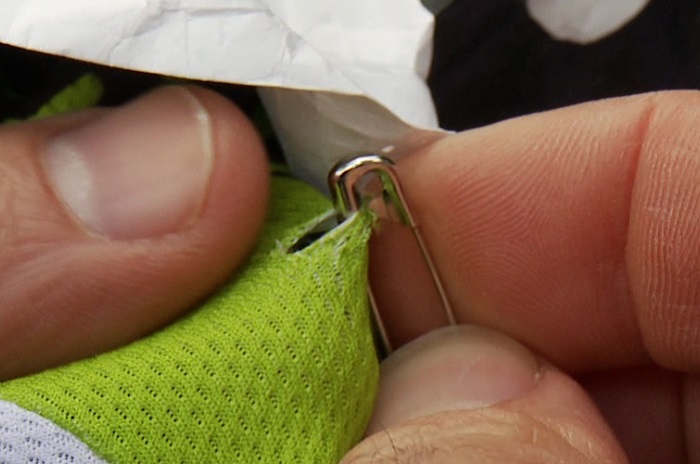 With over 40 years combined experience in cycling and running events and motivated by countless holes in their favorite jerseys, tank tops and shorts, the RaceDots team began experimenting with alternatives.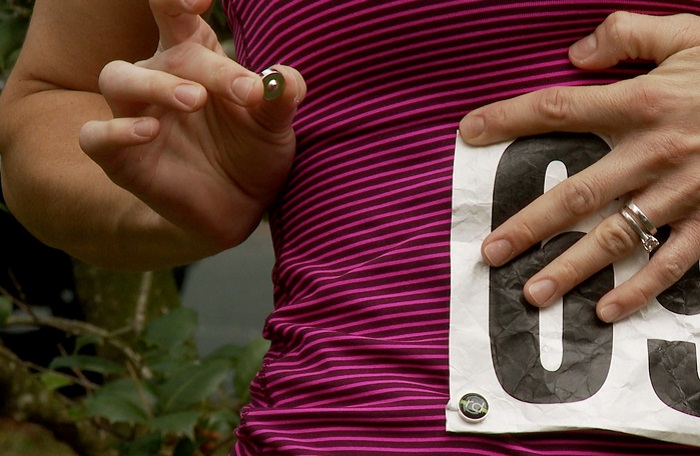 RaceDots™ Patent Pending Design locks the two magnets together.
Pivothead SMART
November 26, 2013
What: Pivothead SMART - The World's First 1080p Video Recording Eyewear. Record Your Life. Hands Free.
Why: Pivothead is True Point-of-View Life Recording. With Pivothead, you are not a spectator in life - you are a participant. Don't record your life through a view finder. Live, capture, and share moments of your life from a truly unique perspective - your own! Pivothead SMART™ - being highly focused on high-quality wearable imaging and wireless connectivity - fits somewhere in between pure wearable computing and box action cameras.
When: Nov 12, 2013 - Dec 12, 2013
Where: Pivothead SMART on Indiegogo
Funding Goal: $100,000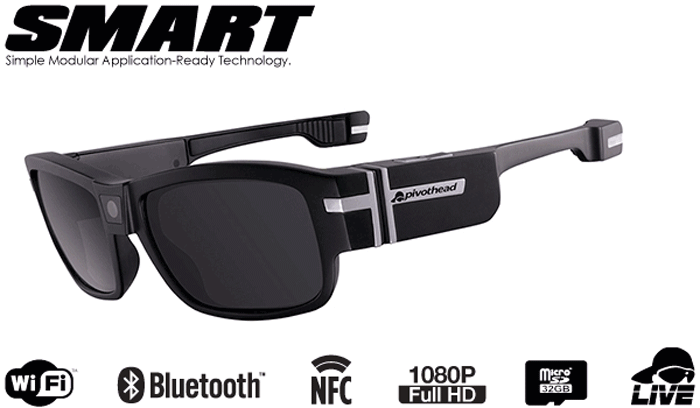 Things you can do with Pivothead SMART™:
•Share Your View - LIVE | live stream full HD video to web browser or mobile apps
•Capture Unique POV Video & Images | full HD video : 8 mp stills : auto-focus
•Add SMART Mods™ | accessories that add power, connectivity, and apps
•Store Memories | 16GB of internal memory : removable micro SD w/ mods
•Recharge On-The-Go | interchangeable Fuel Mod : continuously replaceable
•Control Your Glasses Wirelessly | from your smartwatch, smart phone, & more
•Get Notifications | configure audio & LED alerts from Pivothead & 3rd party apps
•Quick Pairing | instantly pair via bluetooth with integrated NFC
•Run Android Apps | develop and run Android-based apps on the Air Mod
•Develop Something Awesome | published SDK for developers
Pivothead SMART™ is about capturing, sharing and telling stories from a personal perspective. It's about a surprisingly sophisticated device - simple and convenient to use - that redefines what it means to use a camera.
Have a question or want to talk about creating apps for Pivothead SMART? Join the conversation at the SMART support page and Developer forums.
Shaggo
November 22, 2013
What: The Shaggo "Grom" Skateboard - The World's Only Shag Carpet-Embedded Skateboard.
Why: The Shaggo Grom skateboard looks sweet, feels incredible, and is bound to start a conversation. These boards are nimble, light, & responsive; and the short wheelbase makes 'em super easy to turn. For the comfort hounds, shag carpet is integrated into the deck - this reduces vibration and road noise, increases comfort, and delivers a velvety smooth ride so you are able to go barefoot, then you can really sink your toes into the cushy & grippy shag!
When: Nov 20, 2013 - Dec 5, 2013
Where: The Shaggo "Grom" Skateboard on Kickstarter
Funding Goal: $15,000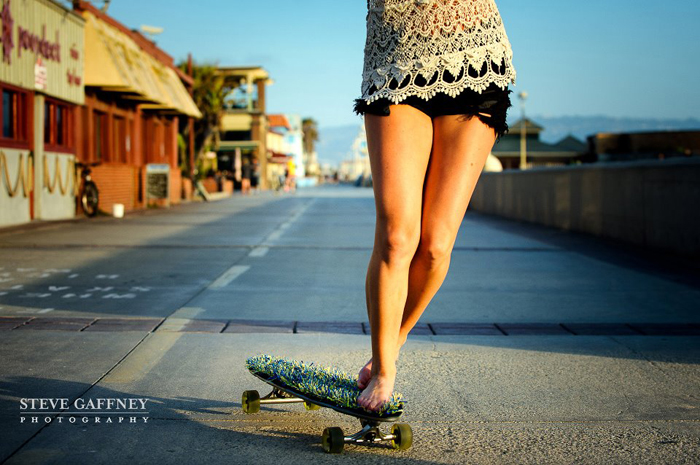 "Three words: comfort, performance, and style."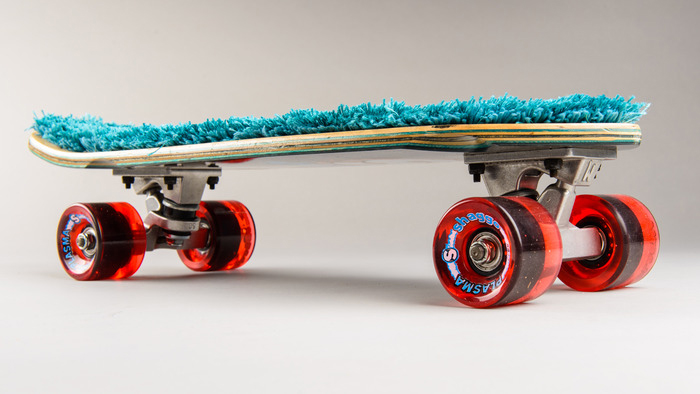 "Uh... three more: unexpected, casual, refreshing."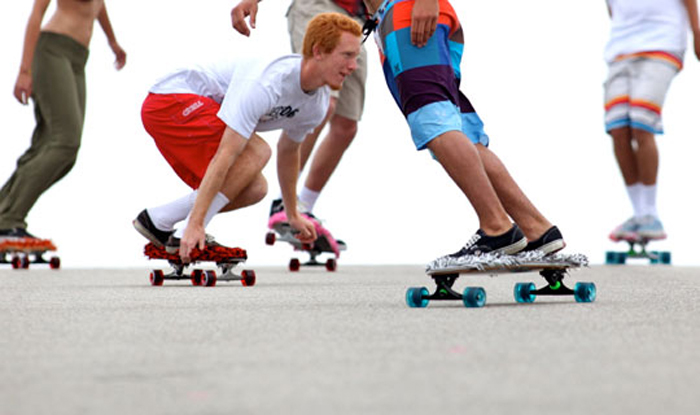 Be the first to shag in your neighborhood in time for the holidays! Head to Kickstarter now and back The Shaggo Grom! SHARE THE STOKE!
Out in the line-up
November 19, 2013
What: OUT in the line-up - A Film about Homosexuality in Surfing.
Why: OUT in the line-up is a feature documentary about two gay surfers who set off on a global journey to uncover the taboo of homosexuality in surfing. Beyond simply exposing this taboo issue, the film seeks to effect change. OUT in the line-up seeks to pave the way for a younger generation of surfers, creating a culture in which they can connect with each other and be themselves.
When: Nov 13, 2013 - Dec 13, 2013
Where: OUT in the line-up on Kickstarter
Funding Goal: $30,000 (AUD)
What does a gay surfer look like? Probably not what you'd expect! Help put a friendly face to part of the surf community that has been hidden until now by supporting the release of this groundbreaking documentary uncovering the taboo of homosexuality in surfing.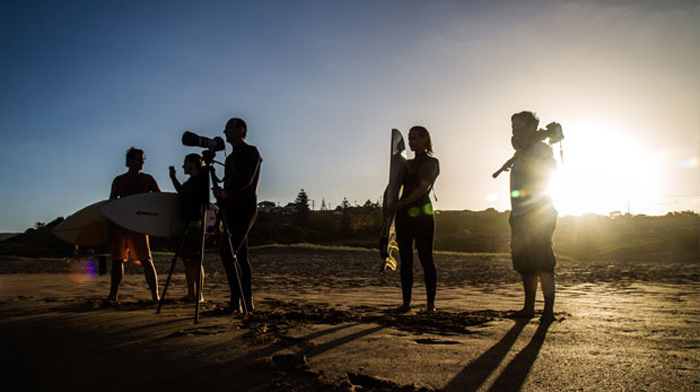 "OUT in the line-up uncovers a culture that has strayed from its foundation of freedom of spirit, open-mindedness and connection to nature."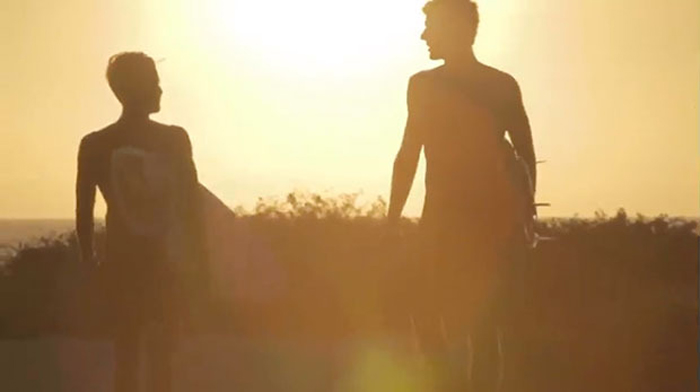 Can't Donate? Take 3 Seconds to Help. If you can't make a donation, you can still be a tremendous help! Take a few seconds to "like" the Out in the line-up Kickstarter page and tweet this link, you can help spread the word.
Mac Ride
November 15, 2013
What: Mac Ride - A Unique Child's Bike Seat for Riding Off-Road.
Why: The concept of bike seats for kids is not new, there are a vast number of commuter seats for children on the market and many of them are excellent for getting around the streets. But, a seat for kids that is also suitable for the trails did not exist....Mac Ride is the solution.
When: Nov 6, 2013 - Dec 6, 2013
Where: Mac Ride on Kickstarter
Funding Goal: $52,000 (CAD)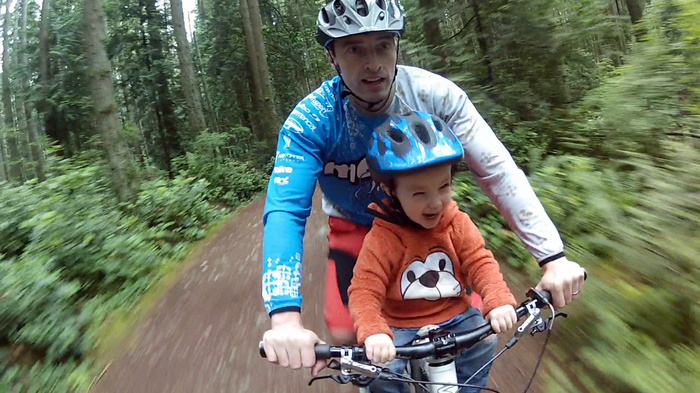 Mac Ride fits on your bike between you and your handlebars and the sleek, minimal design, with your child in front, ensures there is nothing between you and your greatest family adventures.
Mac Ride is easy to set up, suitable for off-road riding, and provides an engaging experience for children where they learn skills like balancing, turning, dropping, and jumping. This is a perfect platform for children to learn to ride!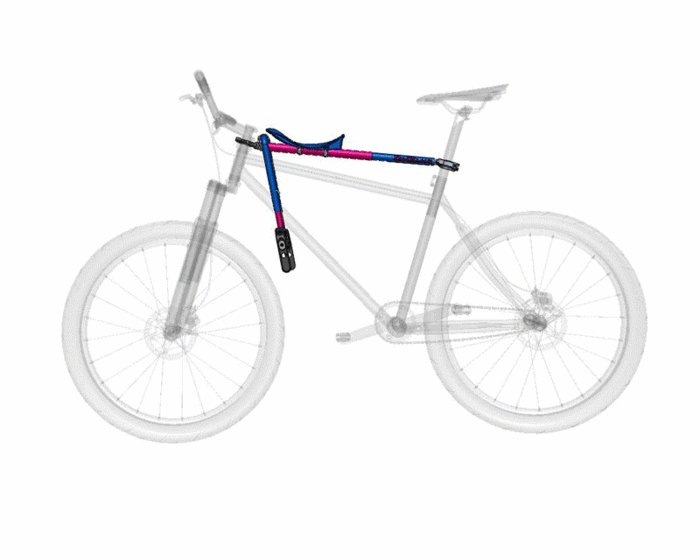 Mac Ride is strong, lightweight, ergonomic, easy to install, interactive and - perhaps most important of all - FUN!
Shark Shield
November 12, 2013
What: Shark Shield: surf any break without intimidation.
Why: Imagine if every surfboard in the world was an electronic shark deterrent that served to protect surfers and the swimmers on the beach. Shark Shield acts as an electronic mine field for sharks.
When: Oct 30, 2013 - Dec 29, 2013
Where: Shark Shield on Indiegogo
Funding Goal: $75,000
Shark Shield, the world's only scientifically proven and independently tested electronic shark deterrent, is developing the world's first inbuilt surfboard shark deterrent. Imagine sunset surfing without the worry of sharks. Be last to paddle in as the sun is setting. That's the freedom the new Shark Shield surf innovation offers surfers.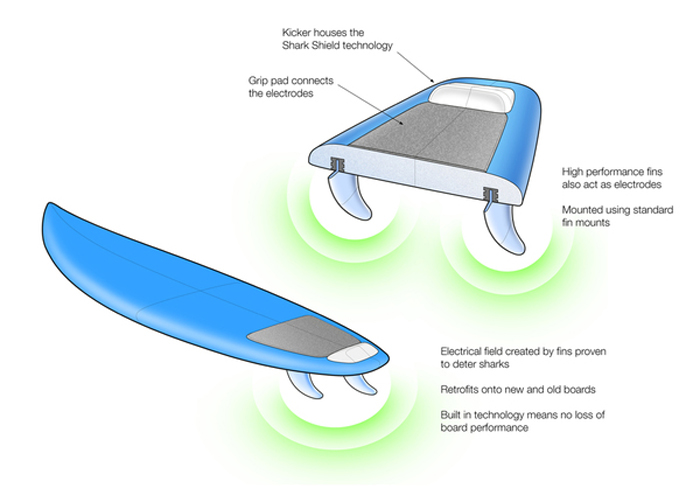 Shark Shield's new surfboard shark deterrent will have no impact on current surfboard manufacturing or the shaping design processes, and zero to minimal impact on surfboard performance. The patented innovation leverages the surfboards fins as electrodes, and uses the fin plug systems to electrically connect the electrodes (fins) to the power source mounted in the kicker of surfboards grip pad. Like all good inventions its design and implementation is simple.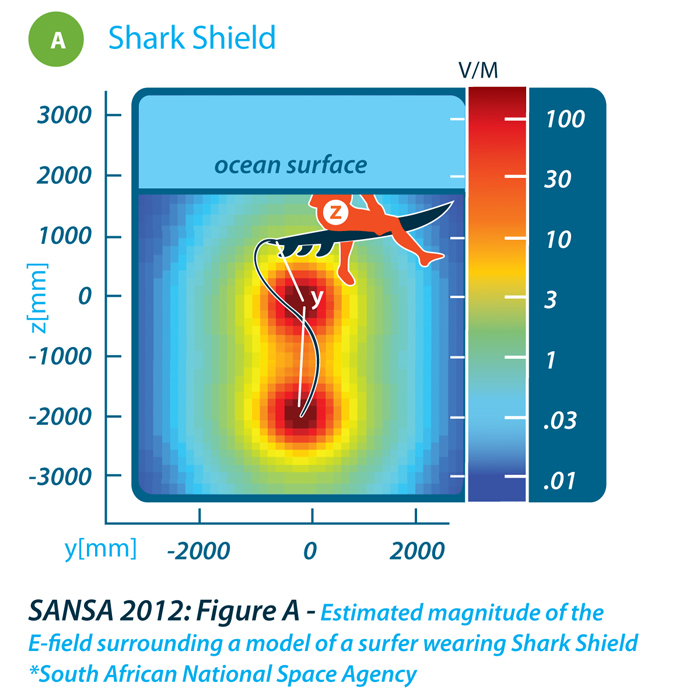 This is what the estimated electrical field looks like with the current Shark Shield SURF7 product. This diagram is an estimation by the South African National Space Agency, another example of the research behind Shark Shield.
SLIMplistic Wallet by MSTRMND Collective
November 7, 2013
What: SLIMplistic: a slim, simplistic, practical modern wallet designed with longevity in mind.
Why: Made from the finest Italian leather, utility nylon fabric, and locally woven custom elastic, the SLIMplistic is capable of enduring the tests of even the most extreme lifestyles. Not only is it made from the finest materials, it's also manufactured right here at home, locally, by the finest leather workers. 100% designed, handcrafted and made in the USA. And don't let it's size fool you. This stylish wallet is designed to hold everything you'll need - from as little as a single card to over 10 cards plus cash, receipts and more.
When: Oct 27, 2013 - Dec 2, 2013
Where: SLIMplistic on Kickstarter
Funding Goal: $5,000
Pledge $28 or more and be one of the first to receive your choice of any available color SLIMplistic wallet.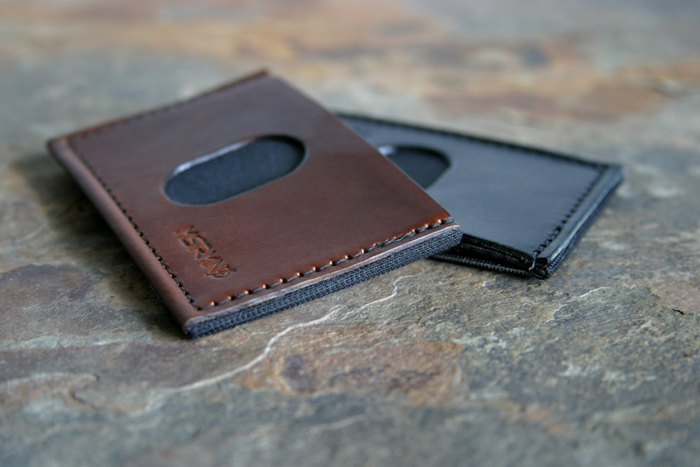 Thie SLIMplistic is slightly larger than a single credit card at only an 1/8 of an inch thick.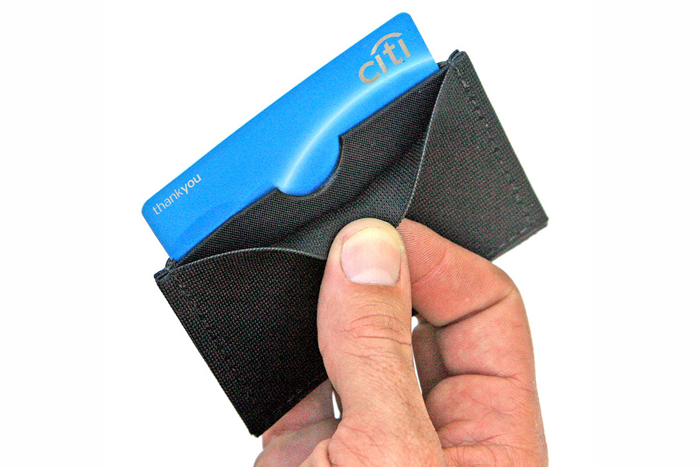 The easy-access thumb slot makes swiping your most frequently used cards a breeze, and when not in use, the SLIMplistic leaves an almost unseen imprint in either your front or back pocket.
The Cricket
November 4, 2013
What: The Cricket: The stealthiest silent alarm for bicycles.
Why: If the worst happens and your bicycle is stolen, Cricket can hunt it down using it's cloud based system to ensure a swift recovery. When someone as much as touches your bike, you'll get an instant (as in one tenth of a second instant) notification on your smart phone. Make bicycle theft a thing of the past.
When: Oct 22, 2013 - Nov 26, 2013
Where: The Cricket on Indiegogo
Funding Goal: $30,000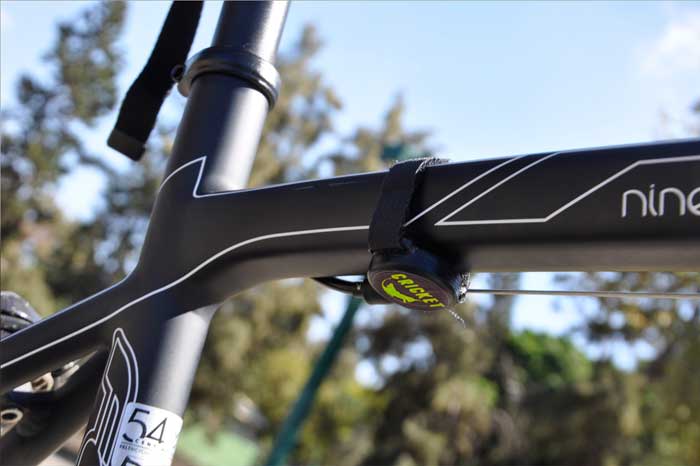 How does it work: Simply attach the Cricket to your bike and download the free mobile app. THAT'S IT! Then, you activate the Cricket on your mobile device and relax, knowing your beloved bike is safe where you left it.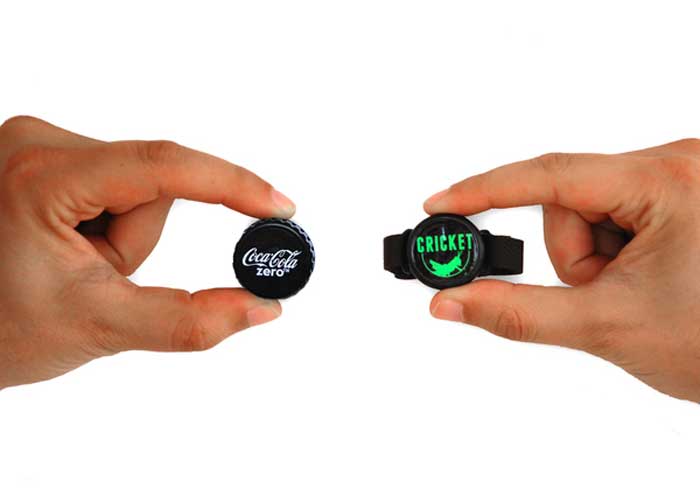 The Cricket uses low-power Bluetooth communications with a range of up to 150 feet and works for years without replacing the battery or switching the device on/off. The Cricket will work with your iPhone 4S, iPhone 5, iPhone 5S, iPhone 5C, iPad 3rd and 4th gen, iPad mini, and iPod Touch 5th gen.
CL!CK CARABINER
October 31, 2013
What: CL!CK CARABINER: The Snowboard & Ski Binding Tool.
Why: Tune Bindings. Anytime. Anywhere. CL!CK Carabiner was created to provide the essential tools for snowboarding and skiing in an incredibly stylish, simple, and effective carabiner form and features a patent pending "Glove On" technology which allows easy access and use of the tool with your gloves on. No more cold hands.
When: Oct 2, 2013 - Dec 1, 2013
Where: CL!CK CARABINER on Kickstarter
Funding Goal: $50,000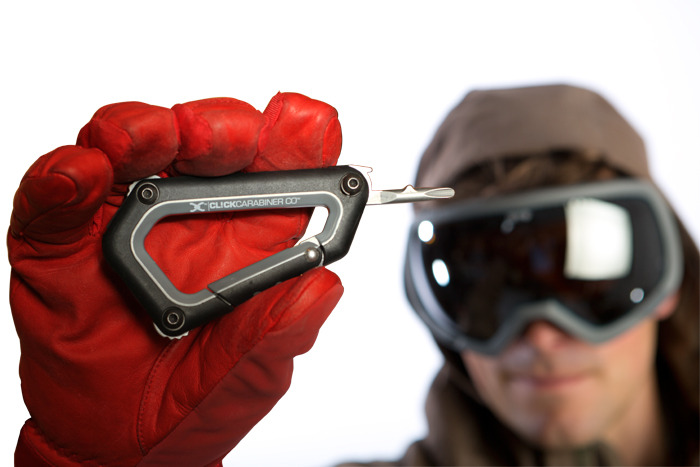 Highly compact and extremely portable, the CL!CK Carabiner keeps your keys secure and your tools on hand at all times. Having a CL!CK Ski or Snowboard carabiner could save your day on the mountain. In fact, the tools included in these carabiners are incredibly handy to have on you even if you don't ski or snowboard.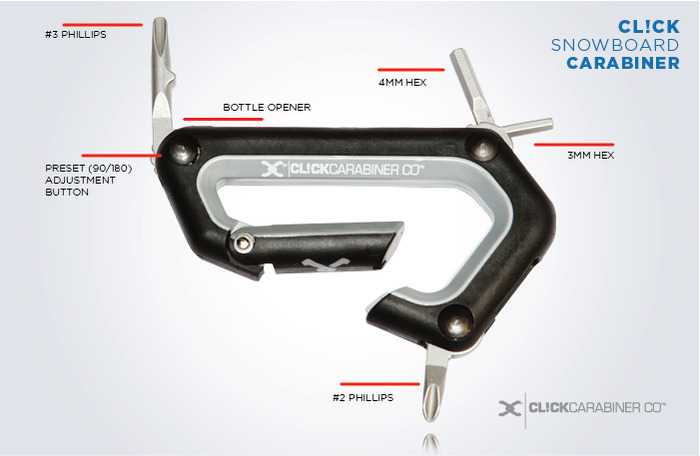 Features: Patented Design with either 3mm & 4mm Hex Wrenches (for snowboarding carabiner) or large slot screwdriver for ski binding adjustment (for alpine ski carabiner), #2 Phillips head screwdriver with 90 degree & 180 degree locking feature, #3 Phillips head screwdriver, Bottle Opener, Patent Pending "Glove-On" technology.
FLYKLY Smart Wheel
October 28, 2013
What: The FlyKly Smart Wheel is a highly efficient all-in-one design pedal assist that fits on practically any bicycle.
Why: Move through busy city streets in no time and spare your energy with the help of Smart Wheel, a pedal assist that encases an ultra-thin electric motor and intelligent electronics within a robust housing, neatly fitted onto the spokes of a bicycle rim.
When: Oct. 16, 2013 - Nov. 25, 2013
Where: FlyKly Smart Wheel on Kickstarter
Funding Goal: $100,000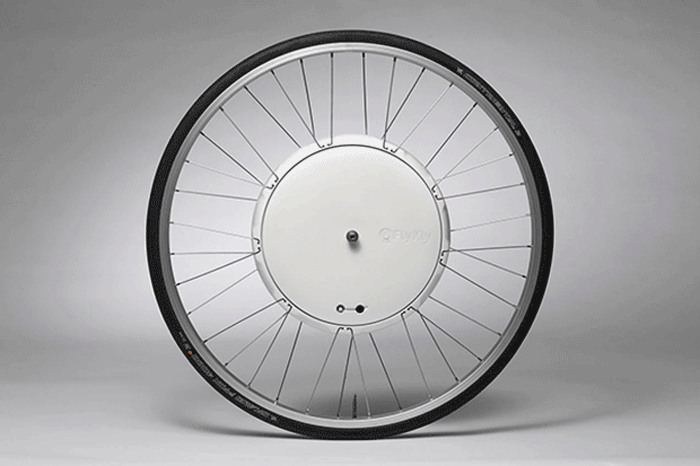 Smart Wheel is designed in a way that makes installation as easy as possible. The motor and all the other components are packed inside a robust case. There are no wires or other gadgets to install. You simply remove your rear wheel, replace it with the Smart Wheel and you're all set!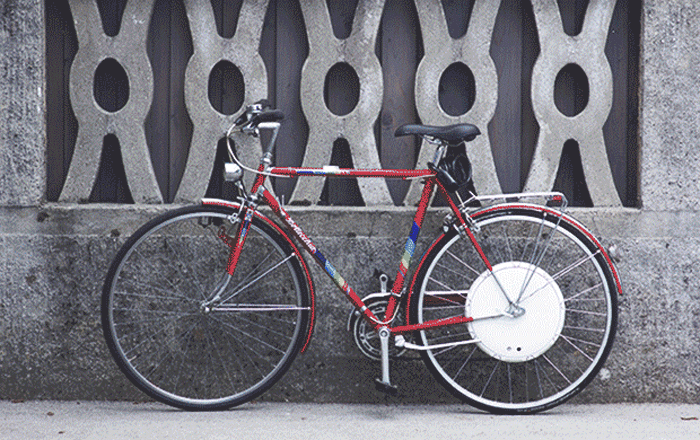 Smart Wheel is designed to fit practically any bicycle frame. It comes in different sizes and colors. You'll be able to specify the size and the color that suits your bike after the campaign.
DEEP
October 22, 2013
What: DEEP: The Story of Skiing and the Future of Snow
Why: DEEP is a book by Porter Fox which captures the culture of skiing, the miracle of snow and the shocking truth of how climate change could wipe out both in the next 75 years.
When: Oct. 17, 2013 - Nov. 15, 2013
Where: DEEP on Kickstarter
Funding Goal: $25,000
Deep: A Book by Porter Fox from Sara Mayti on Vimeo.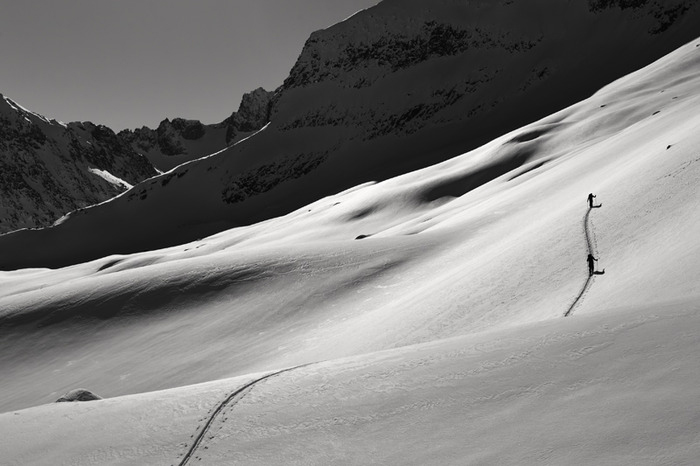 The above photo was shot by Powder photographer Mattias Fredriksson and is one of several options available for backers at the $200 level. The photo below was shot by Powder photographer Greg Von Doersten.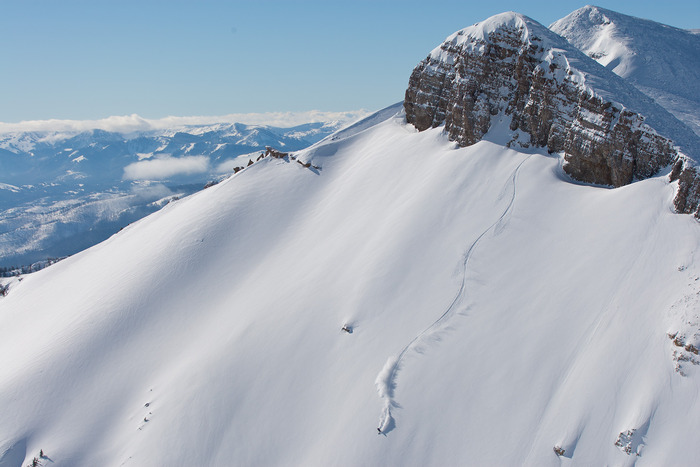 "The first in-depth report on how climate change is affecting the present and future of the ski industry and mountain communities, DEEP is a must-read for every passionate skier." — John Stifter, Editor, Powder Magazine
theFINproject
October 17, 2013
What: theFINproject
Why: theFINproject, a Kickstarter campaign by photographer/filmmaker Timothy Hogan - will result with a documentary film and ongoing photographic study exploring the most important evolutionary force in surfing - the FIN.
When: Oct. 4, 2013 - Nov. 3, 2013
Where: theFINproject on Kickstarter
Funding Goal: $80,000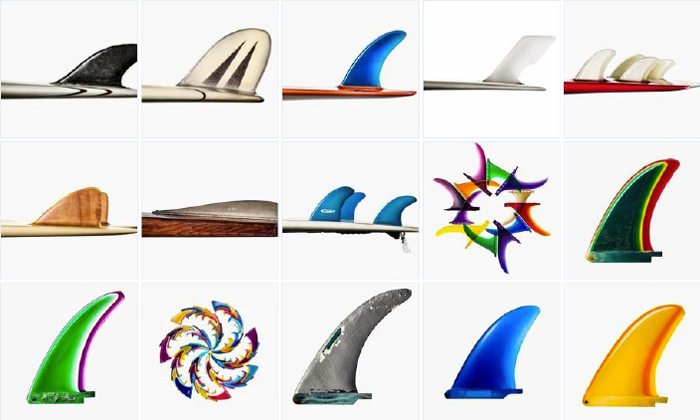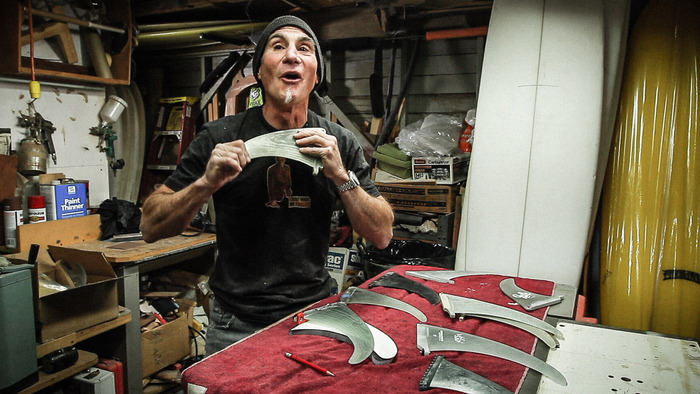 Above: Brian Hilbers of Fineline Surfboards explaining the elements of a George Greenough Flex Fin. Below: Timothy Hogan, the driving force behind theFINproject, preparing one of several hundred fins he's come across for the photographic study.
"As a filmmaker, I am driven by people who do things differently - especially those with the "inventor's mind." There is no better example of this than the incredible stories of Tom Blake, Bob Simmons, George Greenough, the Campbell Brothers, Mark Richards and Simon Anderson. Through the FIN, these innovators have redefined the very limits of what is possible on a surfboard. theFINproject documentary will tell the inspiring stories of these surfers - exploring the drama, the rivalries, passion and personalities that have shaped their personal journeys and evolved surfing into what it is today."
Check out related Crowd-Funded Content:
Thoughts on Kickstarter from Korduroy.TV, MHM Gear, and Lumi Co.
KOR Q&A with Paul Shustak, Co-Founder
The Save the World Tour Made Possible by gofundme.com
Korduroy.TV Q&A with Reis Paluso, Blog Manager
LIT Q&A with Ricardo Camargo, Director of Vapor Studio
---