BACK TO NEWS
EVENT: OIWC Membership Drive - Join Today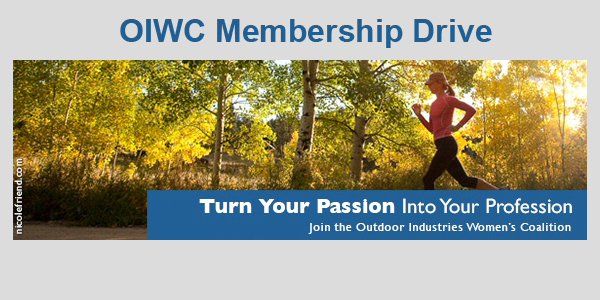 OIWC is a non-profit organization with a mission to provide advocacy, education and resources for women who are in or want to join the Outdoor, Bike, and Snow Industries.
OIWC is having a membership drive to help you combine your passion and profession. OIWC is open to any woman interested in joining. Below is information on member benefits and a link to join. It is money well spent.
Individual Benefits
When you become a member of OIWC, you are showing your commitment to respect, inclusion and gender equity at every level in the workplace. You become part of a group of women like you—professional, passionate, active in the outdoors, authentic, and focused. OIWC members are women you can relate to and learn from, whether you have a question about your advancing your career, work-life balance or specific job skills.
Here are just a few of the member benefits:
ONLINE MEMBERSHIP COMMUNITY of industry professionals, providing support and guidance in professional development
TRAINING at in-person events in regions near Portland, Seattle, Bay Area, Southern California, Salt Lake City, Boulder/Denver, and the Northeast
ACCESS TO THE JOB BOARD
RECOGNITION of women in the industries who are making a difference and paving the way for others.
NETWORKING opportunities, fostering an environment to meet others, find mentors, and seek out support from more experienced professionals.
PROFESSIONAL DEVELOPMENT WEBINARS
E-NEWS MONTHLY with topics relevant to your career, your business, and your work-life balance
INSIDER'S EXPERTISE on navigating the outdoor industries
PRO DEALS AND DISCOUNTS from OIWC corporate partners
Membership is only $45 per year (or FREE if you are employed by a corporate partner company.)
---