BACK TO NEWS
B$Z: K•Swiss Reveals New Tennis Centered Brand Identity
K•Swiss and its iconic shield logo have stood for top-level performance on- and-off the tennis court since 1966, and now its identity has come full circle. Designed by a newly appointed internal creative team, the brand's identity pays homage to K•Swiss' place as the only heritage American tennis brand. K•Swiss' new look brings the brand back to its founding roots and is characterized by a new visual language, including: a directional logo, classic 1966 typeface and signature Brunner Blue colorway inspired by the blue courts of America's championship stadiums.
"With the resurgence of K•Swiss and our brand positioning around heritage American tennis, it was time to refresh the elements of our brand identity," said Barney Waters, CMO of K•Swiss Inc. "We've managed to modernize the symbols while retaining the elements that have long term equity, such as the color combination and the shield."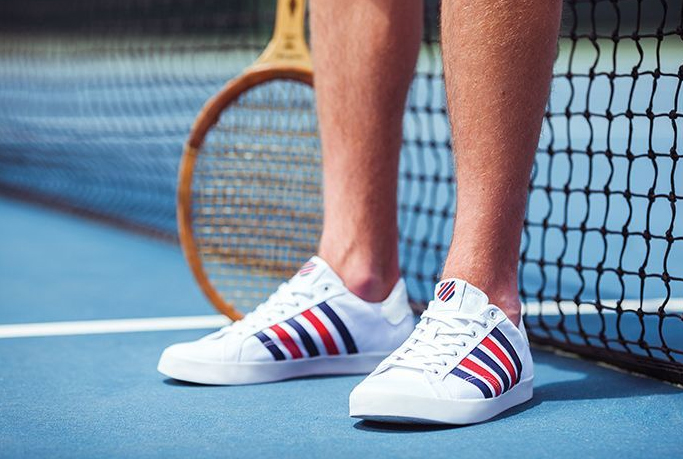 • Modernizing the Shield: The new minimalist shield logo retains the classic K•Swiss Five Stripes trademark, though the orientation of the stripes has changed. The stripes now point upward to signify the brand's momentum toward the future. The streamlined stripes are now positioned at a precise 58-degree angle.
• A color for tennis: The red, white and blue K•Swiss logo has long signified America as the place where the brand was introduced in 1966. The classic color trifecta is given a facelift with the introduction of an official brand color, Brunner Blue. Named for K•Swiss' founders, brothers Art and Ernie Brunner, the color matches the legendary shade of blue found on America's most competitive tennis courts. The rich and sophisticated hue provides a premium feel and will be introduced into all branding elements, including: the K•Swiss logo, packaging, retail displays and website.
• Legendary letters: The typeface used in the K•Swiss wordmark draws inspiration from the font used by the U.S. Federal Highway Administration on interstate road signs. Created the same year K•Swiss was founded in 1966, the font evokes the spirit of the open road and the innovative drive used to craft each K•Swiss product. The angles in the letters 'K' and 'S' are positioned at a 58-degree angle to complement the orientation of the stripes in the new Shield Logo trademark.
• A sleeker future: The new logo, wordmark, Brunner Blue color and updated brand imagery will be featured prominently across the K•Swiss digital presence, positioning K•SWISS as a brand that embraces and adapts to change while paying tribute to its past.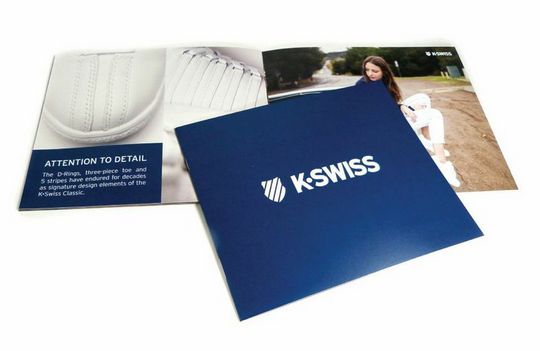 Though times have changed in the years since K•Swiss launched, the company's commitment to designing premium tennis shoes for on-court performance and off-court style remains the same. The K•Swiss brand will continue to stand for quality and tennis innovation with a bolder brand identity that sets the stage for advancement onward and upward.

---