Back to News
B$Z: Introducing Lucid Eyewear
October 14, 2014
Lucid Eyewear is proud to announce our official launch with a mission to design, develop and deliver high quality products that help define individuals through lifestyle, culture, music, fashion and desire. The Lucid passion is to positively influence the world by directly giving back with each, and every, product that is sold.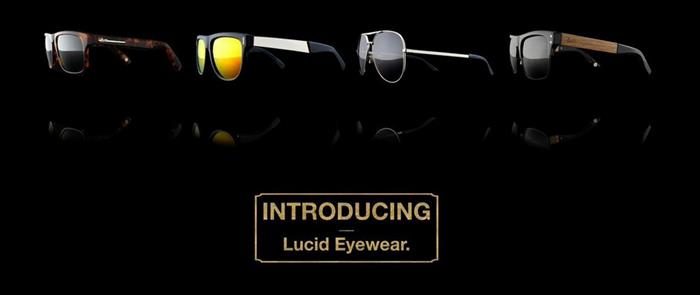 Lucid Collections:

Apogee - A perfect fit and shape to instill strength, confidence and reverence. Don't just be… Be A Legend
El Fuego - The principles of style are exceptional, distinctive and luxurious in form and design… Seize the Day
Titus - An exceptional look and expression with modern elements of design and style… Rise Above
Ventura - This refined, restrained and sleek classic look is the perfect fit of simplicity and style… Stay Positive
Lucid Collections Lookbook.
Lucid Collections Technology.
Spread The Shade: Spreading the hope of a child's future with the protective shade of a sleeping net. Together with our customers, we give back by providing a sleeping net to a child in need with each pair of sunglasses sold: http://lucidwear.com/spread_the_shade.php

The Lucid Management Team:
Mark Reininga
Founder/President
Mark Reininga a former professional snowboarder has 6 years of business and design experience that can be seen throughout the brand. His love for arts, culture and giving back are a fundamental part of the Lucid culture.
Willie Wood
Co-Founder/Treasurer
Willie Wood comes from a background in motocross and snowboarding with several years experience in launching new lifestyle brands. He handles the financial side of the business and manages order fulfillment.
Brad Farmer
Strategic Marketing Advisor
Brad Farmer brings 12 years for marketing and public relations experience to the Lucid team. Farmer has a history of success in building modern media focused marketing strategies for a variety of sports and lifestyle brands.
Lucid Networks:
Website: http://www.lucidwear.com
Facebook: https://www.facebook.com/lucideyewear
Instagram: http://instagram.com/lucidofficial - @lucidofficial
Twitter: https://twitter.com/Lucideyewear - @lucideyewear
YouTube: http://www.youtube.com/Lucideyewear
---