BACK TO NEWS
EVENT: TransWorld Ride BMX 18th Annual NORA Cup Nominees
TransWorld Ride BMX in Austin, Texas during Texas Toast weekend honoring BMX's number one riders in eight various categories. The show will be held at Emo's Austin on Sunday, October 19 and is sponsored by Red Bull, Dan's Comp, Pro-Tec, and Pabst Blue Ribbon. Doors open at 8:00 p.m. Space is limited for the Awards; please make sure to arrive early to guarantee entry.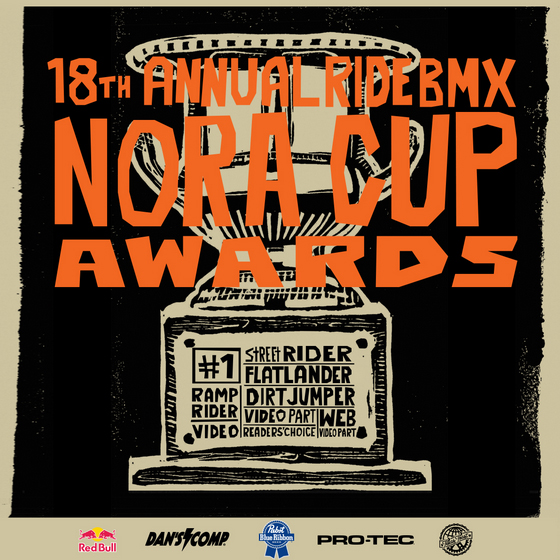 "There really is no better place than the BMX capital of the country, Austin, Texas, to hold the NORA Cup award show. And we're really excited to be throwing the biggest BMX party of the year during Texas Toast weekend for the second year in a row." —Jeff Zielinski, Ride BMX Managing Editor
The NORA Cup Awards are determined by polling professional BMXers while the Readers' Choice was voted on by thousands of Ride BMX readers. The official nominees for this year's awards show are (in alphabetical order):
Number One Ramp Rider:
Chase Hawk
Dennis Enarson
Drew Bezanson
Gary Young
Kriss Kyle

Number One Dirt Jumper:
Brian Foster
Chris Doyle
Clint Reynolds
Kyle Baldock
Mike "Hucker" Clark

Number One Flatlander:
Alex Jumelin
Dominik Nekolny
Jean-william Prevost
Moto Sasaki
Viki Gomez

Number One Street Rider:
Alex Kennedy
Dakota Roche
Dennis Enarson
Garrett Reynolds
Ty Morrow

Number One Video Part:
Chad Kerley - Markit
Dennis Enarson - Markit
Rob Wise - Markit Zero
Shawn Mac - Holy Fit
Van Homan - Holy Fit

Video Of The Year:
Baco - Push It To 11
Holy Fit
Markit Zero
Mediocre At Best
No Days Off - Act Like You Know

Number One Web Video Part:
Alex Donnachie - 20Twenty/Israel
Garrett Reynolds - Fiending
Shawn Mcintosh - Primo
Ty Morrow - Fiending
Tyler Fernengel - Welcome To MARKIT

Readers' Choice – Rider Of The Year:
Broc Raiford
Chase Hawk
Dennis Enarson
Garrett Reynolds
Tyler Fernengel
For Nora Cup updates, get connected to Ride BMX's Facebook , Twitter , and Instagram (@ridebmx) feeds. (#noracup) (#noracup2014)
Be sure to stay tuned to ridebmx.com to keep up-to-date on all BMX news and information. To subscribe to TransWorld Ride BMX, go online to bmx.transworld.net/subscribe .
---