Back to News
B$Z: MasterCraft Partners with Hobie to Create Custom Line of Wakesurf Boards
October 21, 2014
Having perfected the endless wave, MasterCraft is now collaborating with iconic surf brand Hobie to create a line of custom wakesurf boards that bring together the best attributes of coastal and inland surfing. Hawaii-based musician and Hobie ambassador Donavon Frankenreiter served as the inspiration behind the first signature model drawing upon his love for classic, early era short boards and his complete embodiment of the island lifestyle.

The 5-foot, 4-inch "Donny" delivers the feel of a traditional surfboard with specific modifications made to take advantage of the extended surfing zones found only behind MasterCraft boats. Light and responsive with recessed inserts for up to four fins, the custom shaped board is ideal for carving, slashing or spinning on boat-sculpted waves while still holding its own in coastal surf. The graphics evoke the laidback lifestyle of the islands mixed with soulful music, including a prominent silhouette of Donavon's signature 'stache.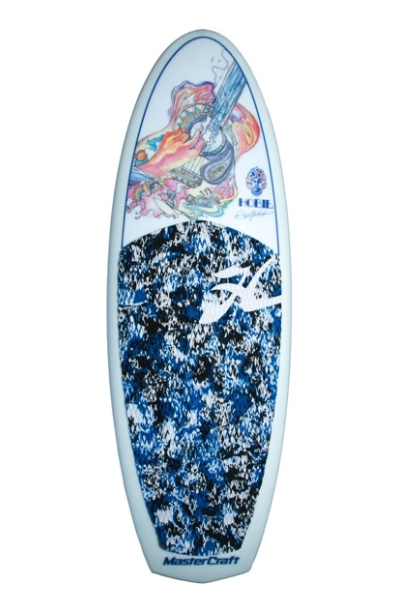 "Surfing has always been more than a mere pastime for me. It blends together my passion for the islands with my love of family and friends," noted Frankenreiter. "MasterCraft's new boats allow me to easily create and share this surf experience, while the masterful craftsmen at Hobie have artfully shaped a high-performance board, perfect for behind the boat or in the ocean."

Hobie Alter, the man behind the Hobie brand, starting shaping surfboards back in 1950 and ended up shaping an entire culture. Forever tied to the roots of surfing, Hobie has played an instrumental role over the years in progressing watersports. Hobie has embraced the growing sport of inland surfing and teamed up with some of the most progressive wake surf designers to create boards that perform yet embrace Donavon's soulful classic surfing style.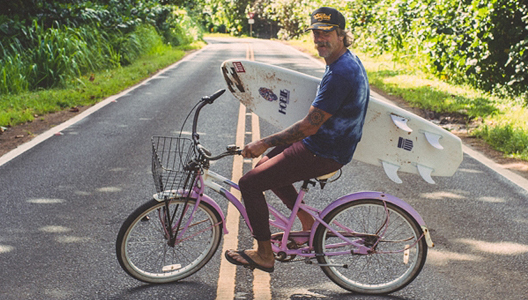 MasterCraft and Hobie surf ambassador Donavon Frankenreiter rocking his signature moustache and new custom designed wake surfing board, a collaborative effort between both companies perfect for inland and coastal surfing.

MasterCraft has incorporated the culture surrounding coastal surfing into its new line of surf-centric boats, including the 2015 X20 and X23, which come equipped with the award-winning Gen 2 Surf Systems capable of turning inland bodies of water into premium oceanfront property. MasterCraft, Frankenreiter and their network of family and friends recently chronicled their epic surf trips to Mexico and Hawaii through the "Blurring the Lines" video series that highlight the intricately laced lifestyles associated with coastal and inland surfing.
Check out the video:
To purchase a limited edition Donavon Frankenreiter Hobie wakesurf board, please visit MasterCraftLifestyle.com where dedicated wake surfers can peruse an entire line of lifestyle products. The Donavon Frankenreiter Hobie wakesurf board is available now.
---