Back to News
B$Z: Lucid Eyewear Introduces The Apogee
October 29, 2014
Lucid Eyewear is proud to introduce the Apogee sunglasses in six different styles. The Apogee is the perfect fit and shape to instill strength, confidence and reverence. Don't just be… Be A Legend.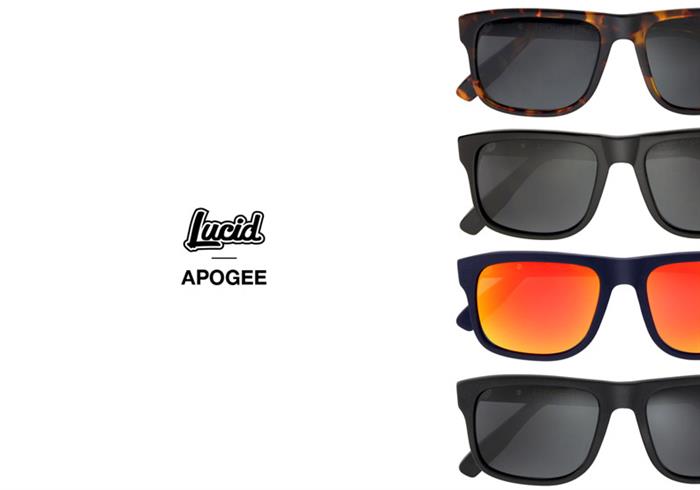 "Having worked for several years in eyewear retail," says Founder/President, Mark Reininga, "I have studied frame shapes and know what fits most faces. The Apogee was meticulously designed and redesigned over the course of two years until we got the perfect shape and fit for almost any face. This is your go to frame for any type of activity. The Apogee presents style and fashion."

The Lucid passion is to positively influence the world by directly giving back with each, and every, product that is sold.
Six Apogee Styles: http://lucidwear.com/sun_collection.php?parent_id=15&sun_id=66
Matte Black & Grey Polarized: http://lucidwear.com/sun_detail.php?flag=1&img_id=235
Tortoise & Grey Polarized: http://lucidwear.com/sun_detail.php?flag=1&img_id=236
Black & Grey Polarized: http://lucidwear.com/sun_detail.php?flag=1&img_id=237
Matte Black & Gold: http://lucidwear.com/sun_detail.php?flag=1&img_id=234
Tortoise & Brown Cr39: http://lucidwear.com/sun_detail.php?flag=1&img_id=238
Black & Grey Cr39: http://lucidwear.com/sun_detail.php?flag=1&img_id=239
Lucid Collections Lookbook: http://lucidwear.com/media.php?tid=66&vid=42
Lucid Collections Technology: http://lucidwear.com/technology.php

Spread The Shade: Spreading the hope of a child's future with the protective shade of a sleeping net. Together with our customers, we give back by providing a sleeping net to a child in need with each pair of sunglasses sold: http://lucidwear.com/spread_the_shade.php
---