Back to News
B$Z: Final 48 Hours to Vote in Powder Magazine's Powder Poll Awards
October 29, 2014
With 48 hours left in voting, who will be crowned the king and queen of the 15th Annual Powder Poll? Seth Morrison and Ingrid Backstrom took home the coveted titles last year, but it's up to you to decide who'll reign this season.
The 15th Annual Powder Poll invites you, the skier, to choose the best representatives of the sport. To narrow down the field, we enlisted the help of the Powder Poll Expert Panel, which included a diverse batch of groms, pros, salty veterans, writers, photographers, and cinematographers. The result is a list of 35 male and 15 female skiers they selected to aid you in your vote. Think we missed someone? Chose the write-in vote option for any skier-male or female-you think we overlooked.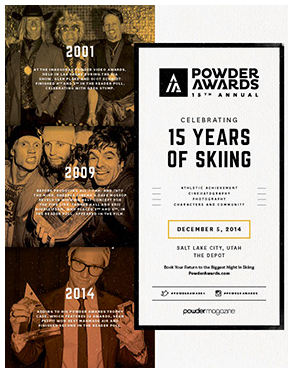 Voting ends at 11:59 pm on October 31 so cast your ballot now and be entered to win prizes from GoPro, Powder swag and two VIP invites to the awards ceremony where the results will be revealed on December 5, 2014 at The Depot in Salt Lake City.
Viewers can also tune into the live 15th Annual Powder Awards webcast at 6:00 PM MST on PowderAwards.com to honor the best in cinematography, photography, and athletic achievement. One of the biggest nights in skiing, the Powder Awards attract a who's who of the industry, including professional skiers, ski legends, ski film production crews, industry brands, media, and celebrities.
Special thanks to our 2015 sponsors GoPro, Sierra Nevada Brewing, Ski City USA, and Bird Dog Whiskey.
---