Back to News
B$Z: Fred Water Takes Aim at Sugar on Kickstarter
November 24, 2014
Continuing its trend of industry firsts, today Fred Water has taken its crusade against sugar to another level by revealing its innovative stainless steel Fred Water Flask that makes water easy to carry in a pocket. Watch the new Fred Water Flask Kickstarter video featuring Flight of the Conchords' Murray Hewitt (Rhys Darby), Tony Hawk, more pro athletes, and a cast of comedy actors taking viewers through a hilarious storyline about the invention of the pocket-friendly water flask and the importance of drinking more water and less sugar here:
Designed to fit perfectly in pockets, the flask shape enables people to carry more water with them more often. These Fred Water Flasks are guaranteed against defects, BPA-Free and are available in brushed steel, charcoal, white and additional colors.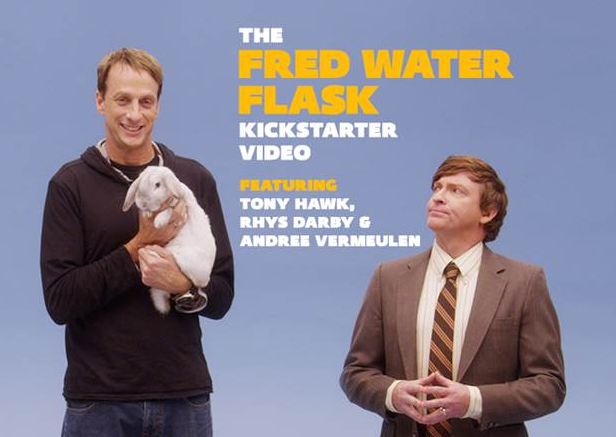 The Fred Water Flask Kickstarter video creative director and writer is Ariel Broggi, and it stars Rhys Darby and Andrée Vermeulen with cameos by Tony Hawk, Aaron "Jaws" Homoki, Chris Joslin, Annie Boulanger, Joe Sexton, Scott Stevens, Megan Neuringer, Leonard Robinson, Lance Krall, Scott Krinsky and Eliot Schwartz.
"Kickstarter is an exciting platform for opening a direct dialogue with fans, gaining valuable user feedback, and growing awareness for our pro-water, anti-sugar mission. At the same time, we can thank supporters for their pledges through various rewards including receiving one of the very first Fred Water Flasks before they hit retail shelves," said Adam Gayner, co-founder and CEO.
A leading voice in the anti-sugar movement Dr. Robert Lustig, who is featured in the critically acclaimed documentary FED UP said, "The stark reality is there is too much sugar in our food supply. This inconvenient truth is finally becoming a part of the national conversation: from the water cooler to carpools to the boardrooms of the biggest corporations in the world. If we hope to turn the tide of preventable diseases such as Type 2 Diabetes and fatty liver disease, we must act now. Many companies are getting the message, and now promote low or no sugar alternatives. For those that do play a positive role in promoting a healthier culture, I applaud them."
---