BACK TO NEWS
B$Z: Gear Coop Reveals New Identity with Cutting-Edge Ecommerce Website and Revamped Branding
Just in time for the lucrative Black Friday/Cyber Monday retail period, Gear Coop is proud to unveil the next phase in its evolution: a completely refreshed brand identity and cutting-edge user experience. A contemporary logo design, punchy tagline, and all-new site design, functionality, and interactivity make the new Gear Coop unlike any other e-tailer in the outdoor industry.
"The outdoor lifestyle is a crucial component of Gear Coop's corporate culture. We don't just sell outdoor gear—everyone who works here is an avid outdoor enthusiast in some way," explained Terry Lee, founder and CEO of Gear Coop. "With this brand revamp, we wanted to extend that philosophy to our customers so they, too, can be inspired in all their adventures."
The minimalist new logo, which is easily adaptable to different colorways, sports a mountain peak motif that's instantly iconic. And an updated tagline serves as an inspiring call to action for all Gear Coop customers:
"Live It."
The center of it all is GearCoop.com's new look and navigation unlike any other large-scale ecommerce site in the outdoor industry. Inspired by award-winning contemporary websites, Gear Coop teamed up with Long Beach-based Visualade to develop a stunning, responsive website that's as much about sharing original content as it is about selling products. While the focus is still on Gear Coop's tens of thousands of product offerings across dozens of premium brands, refreshed content sections feature informational articles, blogs, photos, and social media integration via hashtags including #gearcooper and #liveit.
The most notable new feature is an "Athlete's Picks" spotlight, which lets visitors delve into the packs of their favorite pros and discover their gear essentials. Personally coordinated with athletes, the section reveals the products they utilize as they crush records. The site launches with a focus on one of the best female climbers in the world, Sasha DiGiulian, and the gear she trusts to keep her comfortable and agile on her most difficult ascents.
"We have an amazing resource on our hands in our own employees," added Jon Asher, Gear Coop's Director of Marketing. "By featuring their interests and hobbies—as well as their valuable advice—in profiles, gear guides, blogs, and beyond, we share the expertise and personality behind every product we sell. Gear Coop is establishing itself as the outdoor retailer for every type of outdoor enthusiast."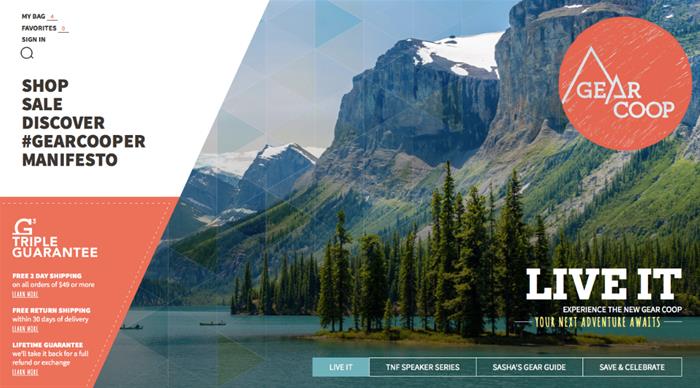 Visit www.GearCoop.com to experience a whole new way to gear up for adventure.
---