Back to News
B$Z: Top Skiers and Ski Films Honored at 15th Annual Powder Awards
December 8, 2014
The 1

5th Annual Powder Awards

, the longest running skiing awards show in the world, celebrated the skiing community tonight by honoring the top skiers, cinematographers, and photographers to a sold-out crowd at The Depot in downtown Salt Lake City.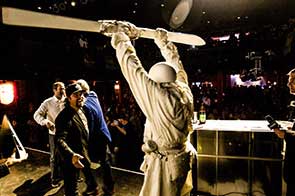 "It was an absolutely beautiful evening with the best community in the world...skiers," said Powder Editor John Stifter. "The 15th anniversary show was the best ever, blending unprecedented skiing and filmmaking that will continue to advance the sport in the most positive of directions."
The evening kicked off by honoring the winners of the Powder Poll with Ingrid Backstrom taking home her 10th consecutive award for the number one female.
"I'm speechless, it's kind of unbelievable to be recognized among such an amazing group of women," says Backstrom. "There have always been incredible female rippers, but I'm so excited to be honored in a year that really honors such a huge group of diverse and talented women skiers."
In one of the greatest moments in the 15th anniversary of the Powder Awards, the winner of this year's Powder Poll went to the late J.P. Auclair as the packed house stood for an eight-minute tribute—produced by Sherpas Cinemas and Poor Boyz Productions—featuring the iconic skier who passed away this last winter in a tragic avalanche in Chile. There wasn't a dry eye in the audience as the infectious spirit of J.P. filled the room, reminding everyone of the pure joy he exuded on and off the mountain.
"J.P. was a grand skier in his own right, but it was his genuine humanistic approach to life that will be his legacy. He was the most engaged friend, partner to Ingrid [Van Swae], father to Leo, philanthropist, artist, and skier. He truly lived life in the present, doing everything at 200 percent," said Hans Smith, co-founder of Armada alongside Auclair.
Passion for life and skiing set the tone for the evening as Angel Collinson picked up Best Female Performance, and top five for Powder Poll Awards, for her hard-charging season filming for Teton Gravity Research. In fact, her segment was the first time in the 20-plus-year history of TGR that a woman had the opening segment.
But it was Cody Townsend who truly cleaned up tonight with his trifecta win of Best Line, Full Throttle, and Best Male Performance. Lamenting about epic straight lines and preparing for the most controlled environments, the ever-humbled Townsend reminded the crowd that, "regardless of skill, it's the skier that is having the most fun that is truly the best skier."
The crew from Teton Gravity Research reinforced the importance of community in the skiing industry in their acceptance speech for Movie of the Year with Almost Ablaze. "The authenticity of our community has always been there but it came down to capturing those moments on film. It's not about the brands or the awards, it about the athletes—the individuals—who make up this amazing family of skiers, friends and visionary, " said TGR co-founder Todd Jones. It's TGR's second Movie of the Year award.
For more coverage, photos, and video from the biggest night in skiing visit PowderAwards.com.
15th ANNUAL POWDER AWARDS RESULTS
Photo of the Year

Photo: Oskar Enander/Sweetgrass
Eric Hjorleifson
Sentry Lodge, British Columbia
Full Throttle

Cody Townsend
Breakthrough Performer

Nick McNutt
Best Line

Cody Townsend, Days Of My Youth, MSP Films
Best Manmade Air

Henrik Harlaut, Oil and Water, Armada
Best Natural Air

Richard Permin, Days Of My Youth, MSP Films
Best Powder

Sage Cattabriga-Alosa, Johnny Collinson, Dylan Hood, Nick McNutt,
Almost Ablaze, Teton Gravity Research
Best Jib

Phil Casabon, Oil and Water, Armada
Best Female Performance

Angel Collinson, Almost Ablaze, Teton Gravity Research
Best Male Performance

Cody Townsend, Days Of My Youth, MSP Films
Best Short

Afterglow, Sweetgrass Productions
Best Editing

Ten and Two, Stept Productions
Best Cinematography

Afterglow, Sweetgrass Productions
Best Documentary

Dream Line, Endlessflow Films
Movie of the Year

Almost Ablaze, Teton Gravity Research
Powder Poll Men

1. J.P. Auclair
2. Candide Thovex
3. Tanner Hall
4. Sage Cattabriga-Alosa
5. Seth Morrison
6. Sean Pettit
7. Tom Wallisch
8. Eric Hjorleifson
9. Henrik Harlaut
10. Cody Townsend
Powder Poll Women

1. Ingrid Backstrom
2. Lynsey Dyer
3. Michelle Parker
4. Angel Collinson
5. Tatum Monod


Special thanks to our 2015 sponsors GoPro, Red Bull, Sierra Nevada Brewing, Ski City, and Bird Dog Whiskey.
---