BACK TO NEWS
B$Z: Winners Announced for the 17th Annual TransWorld SKATEboarding Awards
TransWorld SKATEboarding is proud to announce the winners from the 17th Annual TransWorld SKATEboarding Awards where skateboarding's best of the year were honored and recognized.

Hosts Brian Schaefer and Lee Dupont, along with a cast of legendary skateboarding presenters, handed out the trophies in front of a packed house last night at The Theatre At Ace Hotel in Los Angeles.

Congratulations to all the winners!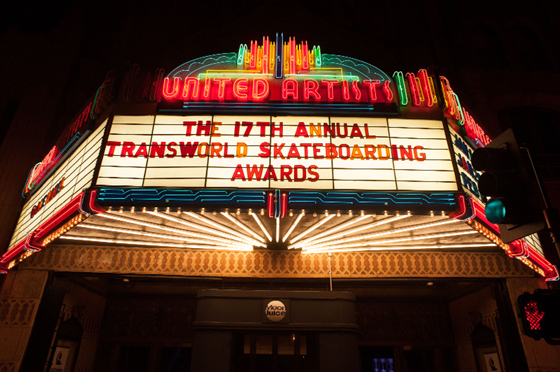 BEST ROOKIE
Aaron Herrington

READERS' CHOICE
Wes Kremer

BEST TEAM
enjoi

BEST VIDEO
Josh Stewart – Static 4/5

BEST VIDEO PART
Dylan Rieder – "cherry"

ERIC STRICKER MEMORIAL AWARD
Skateistan / Oliver Percovich

LEGEND AWARD
Jay Adams

New for this year's show, TWSKATE incorporated several additional TransWorld SKATEboarding content based Readers' Choice awards in an effort to open up more category voting to the fans. From the best TWSKATE photos of the year, to the covers, to the video Check Outs, and everything in between, the voices of fans were heard.

Best Cover
Zack Wallin, kickflip. July issue. Photo / Chami

Best Video Check Out
Nate Greenwood

Best Photo
Jack Fardell, frontside carve. Photo / Chami

Best Tour
HUF Americans Do America

Best Indie Video
IC2 by Mikey Alfred

Stay tuned to twskate.com for red carpet interviews, photo galleries, and video recaps of the night.

For more information and coverage of the 17th Annual TransWorld SKATEboarding Awards, click HERE and follow Twitter and Instagram feeds at @TransWorldSKATE (#TWSAWARDS).

Special thanks to our sponsors: Agenda, GoPro, Official, Zumiez, and Pabst Blue Ribbon.

---