BACK TO NEWS
B$Z: Team Babbitt's Looking for Continued Success as AMSOIL Arenacross Heads to its Hometown Race
The opening round of the 2015 season of AMSOIL Arenacross, featuring Ricky Carmichael's Road to Supercross, proved to be memorable for the Team Babbitt's Monster Energy Kawasaki effort, as the defending titleholders swept the podium in the overall Arenacross Class classification. While it proved a be a major statement by the team in its quest for another title, its four-rider lineup will have their work cut out for them as AMSOIL Arenacross makes its return to Grand Rapids, Michigan at the Van Andel Arena after a year hiatus. This also signifies the first two-night round of the championship in 2015, with action slated for back-to-back evenings this Friday, January 16, and Saturday, January 17.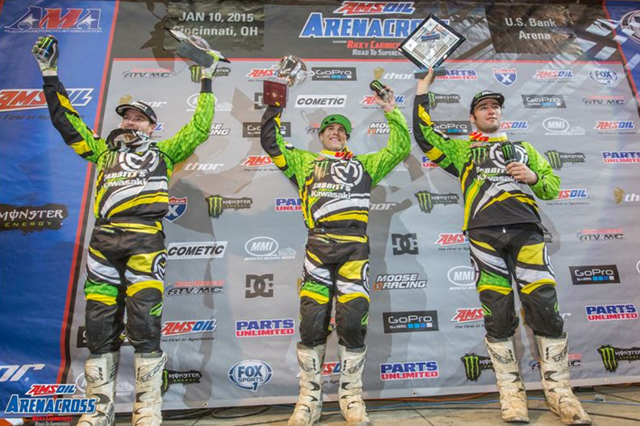 Team Babbitt's made it a clean sweep of the Cincinnati podium.

Last weekend in Cincinnati, Chris Blose's debut with Team Babbitt's, which was also his first start in full-time AMSOIL Arenacross competition, couldn't have gone any better. The Arizona native looked like an arenacross veteran and he showed why Team Babbitt's coveted the signing of the 27-year-old in the offseason. The increased pace and aggression of AMSOIL Arenacross, combined with shorter lap times and race distances, can prove to be a difficult adjustment for any rider, but Blose took it all in stride and emerged victorious to establish himself as a title contender.
Narrowly missing out on the win was Blose's veteran teammate Zach Ames. The Ohio native has more AMSOIL Arenacross experience than any of the other riders in the field, but after having to go through the LCQ in order to make the Main Event, he had a little too much to overcome and came up a point shy of edging out his teammate for victory. Ames is more determined than ever to win that elusive first Arenacross Class title, and being just two points out of the points lead is a good way to start.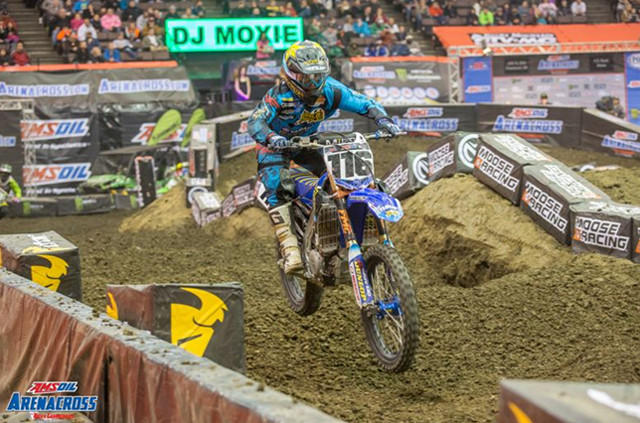 Bobby Kiniry just missed the podium for ThermoTec Yamaha in fourth.

Flanking his Babbitt's teammates on the podium last weekend was Matt Goerke, who like Blose, made his first career start in full-time competition. Goerke faces a five-point deficit to Blose in the championship standings and relied on his years of experience to come away with a third-place debut.


The fourth member of Team Babbitt's, Jacob Hayes, showed his resiliency by soldiering through the LCQ and bouncing back from a 10th-place finish in the first Main Event to taking the win in the final race of the evening. He completed what was a truly impressive start for the team by finishing fifth overall.
As a whole, the Muskegon-based team is off to a flying start heading into its hometown race, but many other riders are ready to bring that momentum to a halt with two nights and two opportunities to make some major moves in the championship.
Sandwiched amongst the Babbitt's foursome is ThermoTec Yamaha's Bobby Kiniry. As one of the oldest competitors in the championship, Kiniry has been through pretty much everything in his career that now spans over a decade. He has the speed, patience and ability to thrive under any circumstance and he was a persistent threat for the podium in Cincinnati, ultimately walking away with fourth overall. Seven points separate Kiniry from Blose in the championship standings. As a New York native, Kiniry is familiar with racing in the northeastern part of the country so he could become an even bigger threat this weekend.
Husqvarna TiLUBE TUF Racing's Kyle Regal had the looks of being the rider to beat in Cincinnati, but luck wasn't on his side when it counted most. Regal won his Heat Race and then claimed victory in the RMATV/MC Head 2 Head Challenge, but he couldn't get the momentum going in either Main Event and ultimately settled for 11th overall. It wasn't the way Regal wanted to end his night and as a result he comes into Grand Rapids with a chip on his shoulder. Regal is a Michigan native and he'd surely like nothing more than to win in his home state.
Missing from the action last weekend was Regal's TUF Racing teammate Gavin Faith. The Iowa native was racing overseas in Germany, where he won, but has returned stateside and is ready to make his 2015 AMSOIL Arenacross debut. Faith has become an exceptional racer and adding him to the starting gate on Friday and Saturday is going to make things even more exciting.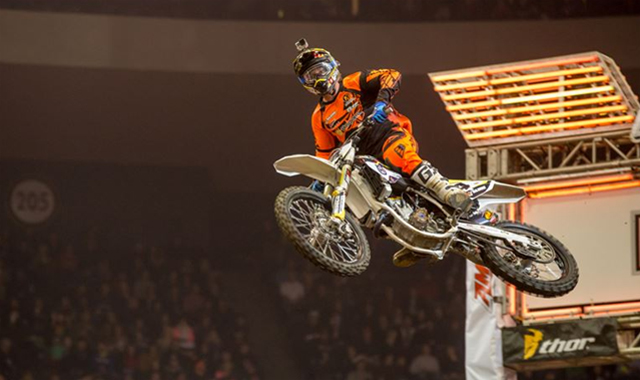 Kyle Regal showed speed on his new TUF Husqvarna.



While veteran experience took precedence in Cincinnati, youth was served as well. Monster Energy Kawasaki Team Green's Darian Sanayei captured the first Main Event win of his professional career in the Eastern Regional Arenacross Lites Class Championship opener. After enduring many ups and downs in the Road to Supercross last season, Sanayei is attempting again in 2015 to complete the program. More mature and more aware of what it takes to succeed in AMSOIL Arenacross, Sanayei has solidified himself as a rising star thanks to his win and will look for more of the same this weekend.
Another Road to Supercross rider who enjoyed some success in Cincinnati was fellow Monster Energy Kawasaki Team Green rider Mitchell Harrison. The 16-year-old won his Arenacross Lites Class Heat Race and while a ninth-place finish in the Main Event wasn't exactly what he was hoping for, it was a solid result in his first ever AMSOIL Arenacross race. Harrison is a native of Michigan and hopes to keep Team Green on top this weekend.
Rounding out the riders to watch this weekend in the Road to Supercross is GEICO Honda's Jordon Smith. Many think Smith can contend for wins and after a slow start in his first career Main Event with a 14th-place finish, the North Carolina native came back strong in the final Main Event of the night by running up front with the leaders and earning a fourth-place finish to land him eighth overall. With the foundation set, look for Smith to take the next step in Grand Rapids.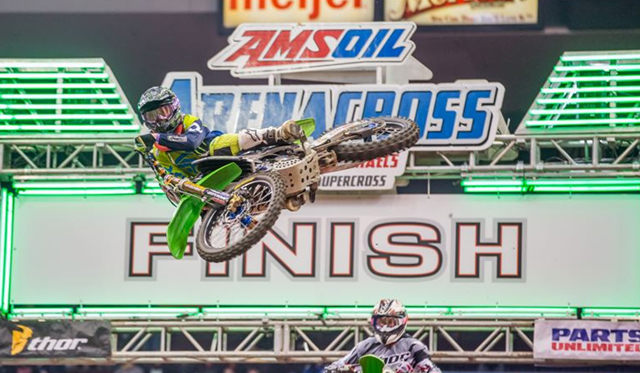 Darian Sanayei kicked off his Road to Supercross with his first Arenacross Lites victory.
The second round of AMSOIL Arenacross kicks off in Grand Rapids this Friday night, January 16th, and continues on Saturday, January 17th, inside Van Andel Arena. Racing begins at 4 p.m. PT / 7 p.m. ET.
---