Back to News
B$Z: AMSOIL Arenacross Interview of the Week: GEICO Honda's Jordon Smith
January 15, 2015
Several weeks ago AMSOIL Arenacross introduced Jordon Smith, an 18-year-old who has been chasing his childhood dream of becoming a professional dirt-bike racer since he was four. He's one of the sport's most highly touted young stars and the expectations are high for him as he competes in Ricky Carmichael's Road to Supercross. The Belmont, North Carolina, native who rides for the championship winning team of GEICO Honda is currently living and training at Millsaps Training Facility (MTF) in Cairo, Georgia.. Smith will be racing the early part of 2015 in the Road to Supercross before making his debut in Monster Energy AMA Supercross, an FIM World Championship, at AT&T Stadium in Arlington Texas on February 14th. AMSOIL Arenacross followed him through his first professional event in Cincinnati last weekend and caught up with him at the end of the night to hear his reaction.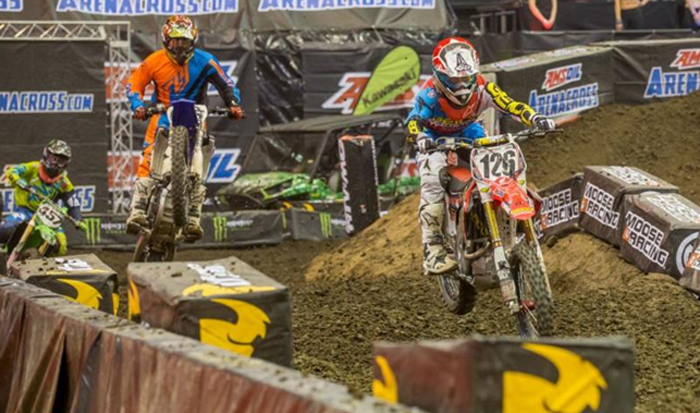 Smith finished eighth overall in his AMSOIL Arenacross debut.
Photo: ShiftOne Photography
Jordan, how did you initially get into racing?
I started riding when I was four years old in my grandparent's field. My grandpa mowed me a turn track in the grass and I rode circles nonstop on my 1979 JR 50cc. My parents saw my instant addiction and surprised me with a brand new Honda 50cc for Christmas that year. I started racing in the woods before transitioning into motocross. I moved to MTF when I was 11 and have been there ever since.
When did you realize you wanted to become a professional racer someday?
Being a professional racer has been my childhood dream since the first day I started riding. Of course there have been bumps in the road, [both] mentally and physically. When I started racing amateur nationals [that] was the first moment I saw a glimpse of hope that making a career out of racing could actually happen, but then I would show up and watch the top professionals at the nationals and think they were so much faster than me. However, I learned that I can only control what I do, and how I look at the big picture will help my success. I went forward, ignored those "what ifs" and negative thoughts, and put the focus on my racing because that has always been my ultimate dream. It has been a hard journey; I still have a long ways to go but I definitely feel like I am on the right path and I couldn't be more thrilled about it.
Did you ever have a moment in your career where you didn't think you would be able to fulfill your dream?
Honestly, it was this past year [2014]. I signed with GEICO Honda and my first year with them was phenomenal. I won the majority of races I entered. Then at the end of 2013 at Mini-O's, I had a really bad crash and ended up snapping my right femur in half and tearing my left ACL and meniscus. That was a huge setback, and it was very mentally challenging to deal with the injury and lengthy recovery time. After several months I healed up and was able to start training again for Loretta Lynn's [Amateur National Championship] and Mammoth Motocross. I was feeling better than ever coming out of my regionals and Mammoth in June, and right before Loretta's I ended up tearing all the ligaments in my ankle. I couldn't believe this would happen right before such a prestigious national so I decided to head to Loretta Lynn's Ranch and try to compete anyways. The injury turned out to be more than I could handle and I did not finish out that week. However, since that injury there has been no stopping me. I am completely healed up. I have put in some solid seat time and countless training hours, and I am not only physically prepared and 100% healed, but I am mentally in the game and ready for whatever comes my way.
What kept you motivated during those hard times?
It was the feeling of accomplishment. Even though I wasn't racing the majority of last year, you never forget the incredible feeling of accomplishment and seeing all of your hard work and dedication pay off in a race win. I have an awesome team, an even better family, trainers and great sponsors that stand behind me no matter what. I wouldn't be where I am today if it wasn't for the people standing behind me. The feeling of support from so many people makes it a lot easier believe in my abilities and come back.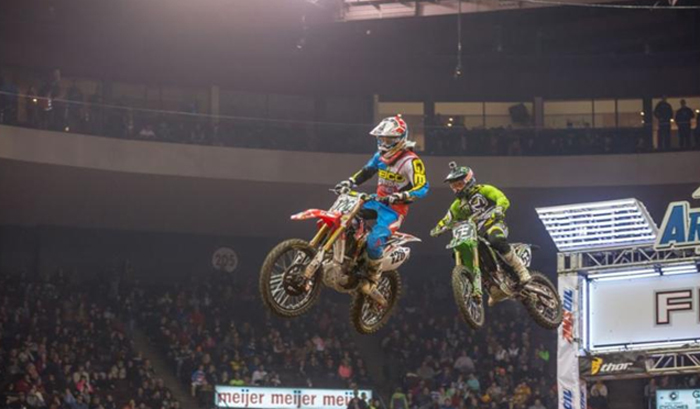 Smith is looking to make history this season by completing the Road to Supercross and moving into Monster Energy Supercross.
Photo: ShiftOne Photography
What were your expectations and emotions like going into Cincinnati, the first race of your career?
I have never done anything like this before, which means I had no expectations. This is what I train and ride for everyday. All I can do is go out there and do my best and see what happens! I can't begin to explain how excited I was to get the racing started. I haven't raced in a while and this was the first race I competed at where I am completely 100% healthy, which made me even more motivated and determined going into the night.
What were your thoughts on the track and the competition?
The track was tight [and] definitely took some getting used to. Passing was difficult, so getting a start was going to be the key to success. Other than that, the whoops and the rhythm section were the only places to make solid moves on the competition, so I needed to make sure those two places were my strong point. I had the third-fastest lap time [in the afternoon] and I was confident going into the night show. I am excited to mix it up with these guys and see where I fit in. The tight layout is definitely something I am not used to, but I will [continue to] do the best I can.
You finished the first Main Event in 14th, but backed it up with a solid fourth-place finish to end up eighth overall in your first Road to Supercross race. What are you going to change heading into Grand Rapids?
I am happy that I am leaving Cincinnati safe and healthy. That is number one. I am a little disappointed in my overall performance this evening and I plan to change some things before Grand Rapids. An unfortunate crash in Main Event 1 got me that 14th-place finish and I was very fortunate to have a good gate pick for Main Event 2 after the full gate inversion. This weekend in Grand Rapids I plan to keep it on two wheels, ride smart and get a good start. Don't worry, I plan to get a win in AMSOIL Arenacross before heading into Monster Energy Supercross!
---