BACK TO NEWS
B$Z: Nominees Announced For TransWorld SNOWboarding's 16th Annual Riders' Poll Awards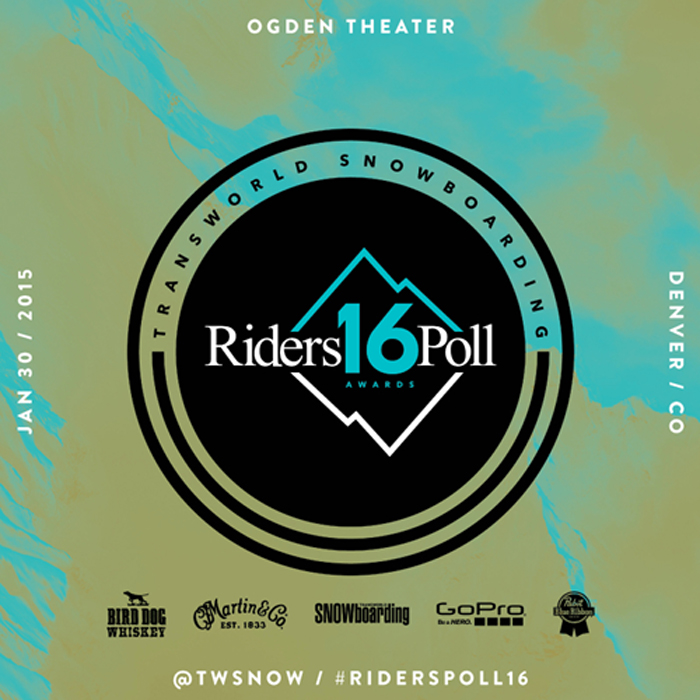 Over 100 pro riders have voted in TransWorld SNOWboarding's 16th Annual Riders' Poll to determine the best riders, video parts, and performances of the year. Veterans like Nicolas Müller, Scott Stevens, Halldor Helgason, Kimmy Fasani, Louis-Felix Paradis, Chris Bradshaw, and Gigi Ruf all voted alongside up-and-comers such as Johnny O'Connor, Alek Oestreng, and Chris Rasman creating snowboarding's largest survey of pro rider opinion.

In addition, the prestigious TWSNOW Readers' Choice Awards presented by Martin Guitar will be awarded, as voted on by thousands of readers and fans of TransWorld SNOWboarding.

New for 2015, TWSNOW, in partnership with Protect Our Winters (POW), will be presenting the Climate Activist Award to an individual who inspires others, takes meaningful action, and did something notable in the past year in the fight against climate change.

To see who's named the best the riders of the year, join us on Friday, January 30 at the Ogden Theater in Denver, Colorado for the biggest night in snowboarding. Doors open at 7:00 p.m. The show starts at 8:30 p.m. For those who can't make it, catch videos of the winners at TWSNOW.com/riderspoll.

This year's nominees are (in alphabetical order)…

Men's Rookie Of The Year
Ben Ferguson
Frank Bourgeois
Spencer Schubert

Women's Rookie Of The Year
Chloe Kim
Mary Rand
Silje Norendal

Men's Rider Of The Year
Bode Merrill
Kazu Kokubo
Pat Moore

Women's Rider Of The Year
Desiree Melancon
Jamie Anderson
Marie-France Roy

Men's Video Part Of The Year
Bode Merrill, Heavy Mental
Jed Anderson, Crazy Loco
Kazu Kokubo, Stay Bad Ass

Women's Video Part Of The Year
Desiree Melancon, Almanac
Marie-France Roy, The Little Things
Mary Rand, Yawgoons Full Part

Online Video Series Of The Year
Chikenmeat, Jon Stark
Nomad, Adidas
The Manboys, The Manboys

Video Of The Year
Mayday, Videograss
Pathology, Drink Water
Stay Bad Ass, Capita

Standout Performance Of The Year
Bode Merrill, one-footer over Pyramid Gap
Jussi Oksanen, retiring with a banger video part
Kazu Kokubo, 10 covers worldwide in one year

Men's TWSNOW Readers' Choice Presented By Martin Guitar
Halldór Helgason
Sage Kotsenburg
Scott Stevens

Women's TWSNOW Readers' Choice Presented By Martin Guitar
Desiree Melancon
Jamie Anderson
Jess Kimura

Legend Award
TBA

Climate Activist Award Presented By Protect Our Winters
TBA

The Riders' Poll Awards are sponsored by GoPro, Martin Guitar, Bird Dog Whiskey, and Pabst Blue Ribbon.

For more on TransWorld SNOWboarding and the prestigious Riders' Poll Awards, visit TWSNOW.com.

For updates, get connected to our Facebook, Twitter and Instagram feeds at @TWSNOW (#RIDERSPOLL16).


---