Back to News
B$Z: Bomber Gear Partners with Polartec to Create Premium Apparel Line
January 27, 2015
Bomber Gear®, manufacturer of premium, technical paddlesports apparel and sprayskirts, introduces its all-new line of 2015 watersports apparel designed to meet the demands of paddlers, keeping them warm, dry, comfortable—and most importantly—on the water all year round. Offering the highest levels of ergonomics, performance and breathability, Bomber Gear's Palguin®, Tahoe® and Baja® series use Polartec® Neoshell®, Polartec Power Dry® and Polartec Power Grid™ fabrics to establish a new standard for performance in watersports, allowing paddlers to push the limits in the toughest environments like never before.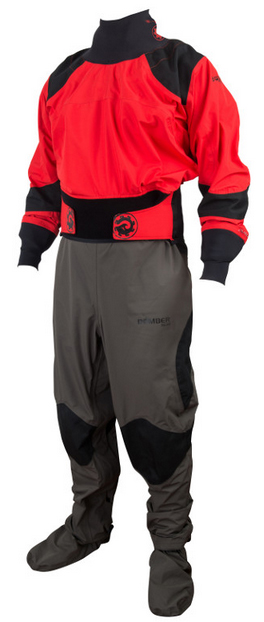 Linked by a distinct vision of quality, performance, design and innovation, Bomber Gear has partnered with Polartec® to bring a superior level of breathability, dryness and comfort to whitewater boaters, recreational enthusiasts, sea kayakers and stand up paddlers. Bomber Gear's 2015 premium collections featuring Polartec® work in concert to provide an enhanced, technical layering system that keeps water out in the wettest conditions, while at the same time keeping paddlers dry from the inside out.
"Polartec is a fabric innovation company and our mission is to further the science of fabric. When a company like Bomber Gear comes to the table and challenges us to develop fabric for water sports, we get excited because we know real change is about to happen," said Allon Cohne, global marketing director for Polartec. "Bomber Gear and Polartec are both interested in creating pinnacle performance pieces, so this is a natural partnership that allows both companies to innovate and grow."
Bomber Gear is introducing Polartec NeoShell to the paddlesports world for the first time ever in 2015, elevating watersports-specific apparel to meet the needs of the true adventure athlete. Polartec NeoShell is an award winning, revolutionary material that has shifted the paradigm in the waterproof/breathable category and has been used by snowsports and outdoor manufacturers since its inception. It is the first fabric to combine the superior breathability, ventilation, and stretch of a soft shell with the waterproof performance and durability of a hard shell, delivering the best of both worlds. Polartec NeoShell features a third dimension of air permeability, so that moisture created against the body inside the shell can immediately move out into the atmosphere. By using Polartec NeoShell along with Polartec Power Dry and Polartec Power Grid fabrics, Bomber Gear has created a fully dry system that looks to answer the age-old question of paddling dry suits: What good is waterproof if you are always soaked with sweat?
"Bomber Gear was created because there was a need for the product to be different. What is currently on the market, just doesn't work," said Martin Davis-Skjöth, lead designer for Bomber Gear. "Everyone accepts the status quo until someone comes in and changes the game. Polartec NeoShell is truly a different fabric than anything else being used in paddle sports. Being waterproof is easy, being waterproof and breathable, that's the tough part and Polartec has found the solution."
Tested in the most punishing conditions by the Bomber Gear pro paddling team, the Palguin, Tahoe and Baja dry system holds up to daily abuse while still meeting the highest standards of waterproofness, durability, and comfort. Combined with Bomber Gear's industry-leading production standards and Bombproof Guarantee, paddlers are sure to be dry all day, every day for years to come.
Bomber Gear's Palguin Series, Tahoe Series and Baja Series is available at retail stores and online at www.bombergear.com.
PALGUIN SERIES (Outerwear):
Bomber Gear's Palguin Technical Outwear Series includes a dry suit, dry top and dry pants made with Polartec NeoShell fabric, and it serves to protect paddlers from the most punishing conditions from crashing ocean waves to full-submersion in a frigid river. Designed for paddlers seeking the highest levels of ergonomics, performance and breathability available, the Palguin Series provides protection from whatever the moment throws at you, in whatever form fits you and the elements at hand.
Polartec NeoShell is lightweight yet amazingly durable, tear and scratch resistant, and is the most waterproof, breathable 3-ply fabric ever made. The Palguin Series features 4-way stretch glideskin neoprene on the neck for added comfort, the highest quality waterproof zippers and latex gaskets for superior durability, and reinforced panels in high wear areas. The Palguin Drysuit uses a unique leg entry system that makes it easy for a paddler to get in and out of the suit without aid. The Palguin Dry Pants feature a double tunnel for added dryness when rolled into your dry top's double tunnel. For maximum performance and comfort, combine the Palguin Series with Bomber Gear Tahoe and Baja insulation and base layers.
TAHOE SERIES (Insulation and Base-Layer):
Designed as a cold-weather thermal mid-layer for paddlers of all types, the Tahoe Series is the key to staying warm and comfortable even when the weather and water are not. Made with Polartec Power Dry, the Tahoe Series includes the men's Thermal Top, Thermal Pants and one-piece Thermal Union Suit, as well as the women's Thermal Top and Pants, which are ergonomically cut to fit a woman's figure.
Polartec Power Dry wicks away moisture to keep the body warm, skin dry, and offers 15+ UPF sun protection and odor resistant technology in a mid-weight fabric. The Tahoe Series features a special Performance Cut that allows for full range of motion, breathable Power Grid Underarm panels, and fabric that helps you retain heat, wet or dry. These pieces can be used as a single thermal layer underneath dry apparel (like the Palguin series), or as a secondary thermal layer with the Baja Series for more warmth.
BAJA SERIES (Lightweight Base-Layer):
The Baja Series pieces work as stand-alone UV protection layers or as moisture managing base layers. Staying comfortable and protected from the elements is essential; looking good isn't so bad either, and the Baja helps achieve both. The Baja UV Protection top, made with Polartec Power Grid, has a flattering cut and comes in men's and women's versions.
Lightweight Polartec Power Grid is designed to keep your skin dry and offers UPF 50 sun protection and odor resistant technology in a silkweight fabric. The Baja Series features a Performance Cut specifically optimized for kayaking and improved range of motion, and a drop tail in the back adds improved coverage while paddling.
The Palguin, Tahoe and Baja series, like all Bomber Gear products, are put through rigorous testing for waterproofness, breathability and overall performance before leaving the factory. Bomber Gear's Bombproof Lifetime Guarantee and in-house design, testing, and repair center ensures that paddlers will be using only the highest quality products in the field.
---