BACK TO NEWS
B$Z: Volcom Pipe Pro's Continued Sustainability Initiatives
For the 3rd year in a row, Volcom will continue to adhere to the guidelines set forth by Sustainable Surf to ensure that the 2015 Volcom Pipe Pro meets the criteria to be certified as a "Deep Blue Surfing Event." Volcom will be addressing and measuring the impacts of the 2015 Volcom Pipe Pro in regards to: Energy, Waste, Community Support, Transportation and Climate Change.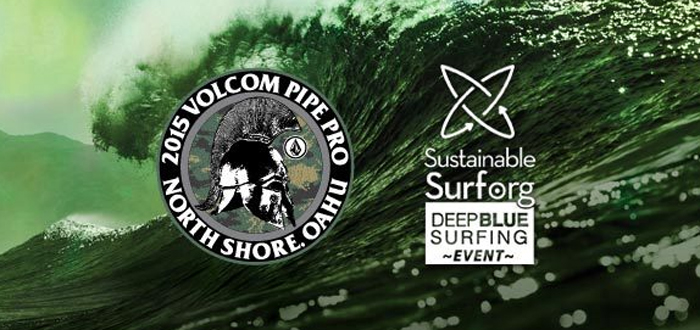 For a look back at the efforts taken by Volcom last year at the 2014 Volcom Pipe Pro to not only meet but exceed the requirements in becoming a "Deep Blue Surfing Event" visit Sustainable Surf's recap of the event. Be sure to also watch Volcom Pipe Pro: Sustainable by Design 2014, a film by Nathan Peracciny, that captures the stories behind those efforts.

For those lucky enough to be on Oahu for the Volcom Pipe Pro, Volcom will be hosting a follow up to last year's successful Sustainable by Design edition of Talk Story at Surfer the Bar. This year's Talk Story event will again be hosted by professional athletes, Dave Wassel and Alex Gray, and will feature a screening of the aforementioned Volcom Pipe Pro: Sustainable by Design 2014, presentations by Volcom's Global Sustainability Director and the Executive Director of Sustainable Coastlines Hawaii, as well as a performance by local reggae act, The Jimmy Weeks Project. The event starts at 8pm sharp on Saturday, January 31st and is free to the public before 8:30pm.

For a full run down of Volcom's sustainability initiatives and partnerships with local community organizations at the 2015 Volcom Pipe Pro, please visit the New Future page on Volcompipepro.com.
---