Back to News
B$Z: Legend Award Announced For The 16th Annual TransWorld SNOWboarding Riders' Poll Awards
January 28, 2015
Chris Roach first strapped into a snowboard in 1985, and by the late-'80s his smooth, skate-influenced riding, and poked grabs would influence a generation of riders. This Friday, we invite you to join us at the Ogden Theater in Denver, Colorado as we honor him for his on-going contribution to the culture of snowboarding.

Drawing on his skate roots, Roach was one of the first to embrace switch tricks and Cab spins, popularizing them at events like the 1989 US Open in Stratton, Vermont and through video parts in Fall Line Films Snowboarders In Exile and Mack Dawg's New Kids On The Twock.

The Grass Valley, California native is credited with coining the term "Grasser" to describe the style of method with the back leg poked out done by locals like Roach, Tucker Fransen, and Roach's brother Monty. Originally inspired by Shaun Palmer and Terry Kidwell's backside airs, a proper Grasser was a staple for this crew.

During his pro career Roach held a legit list of sponsors including Sims, Quiksilver, Bonfire, Dragon, and Vans. Most notably, he rode for Santa Cruz for 20 years before stepping away to focus on his family and start an excavating company, CR Trucking & Excavating. Roach now has five kids, the oldest 20, the youngest seven.

With a knee surgery to repair damaged ligaments from decades of riding hard, Roach started looking for a way to get involved with the snowboard industry again. A year later, in 2014, the first production run of D Day Snowboards was delivered to shops after Roach partnered with legendary rider Mike Ranquet and Nico Nolan of The Levitation Project to launch the brand, pressed in the Never Summer Factory.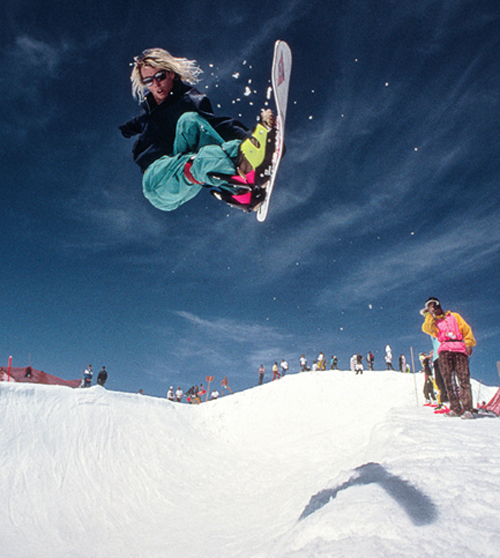 Roach, backside nose butter at the 2014 Holy Bowly at Park City. Photo: Andy Wright


Appearing at grassroots events like the Holy Bowly at Park City, Utah this spring, Roach was riding strong as ever. For helping to define style in snowboarding over 25 years ago, to supporting team riders he believes in today, and always fighting for his love of the shred, Chris Roach is the well-deserved recipient of the TransWorld SNOWboarding 2015 Legend Award.

The Riders' Poll Awards are sponsored by GoPro, Martin Guitar, Bird Dog Whiskey, and Pabst Blue Ribbon.

To see who's named the best the riders of the year, join us on Friday, January 30 at the Ogden Theater in Denver, Colorado for the biggest night in snowboarding. Doors open at 7:00 p.m. The show starts at 8:30 p.m. For those who can't make it, catch videos of the winners at TWSNOW.com/riderspoll.

For more on TransWorld SNOWboarding and the prestigious Riders' Poll Awards, visit TWSNOW.com.

For updates, get connected to our Facebook, Twitter and Instagram feeds at @TWSNOW (#RIDERSPOLL16).


---