Back to News
B$Z: Top Skateboarders, a Snowboarder and Thought Leaders Join Fred Water Mission
February 4, 2015
Fred Water, the only water company offering refillable water flasks full and empty, announced today its list of brand contributors. From pro athletes to thought leaders with impressive pedigrees, Fred Water is driving forward with its mission to help people eliminate a sugary diet and reduce the potential of preventable disease front and center to its business practices. By providing its customers with a way to carry more water more often, Fred Water is convincing people to drop the sugary drinks and drink more water.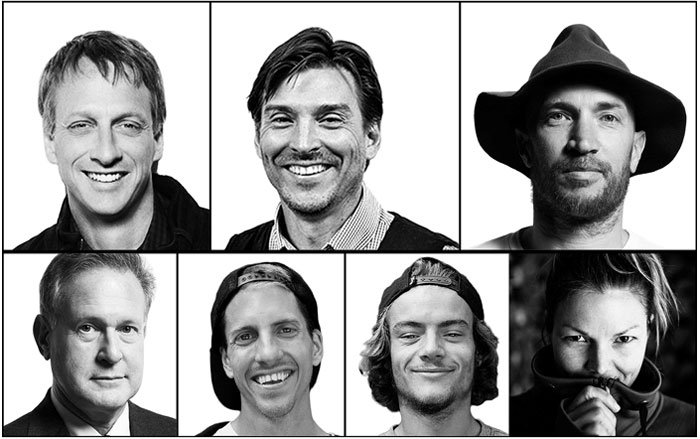 Left to right: The Fred contributors include pro skateboard superstar and entrepreneur Tony Hawk; Alex Bogusky, top adverting man and social entrepreneur named "Creative Director of the Decade" by AdWeek magazine; Jamie Thomas, pro skateboarder; Board President and Founder of Institute for Responsible Nutrition, Robert H. Lustig, M.D.; Aaron "Jaws" Homoki, pro skateboarder; Chris Joslin, accomplished skateboarder and Annie Boulanger, pro snowboarder.
"As Fred Water continues its anti-sugar crusade, we love that we can depend on some of the world's greatest athletes, medical experts and thought leaders to keep our mantra at the forefront of the conversation: 'more water, less sugar,'" said Adam Gayner, CEO and co-founder of Fred Water. "Fred Water had a remarkable 2014 with several innovations that drove us into the New Year including the development of our Water Flask made from durable food-grade stainless steel. Adding these thought leaders to our team just underscores our continued goal of bringing education and freedom from the dangers of sugar to men, women and children."
Hawk is the most famous skateboarder in the world. From his time in the Bones Brigade to landing the first 900, Hawk has continued to advance skateboarding while winning tons of awards and being a successful entrepreneur. Hawk created one of the most successful video game franchises in history, and the Tony Hawk Foundation has funded more than 550 skatepark projects that currently serve more than 4.8 million young Americans annually.
Bogusky is the creative mind behind some of the most awarded and successful disruptive marketing tactics in advertising history. In 2010, he announced via Twitter that he would be retiring his advertising career from CP+B to become an insurgent in the new customer revolution. Today, Bogusky is a driving force behind countless start-ups, new agency models and think tank groups including consumer advocacy Fearless Cottage, the social venture Common and seed accelerator Boomtown Boulder.
Thomas, also known as the Chief, has been inspiring skateboarders for more than 20 years. His strong work ethic, relentless determination and perseverance have proven to be the driving force behind his professional skateboard career. In addition to his incredibly impactful skateboarding career, Thomas is an entrepreneur, visionary and designer that continues to gain more momentum every year.
Founder of the Institute for Responsible Nutrition (IRN), Dr. Lustig's research and presentation of the dangerous effects of sugar overconsumption on human health has brought him international acclaim. Dr. Lustig's contributions to the topic include authoring the New York Times Best Seller FAT CHANCED and playing a lead role in nationally broadcast media, including 60 Minutes episode "Is Sugar Toxic?" the popular documentary "FED UP" and the recent public television program "Sweet Revenge: Turning the tables on processed foods." With more than five million YouTube views on his lecture called "Sugar: The Bitter Truth," (https://www.youtube.com/watch?v=dBnniua6-oM) Fred Water reached out to Lustig and partnered with IRN to translate the full-length lecture into a consumer-facing short-form presentation called "Sugar is Killing Us" (viewable at youtube.com/sikuvideo) as well as launch an accompanying Facebook advocacy page (at Sugariskillingus.org).
Homoki's name is synonymous with the most massive drops in the history of skateboarding. Not only has he taken some of the biggest drops in the streets, Homoki is well known for skating transitions as well.
As a relatively unknown amateur skateboarder, Hawaiian Gardens Native Joslin landed the unthinkable when he secured the coveted opening spot in the highly anticipated Plan B video "TRUE." There is nothing he would rather do than ride a skateboard, which is evident in the way he has been conquering the biggest spots with his deep bag of tricks.
Boulanger is one of the world's most accomplished female freeride snowboarders, known for having taken her own path, showing the world that it is possible for a woman to have a career in the backcountry by filming with the guys. She's won the respect of the men she films with and has taken the "Women's Rider of the Year "and the "Women's Video Part of the Year" at the Transworld SNOWboarding Rider's Poll Awards.
---