Back to News
B$Z: FUGOO Bluetooth Speakers To Sponsor Brett Metcalfe And Team Dirt Candy Graphics
February 10, 2015
FUGOO, creators of the toughest, longest lasting portable Bluetooth speaker in its weight class, is happy to announce their sponsorship of the Team Dirt Candy Graphics for the remainder of the 2015 Monster Energy AMA Supercross season. As a part of the sponsorship, Brett Metcalfe, along with Ronnie Stewart, Robert Lind and the rest of the Team Dirt Candy crew, will be representing FUGOO on the track, through social media and blasting the speakers in the pits before each race.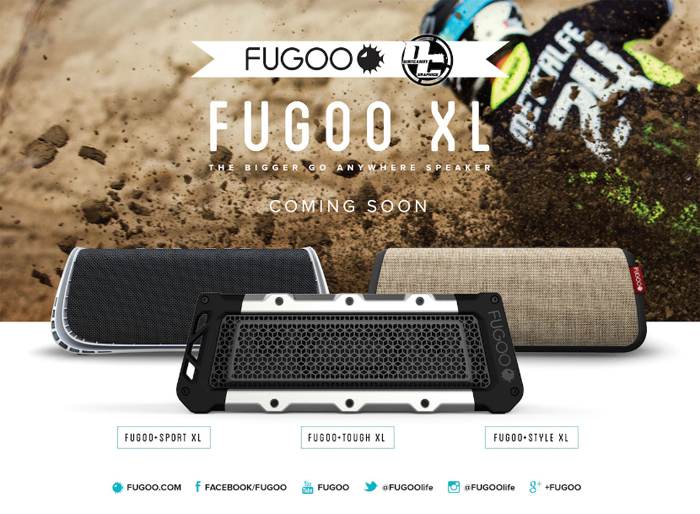 FUGOO Bluetooth speakers are the toughest, longest lasting portable audio devices of their kind. They have an industry leading IP67 rating, certifying they are waterproof for up to three feet for 30 minutes. In addition to its underwater prowess, the FUGOO can withstand drops onto concrete(1) and the FUGOO Tough model can survive being run over by a car. They also have an incredible 35 to 40-hour battery life, with speakers positioned on all four sides ensure music can be heard in all directions. When they get dirty, they can be hosed off, even while blasting music.
The team behind FUGOO is made up of a tight crew of technology industry leaders integral in the design and creation of numerous tech milestones, including the widespread adoption of Bluetooth. First launched at the 2014 International CES trade show, FUGOO quickly rose to prominence among a stacked crowd of competitors.
"There's a lot to come from FUGOO and Team Dirt Candy. None of us are strangers to success, but we all share a similar drive to show there's a lot more out there that we can accomplish.
We're excited to help support the Dirt Candy Graphics team as they charge ahead into the season," said Gary Elsasser, CEO, FUGOO.
FUGOO's impressive durability is complimented by a unique "Core + Jacket" design that pairs the internal core unit with one of three easily interchangeable outer jackets to customize the speaker's appearance or adapt it to the environment which it will be used.
"For people that live our lifestyle, FUGOO just makes sense. This is the ideal speaker for anyone active outside who doesn't want to worry about an accident taking their electronics out of commission. The guys at FUGOO are fans of supercross and Gary grew up riding every weekend, so having fans support us as sponsors is a major bonus," commented Metcalfe.
Anyone visiting the pits this AMA Supercross season will be able to see and hear the FUGOO speaker in action alongside the crew from Team Dirt Candy Graphics.
More information on FUGOO can be found online at http://www.fugoo.com, https://www.facebook.com/Fugoo, http://instagram.com/fugoolife and https://twitter.com/fugoolife.
---