Back to News
B$Z: AMSOIL Arenacross Interview of the Week: A&Y Racing Honda's Daniel Herrlein
February 12, 2015
A&Y Racing's Daniel Herrlein took an innovative approach to preparing for the upcoming Eastern Regional 250SX Class Championship in Monster Energy AMA Supercross, an FIM World Championship, which kicks off on Saturday night in Arlington, Texas. Herrlein took advantage of the opportunity to compete at AMSOIL Arenacross, featuring Ricky Carmichael's Road to Supercross, in preparation for what he hopes is a breakout year in supercross. AMSOIL Arenacross sat down with Herrlein, who earned five podium finishes and one win in six Arenacross Lites Class starts, to get his thoughts on the championship and how he is using it to prepare for the upcoming supercross season.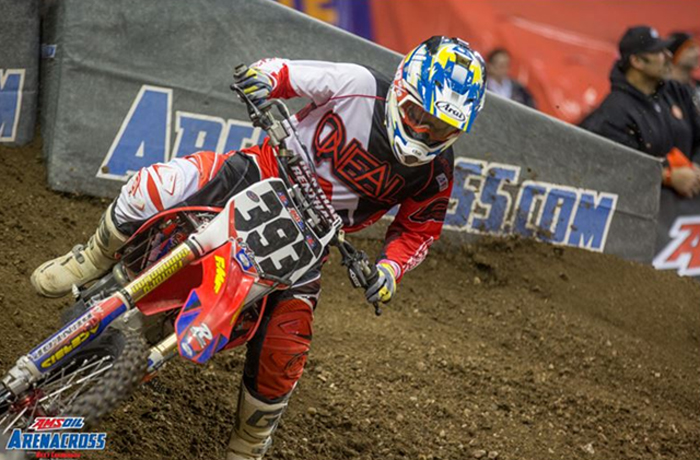 Herrlein was a regular at the front of the Arenacross Lites Class.
Photo: Josh Rud / ShiftOne Photography


Give our fans a little background on you. What got you started in racing and when did you have the realization moment this was what you wanted to pursue professionally?
Ever since I was a kid I have always been around four wheelers and dirt bikes. When I was five, I told my dad I wanted to race and we went through with it. I raced Loretta Lynn's (AMA Amateur National Motocross Championship) on 65cc's and it went well, but from 85cc's until my Schoolboy [class] years I didn't qualify. It was tough being from Ohio and not being able to ride every day in the winter and I was starting to lose hope on my dream of racing professionally. That winter my dad and I decided to give it one last shot [in 2008]. That's when I first started to come down to Southern Georgia (Georgia Practice Facility). I put in a solid winter of riding and I kept telling myself that if I don't make Loretta's in 2009, I would have to figure something else out for my future after high school. After putting in a good winter down there I finally qualified for Loretta's again in the 250B and Schoolboy class and it really put the wind back into my sails.
Why did you decide to race AMSOIL Arenacross in preparation for Monster Energy Supercross?
I was training and riding with TZR Woodstock KTM down in Georgia this winter and decided it would help my training by getting in some solid races before my season in Monster Energy Supercross began. I am so thankful I competed in AMSOIL Arenacross because it was a huge help as far as my fitness and training was concerned and now I feel more prepared than I ever have before. I was able to increase my intensity on the track with the intense racing and fast guys.
You had quite the warm up for Arlington this weekend, with podium finishes in five out of the six Arenacross Lites Main Events you raced. Talk about the competition in AMSOIL Arenacross and how do you think it prepared you for this weekend?
Going into the first round I didn't know what to expect. I knew the racing would be close and I knew that everyone would be banging bars. However, once I got in the mix I felt like I could hold my own and I had a blast going out there. I really enjoyed the close racing. I think some of the newcomers to arenacross like Matt Goerke, Bobby Kiniry and Chris Blose, along with the long time AMSOIL Arenacross competitors, is a combination that makes for some really intense racing. I have been watching AMSOIL Arenacross for years and I think that this year is definitely the most stacked field, and now after being a part of it has been a huge confidence booster to be able to run with those guys.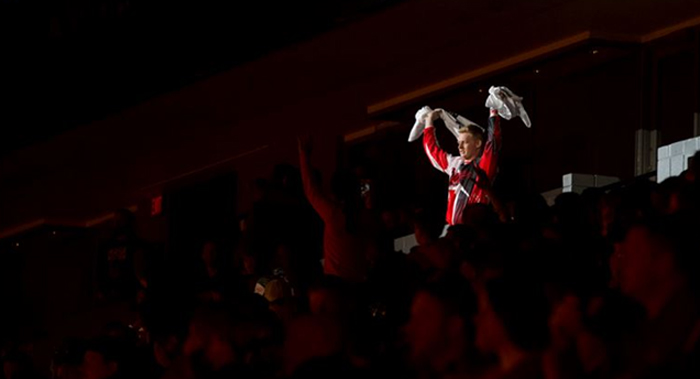 Herrlein's AMSOIL Arenacross experience got him prepared for the upcoming Eastern Regional 250SX Class in Monster Energy Supercross.
Photo: Josh Rud / ShiftOne Photography


You have raced both Monster Energy Supercross and AMSOIL Arenacross, and this year you competed against some of the Road to Supercross competitors. What are your thoughts on the program?
When I first heard about it I wasn't too sure how it was going to work. However, once I actually got out there and started competing with the top guys as well as the Road to Supercross riders, I think that it is a great program. It was a great warm up for me and I feel like the Road to Supercross riders can also relate. It will help prepare them for what they will see in Monster Energy Supercross and I definitely think it is a good program.
Besides competing in a couple of AMSOIL Arenacross races, what have you been doing to prepare for the Eastern Regional 250SX Class Championship?
I have been training down at GPF and also have been working with Club 57 at Climax Motorsports Park. I think that being able to ride at a couple of different places and having that on track coaching has helped a lot. When I am not riding I spend a lot of the time in the gym and road biking. I think that the training program I am on this year, along with the pre season racing at AMOSIL Arenacross, has me more prepared than I ever have coming into the Monster Energy Supercross season.
What are you expecting going into this weekend in Arlington?
I am hoping to carry all the intensity and momentum I had in AMSOIL Arenacross into Monster Energy Supercross this weekend and I'm hoping for a top-10 finish!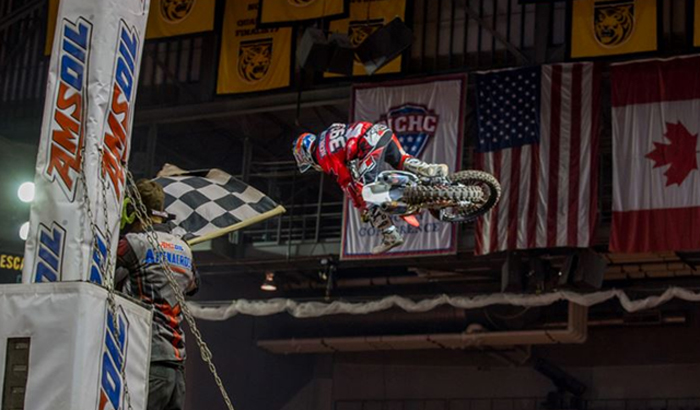 Herrlein took one win and five podium finishes in sixth Arenacross Lites Class Main Events.
Photo: Josh Rud / ShiftOne Photography
---