Back to News
B$Z: Blundstone Announces Exclusive Collaboration with Ducati Scrambler
February 12, 2015
Iconic footwear brand Blundstone is proud to announce its collaboration with world renowned motorcycle brand Ducati Scrambler for the release of the Scrambler bike. The original Chelsea boot brand since 1870 from Tasmania, Australia, has released a limited edition boot as part of Ducati Scrambler's official apparel and accessory collection to coincide with the release of the Scrambler.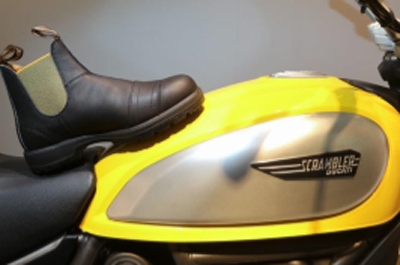 The Blundstone 800 boot in brown leather with olive green elastic gore paneling with yellow details was specifically designed for the collaboration and features a modern twist on Blundstone's iconic boot. Both yellow and green can be seen throughout the entire Ducati Scrambler collection including bikes, apparel and accessories – making it recognizable wherever it's seen. Other features of the Blundstone 800 boot include custom stitching details on the gear shift protector and the Ducati Scrambler logo on one of the two classic Blundstone pull-tabs. Blundstone will produce 3,000 pairs of the limited edition boot to be sold through select key U.S. retailers, including Blundstone's own ecommerce website.

"Combining authentic heritage and contemporary style has been a constant throughout Blundstone's history," says International Sales Executive, Andrew Ross. "Since 1870, we've enabled people to go anywhere, do anything, and live life authentically. We're very proud to have collaborated with Ducati Scrambler to bring this story to the riding world."

The Blundstone/Ducati Scrambler collaboration will officially kick off at the upcoming Magic FN Platform trade show In Las Vegas on February 17-19, 2015. The brand will showcase a Ducati Scrambler and premiere the boot for the first time. A national campaign surrounding a Scrambler giveaway will be announced.

With its release of the 2015 Scrambler, Ducati has focused on a "postheritage" style, taking the best of the past and creating something unique and contemporary; synonymous with the core manifesto of the Blundstone brand. Recognized as quite possibly the world's most comfortable, most durable boots ever made, Blundstone is known for its iconic elastic-sided Chelsea boots that offer durability and classic styling.

---