BACK TO NEWS
B$Z: Monster Energy Supercross Legend Kevin Windham to Make Special Appearance at AMSOIL Arenacross
When the 2015 AMSOIL Arenacross, featuring Ricky Carmichael's Road to Supercross, begins the highly anticipated Race to the Championship, the season-ending playoff to crown a champion, on Saturday, March 21, inside New Orleans' Smoothie King Center, a familiar face will be on hand as part of the action. Feld Motor Sports announced today that Baton Rouge, Louisiana, native Kevin Windham, a global racing legend, will serve as Grand Marshal for the first ever AMSOIL Arenacross visit to "The Big Easy."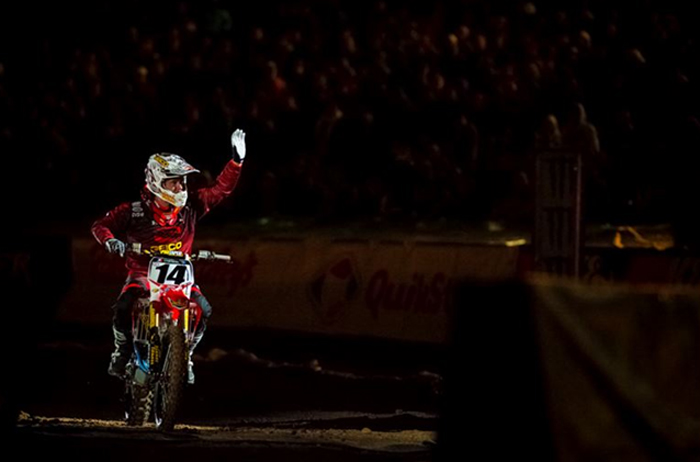 Windham is one of Louisiana's most beloved athletes.
Photo: HoppenWorld

Throughout his illustrious 18-year career in Monster Energy AMA Supercross, an FIM World Championship, Windham was beloved by fans and held in high regard from his fellow competitors thanks to his dedicated approach to both racing and family. Windham earned 18 career 450SX Class victories (10th all-time) and finished runner-up in the championship on three separate occasions. As a native of Louisiana, he has long been considered one of the state's most highly regarded athletes and remains committed to not only giving back to the sport he loves, but also the state that continues to embrace its native son.
"I am honored to be the Grand Marshall at the first ever AMSOIL Arenacross in one of the greatest cities in the world," said Windham. "It was always a special treat to race in front of my hometown crowd in supercross so it's going to be surreal to come back and not be racing. Nevertheless, these riders in AMSOIL Arenacross are truly incredible and they will put on a show for the New Orleans fans unlike anything they've seen before. I can't wait."
Windham will be a part of many aspects of the race inside Smoothie King Center, including a special appearance during opening ceremonies, and signing autographs at the Monster Energy fueled track party.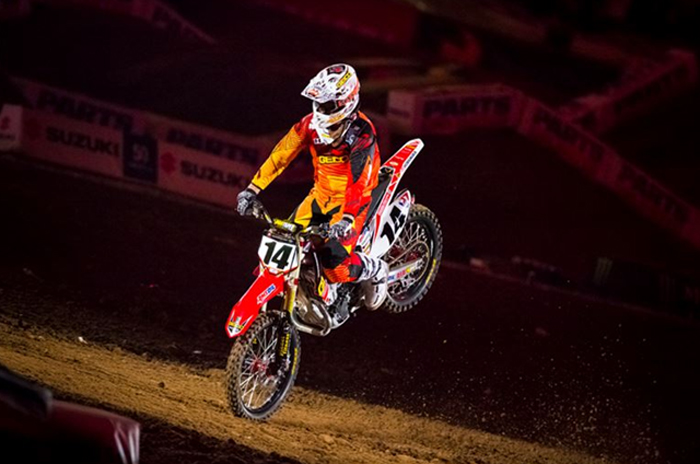 Fans in New Orleans will no doubt be treated to Windham's wildly popular nose wheelie.
Photo: HoppenWorld
The opening round of the playoff-inspired Race to the Championship will highlight AMSOIL Arenacross' inaugural visit to New Orleans. This winner-take-all showdown will pit the top 10 riders in the Arenacross Class against one another in a season-ending battle to ultimately crown a champion. The points will be reset and these 10 athletes will wage war over the final six nights of competition in hopes of emerging as AMSOIL Arenacross Champion at the season finale in Las Vegas. No competitor in the championship has ever walked away with the title before, setting the stage for a truly dramatic race to the finish in which all 10 riders will surely lay it all on the line during the most coveted opportunity of their career. The opportunity to see who will make the first statement in the "Big Easy," inching one step closer to that first AMSOIL Arenacross crown, is something no one will want to miss.
"The Race to the Championship is really one of the most exciting things about AMSOIL Arenacross because it basically starts the season over for those top 10 guys," added Windham. "There's so much strategy a rider can take advantage of because of that, so you really have no idea who might end up emerging as the guy to beat. I'm definitely glad I never had to be a part of something so stressful when I was racing, but as a fan I love it and I'm really looking forward to seeing how it all unfolds."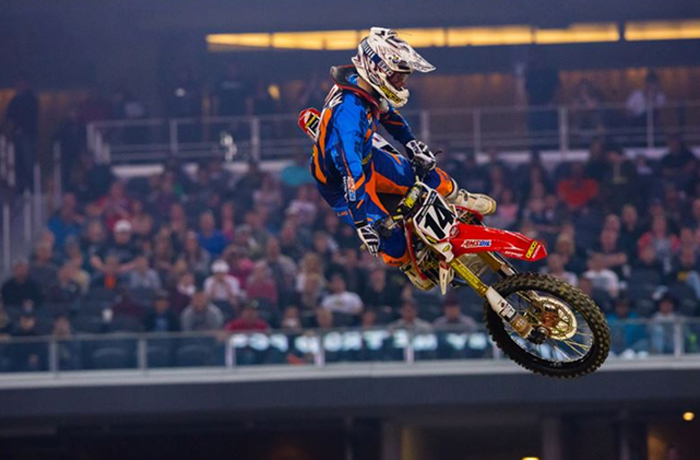 Windham earned 18 career 450SX Class wins during his Monster Energy Supercross career.
---