Back to News
B$Z: AMSOIL Arenacross Interview of the Week: Ricky Carmichael
February 19, 2015
The inaugural AMSOIL Arenacross, featuring Ricky Carmichael's Road to Supercross, visit to Tampa, Florida, this Saturday night will also serve as a homecoming for one of the sport's most legendary figures. Ricky Carmichael, a native of nearby Tarpon Springs and resident of Tallahassee, will make a special appearance inside Amalie Arena, supporting both AMSOIL Arenacross and the Road to Supercross, which he created. Following the recent announcement that Carmichael will be a 2015 inductee into the American Motorsports Hall of Fame, there is even more excitement and anticipation for his homecoming. AMSOIL Arenacross caught up with Carmichael to get his thoughts on the 2015 season and his visit to Tampa.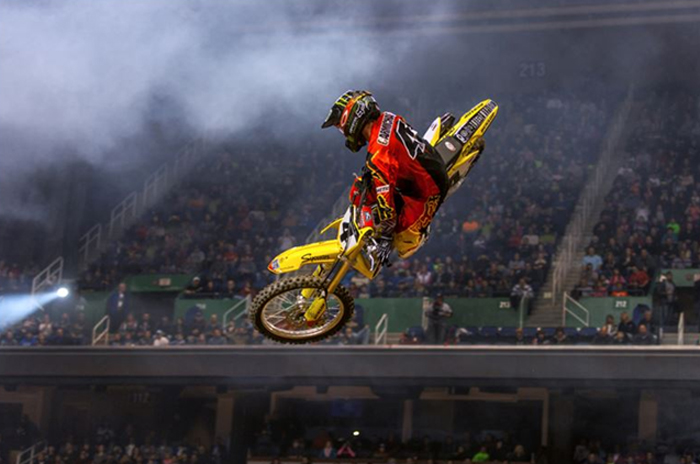 Carmichael makes his anticipated return home this weekend.
Photo: Josh Rud / ShiftOne Photography
Ricky, being a Florida native and racing both two and four wheels here, you have been a big supporter of growing both Monster Energy Supercross and AMSOIL Arenacross. How does it feel to have the sport back in the Sunshine State?
It's great to have any of those races in the great state of Florida, but what is really cool is that AMSOIL Arenacross is happening in Tampa, which is so close to my hometown of Tarpon Springs!
Matt Goerke will be racing here in front of his home state, hoping to earn back-to-back wins. What was it like for you racing in Florida in front of all your family and friends?
Well, it's a great feeling anytime you have family, friends and a huge support group at the events cheering you on, but it was definitely an added value racing in my home state and it made winning there that much more special.
With the Race to the Championship just a few weeks away, every point counts towards getting in the top 10 of the championship points standings before they reset. What are your thoughts on the action we're going to see this weekend in Tampa?
Yes the Race to the Championship is just right around the corner as you said, and it will be exciting when that happens. For this weekend, I expect to see some great racing as I always do when I attend AMSOIL Arenacross but I think the guys that are on the bubble of making it in the top 10 will have a little more pressure to make it happen and will be giving it everything they have.
Carmichael was recently announced as a 2015 inductee into the American Motorsports Hall of Fame.
Photo: Josh Rud / ShiftOne Photography
This is the most intense season we've seen in AMSOIL Arenacross history. Talk about the competition. We have new faces, returning veterans, as well as top Road to Supercross riders this season.
This season has been incredible ! There's been a lot of parity out there, which has brought a ton of excitement and the unknown of who will win. It has been really exciting from a fan's aspect. It's great to see the young talent coming up through the Road to Supercross program as well. It amazes me how good these riders are they come up through the ranks.

You have been helping develop AMSOIL Arenacross over the past three seasons. How has the series progressed and elevated since you first got involved?
It's been a lot of fun to be involved I can tell you that. There are so many areas where the series has progressed. One being how competitive it is, these guys are going for it all, each and every time they are on the track and to sit and watch that happening makes me believe we're heading in the right direction. The number of fans in attendance each week has been phenomenal; it's so exciting to see all those people there to witness one of the greatest seasons in history! As much success as we have already had though, I feel like we still have room to grow and make it even better for years to come.

Do you feel that riders are now entering Monster Energy Supercross with better preparation and planning as a result of racing AMSOIL Arenacross?
Absolutely! 100 percent! When I attend the Monster Energy Supercross races I feel that the non-seeded riders talent level is substantially higher, which is good to see and is proof that the program is working. I look forward to seeing the growth and development years to come!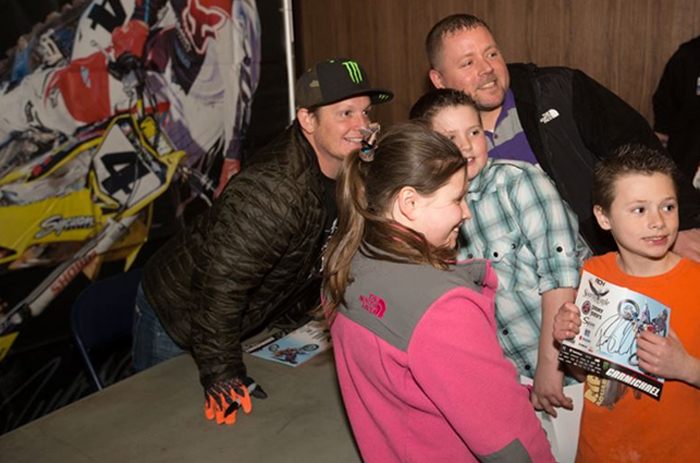 Carmichael will be at the track party on Saturday afternoon before racing begins, signing autographs for the fans, taking photos and more, all in support AMSOIL Arenacross.
Photo: Josh Rud / ShiftOne Photography
---