Back to News
B$Z: AMSOIL Arenacross Title Fight Heats Up as Three Riders Emerge as Leaders of the Pack
February 25, 2015
Six different riders have stood on top of the podium with an overall victory through nine nights of action as AMSOIL Arenacross, featuring Ricky Carmichael's Road to Supercross, is nearing its halfway point in the 2015 season. Throughout this parity-driven season a trio of riders have proven to be the most consistent, and as a result, have risen to the forefront of the Arenacross Class title fight. While the Team Babbitt's Monster Energy/AMSOIL Kawasaki duo of Jacob Hayes and Matt Goerke currently have control of the top-two positions in the championship standings, it's Husqvarna TiLUBE TUF Racing's Kyle Regal who will bring the momentum into this weekend's visit to Kansas City, Missouri, this Saturday, February 28, on the heels of his most recent victory. The action inside Sprint Center kicks off at 8 p.m. EST/ 7 p.m. CST/ 5 p.m. PST.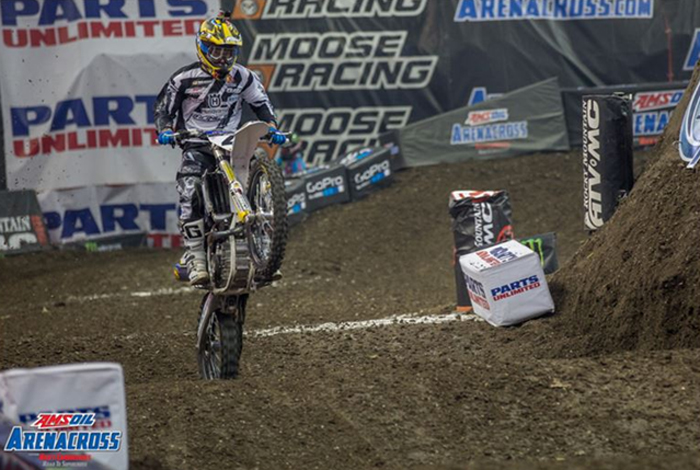 Kyle Regal inched closer to his championship rivals in Tampa with his second win of the 2015 season.
Photo: Josh Rud / ShiftOne Photography

The key to the success of Hayes, Goerke and Regal has been their consistency. Through 18 Main Events this season, each rider boasts approximately a top five average finish. Moreover, each has been forced to face adversity at some point this season, but they've been able to rebound from it arguably better than any of their fellow title contenders. Last weekend in Tampa, Florida, Regal showed the true benefit of consistency by relying on a pair of runner-up finishes in the two Main Events to walk away with the overall victory, which allowed him to gain valuable ground on the championship on both Hayes and Goerke.
As the season makes its return to the Midwest, all eyes will be on these three riders as they continue to fight for the top seed heading into the looming Race to the Championship. Currently, a mere 20 points separate these three riders and since each has had a taste of victory in 2015, any one of them has the potential to put forth a dominant effort inside the Sprint Center and make big gains in the points.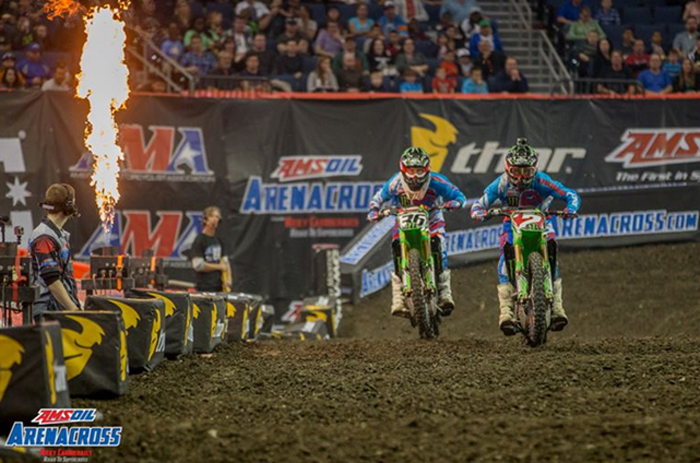 Jacob Hayes (2) and Matt Goerke (36) currently hold the top two spots in the Arenacross Class championship standings.
Photo: Josh Rud / ShiftOne Photography
While all eyes will surely be on the lead trio Saturday night, there is also a highly dramatic battle brewing within the top-10 of the Arenacross Class standings. Just five nights of racing remain until the cutoff for the Race to the Championship, which begins on March 21in New Orleans. Only 10 riders will have the chance to compete in the playoff-inspired Race to the Championship and have a shot at claiming the 2015 AMSOIL Arenacross title.
While a large portion of the riders currently sitting inside the top-10 in points appear to have a secure hold on their position, the fight to claim one of the final spots is intensifying with each passing night. Currently, Motosport.com/Haeseker Racing KTM's Gared Steinke and Husqvarna TiLUBE TUF Racing's Gavin Faith occupy ninth and 10th in points, respectively. However, only 21 total points separate these two riders from Babbitt's Online Suzuki's Cory Green, who sits 11th. While Faith has a win to his credit this season and has been a consistent podium threat, he was forced to miss out on both Main Events in Tampa after his motorcycle failed to start. That resulted in a loss of considerable, highly valuable championship points and puts the Iowa native in a precarious position as the cutoff nears. Faith is just seven points behind Steinke for ninth, but just 14 points ahead of Green. Each of these three riders are capable of winning on any given night, and there will be incredible drama surrounding their continued fight for survival to make the Race to the Championship field.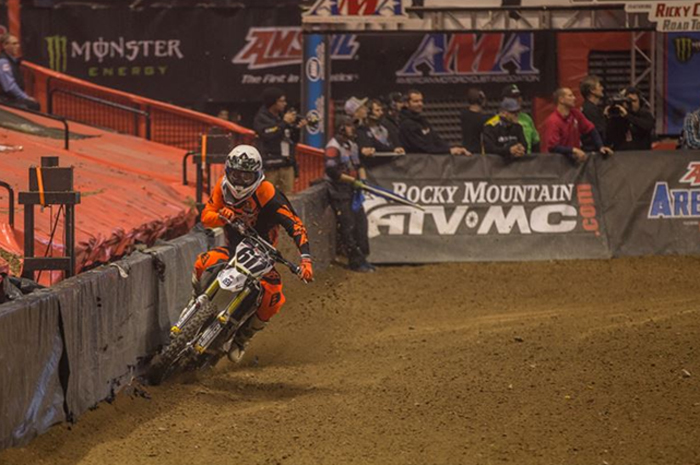 Gavin Faith currently holds on to the 10th and final spot in the point standings as the Race to the Championship nears.
Photo: Josh Rud / ShiftOne Photography



The return of AMSOIL Arenacross to Kansas City will also signify the second round of the Western Regional Arenacross Lites Class Championship. With just one round completed this season, Motosport.com/Haeseker Racing KTM's Daniel Blair currently sits atop the points standings, carrying a six-point lead over Team DirtBikeMike KTM's Brandon Glenn. Fittingly for Blair, he rode to victory in the Arenacross Lites Class at Tampa, giving him a huge boost of confidence and considerable momentum coming into Kansas City, where he will carry the red number plate as the current championship leader. The veteran has a pair of Main Event victories this season and brings the most experience into the Western Regional Championship, which he hopes will continue to work in his favor.
The seventh round of AMSOIL Arenacross gets underway this Saturday, February 28, inside Kansas City's Sprint Center. Racing begins at 8 p.m. EST/7 p.m. CST/ 5 p.m. PST.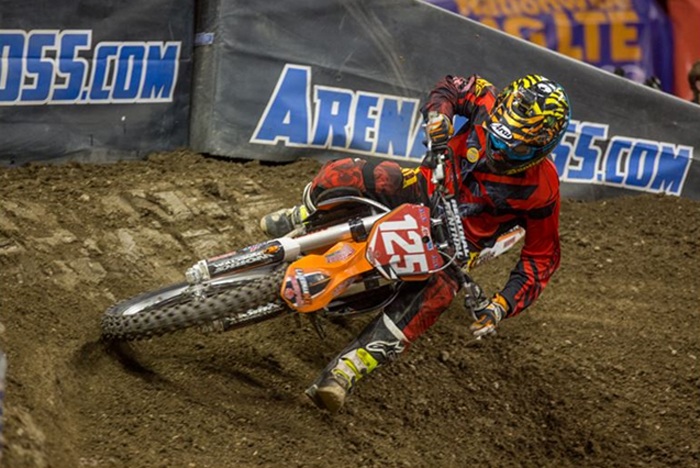 Daniel Blair will carry the red number plate as the Western Regional Arenacross Lites Class points leader in Kansas City.
Photo: Josh Rud / ShiftOne Photography
---