Back to News
B$Z: AMSOIL Arenacross Interview of the Week: Gavin Faith and Cory Green
February 26, 2015
While the battle at the top of the championship standings in AMSOIL Arenacross, featuring Ricky Carmichael's Road to Supercross, is heating up, so is the fight to earn a position inside the top 10 of the Arenacross Class standings as the Race to the Championship nears. Currently, Husqvarna TiLUBE TUF Racing's Gavin Faith, an overall winner this season, holds on to possession of the 10th and final spot in the points with five nights of racing remaining until the points reset, but just 14 points separate he and Babbitt's Online Suzuki's Cory Green, in 11th. Faith has never been a part of the Race to the Championship as this is his first full season of AMSOIL Arenacross competition, while Green is a veteran of the sport who finished fifth in the final championship standings just last season. AMSOIL Arenacross caught up with both riders to get their thoughts on the Race to the Championship and how they plan to secure a spot inside the top 10 over the next few weeks.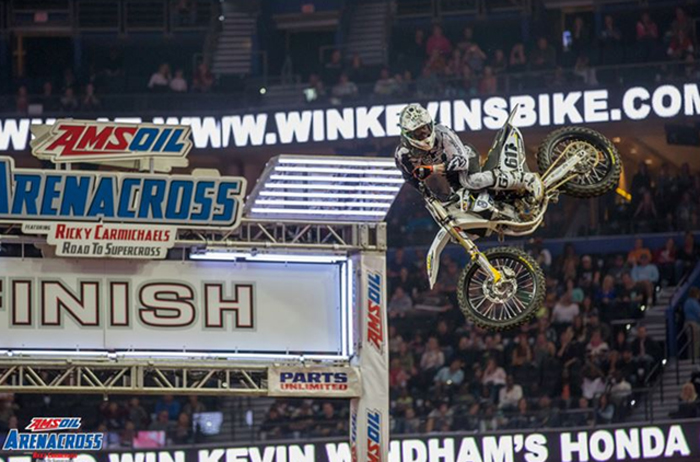 Gavin Faith currently has control of 10th place in the Arenacross Class point standings.
Photo: Josh Rud / ShiftOne Photography
AMSOIL Arenacross is filled with ups and downs for every rider because it's so competitive. Talk about some of the adversity you have faced this season and what you think it will take these next few weeks to put yourself into the Race to the Championship?
Gavin Faith (GF): Being consistent. AMSOIL Arenacross is really tight, bar-banging racing and anything can happen. I have been a little inconsistent so far this year, with mistakes of my own as well as mechanical. Basically, my plan is to stay in the top 10 now, and once the Race to the Championship begins, eliminate a lot of these mistakes we have been making so we can be right up there!
Cory Green (CG): There are a lot of good riders this season. The competition is very tough. I feel as though not only myself, but also a lot of other riders have found themselves in the wrong place at the wrong time on the track. I feel as though this year my speed and everything is there, I just need to put myself in the right place at the right time moving forward.
With only five races left until the cutoff, what are your goals in the next few weeks?
GF: My main goal is to secure a top spot inside the top 10, and I'm sitting 10th now. My focus is to get through these next few races clean. I want to be on the box every weekend and I want to go for race wins, but my main focus is to stay consistent and stay off the ground and we should be good to go.
CG: My main goal moving forward, not just these next five rounds but the remainder of the season, is to have fun when I am out on the track. I haven't been having too much fun as of yet. If I get back in the zone of having fun out there I think the results will show from that.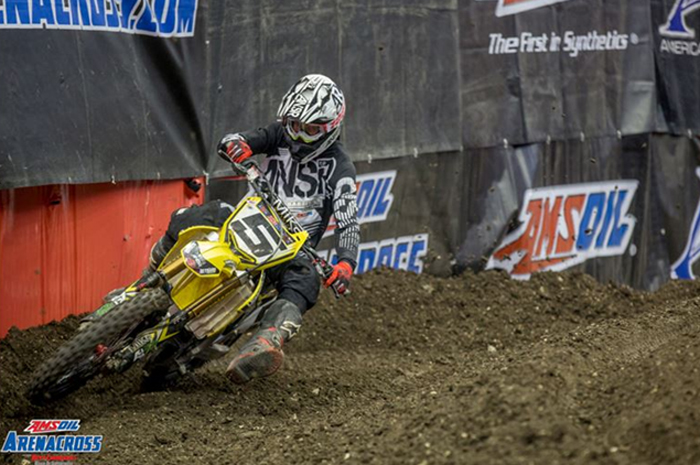 Cory Green sits within striking distance of breaking into the top 10.
Photo: Josh Rud / ShiftOne Photography
There's obviously very little ground separating you from being in the Race to the Championship and out of it. Do you enter these next few races looking to just beat the riders closest to you in points, or do you attack it like any other race and let the points play out as they will?
GF: These next few rounds I am going to go at it like its any other race. You cant really think about who is behind you, I want to go out there and do my best. I want to be on the box and ultimately to win races. I'm not going to go out there just to try and beat the 11th place rider, I'm going to go out there to try to get the win every time.
CG: I want to be in the Race to the Championship but more than anything I'm not going out just to beat this rider or that rider. I'm going out there to win the race and be where I need to be. Not only does it make me feel better about my performance and myself, but it also represents my sponsors in a way they want them to be presented.
Is the Race to the Championship on your mind right now? Or are you still trying to take things race-by-race and maximize your results?
GF: I am trying to take everything race-by-race. It is going to get pretty intense once the points reset. Luckily the structure is like this in AMSOIL Areancross. With this being my first full year in the series it gives me some time to learn the ropes and get used to the structure with the short lap times and two Main Events. The points will reset and hopefully I have learned enough from the first few rounds. My overall goal is to be consistent and put myself in a good position for the championship.
CG: The goal is always race-by-race for me. Yes, I want to look forward and plan for the championship, but the cards have to fall in my favor. I normally try to take everything race-by-race and work on what I need to work on weekend-to-weekend, and ultimately when the gate drops go out and do my best.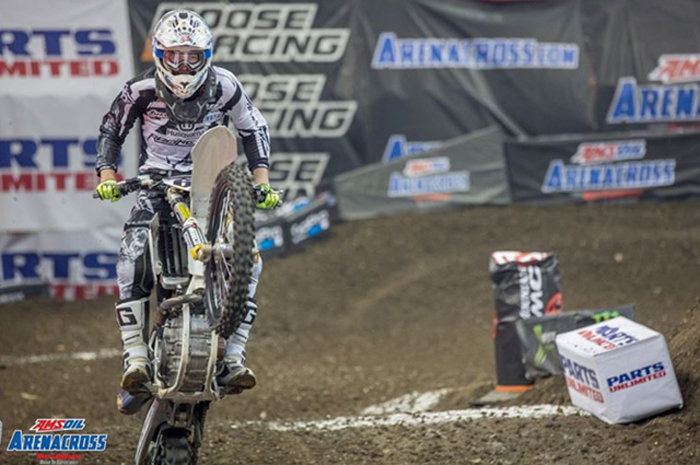 Faith took a big win in Grand Rapids, but has also missed out on earning valuable points as a result of injury and mechanical misfortune.
Photo: Josh Rud / ShiftOne Photography
The racing this season is arguably the most competitive its been in history. Talk about your journey to this point in the season and what you have learned along the way that you hope will work to your advantage in securing a spot in the Race to the Championship.
GF: There are a lot of fast guys this year, many of which have had at least one Main Event win and one overall win. The championship could be anyone's right now. It's going to come down to who can get out of the gate clean, put themselves in good position and who can throw down for the last six races. Whoever does that will be crowned the next AMSOIL Arenacross Champion.
CG: Honestly I haven't learned too much except I've crashed more than I ever could have expected in one season. I know I have gained a lot of progress in certain areas than the previous year. It's just one of those things like I mentioned earlier, the cards have to fall in your favor. I have to let it work itself out and see where it goes from there.
Do you feel any added pressure being in the position you're in? Fighting for one of the final spots in the Race to the Championship?
GF: No. I came in as the underdog this year. This is my first full season. I don't feel any added pressure. I have a lot of respect for these riders and there should be some good racing coming down to the end of the season.
CG: I don't feel any other added pressure than any other night of racing. I am not too worried about it. I am just going to go out there and do what I know and love to do, try my best and leave it at that.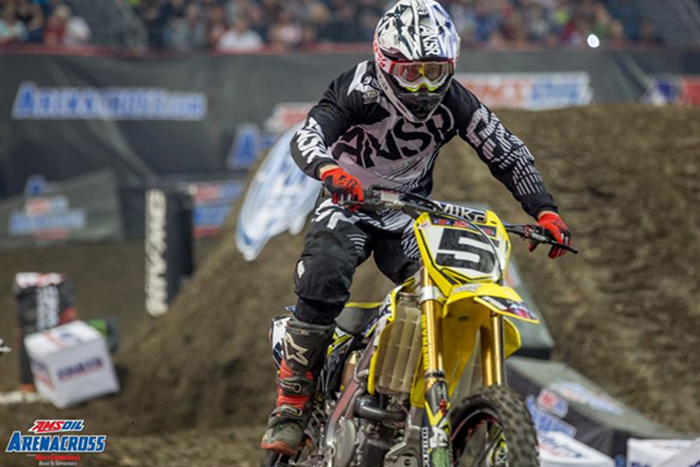 Green finished fifth in the championship a year ago and has a season-best sixth-place overall finish thus far in 2015.
Photo: Josh Rud / ShiftOne Photography
---