BACK TO NEWS
EVENT: OluKai Launches #AnywhereAloha at SFJAZZ
This past weekend, on Saturday, February 28, 2015, OluKai, in partnership with SFJAZZ, privately launched its Anywhere Aloha™ Campaign in San Francisco with Taj Mahal, Kamea Hadar and a showroom with the new spring and fall 2015 lines. This VIP event was sold-out, hosting over 700 guests and proving that though Aloha was born in Hawaii, it is a spirit not bound by geography.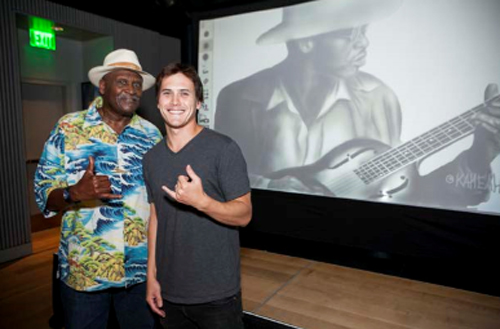 The night began with OluKai Konohiki (ambassador) and Hawaii-based artist Hadar who created a live digital mural of Taj Mahal in an enclosed space made of glass, allowing passersby on the street to witness the action. Guests also received complimentary shoe shines and learned about the inspirations for the new 2015 men's and women's lines from one of OluKai's lead designers. The two-hour Taj Mahal concert was as intimate and enlivening as it was engaging, with a three-song final set that included exuberant call-and-repeats with the crowd and a soulful encore that closed the night.
"Anywhere Aloha is about creating the spirit of Hawaii wherever we go. Tonight was a beautiful collaboration between two artists -- Taj and Kamea -- whom epitomize Aloha," said Kerry Konrady, Marketing Director of OluKai. "Being part of a such a fully alive and memorable evening was a real honor."
The Anywhere Aloha™ campaign, officially launches on Monday, March 2, 2015, and pairs three Hawaiians with three like-minded non-Hawaiians (two explorers, two surfers and two artists) who were sent on creative, inspiring adventures to far-flung corners of the map to document and spread the spirit of Aloha. To watch their adventures, please visit: www.olukai.com/anywherealoha.

---