Back to News
B$Z: AMSOIL Arenacross Interview of the Week - New ThermoTec/FMC Racing Yamaha Rider Josh Cartwright
March 5, 2015
Several weeks ago at the Colorado Springs, Colorado, stop of AMSOIL Arenacross, featuring Ricky Carmichael's Road to Supercross, Josh Cartwright ensured his dream of one day racing in Monster Energy AMA Supercross, an FIM World Championship, would become a reality when he completed the Road to Supercross. Just a few weeks later in Arlington, Texas, Cartwright became the first rider to finish the Road to Supercross and qualify for a Monster Energy Supercross race in the same season. Just this past weekend in Atlanta, Cartwright added to his historic achievement when he became the first Road to Supercross graduate to make an Arenacross Lites Class Main Event and a 250SX Class Main Event in the same season.

After such a memorable month, Cartwright is set to make his return to AMSOIL Arenacross this weekend in Council Bluffs, Iowa, after ThermoTec/FMC Racing Yamaha revealed that he will race the remainder of the season alongside Bobby Kiniry. As if Cartwright's on-track accomplishments weren't impressive enough, the 19-year-old resident of Tallahassee, Florida, is doing big things off the track as well. He is pursuing his Bachelor's Degree in Biology at Florida State University, making him full-time in both racing and in school. AMSOIL Arenacross caught up with Cartwright to see how he balances his education with his racing dreams and his thoughts on the opportunity to ride for ThermoTec/FMC Racing Yamaha.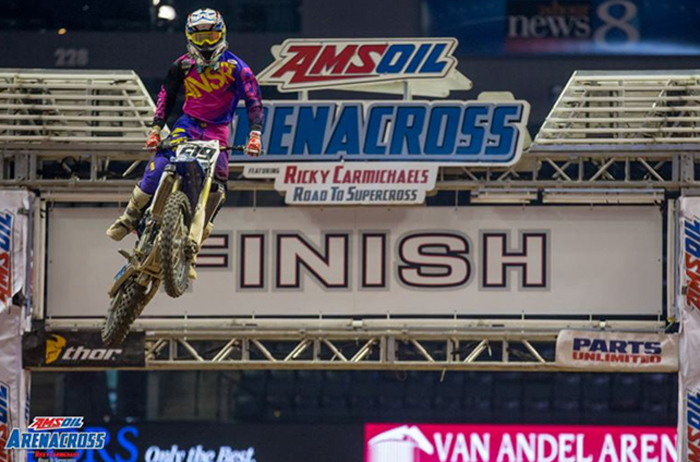 Cartwright has paved new ground for Road to Supercross competitors during the 2015 season.
Photo: Josh Rud / ShiftOne Photography
Josh, you are the first rider to ever graduate from Ricky Carmichael's Road to Supercross and qualify for both an AMSOIL Arenacross Lites Class Main Event and Monster Energy 250SX Class Main Event all in the same season. What does that distinction mean to you and how did AMSOIL Arenacross prepare for Monster Energy Supercross?
I was the first rider to graduate the Road to Supercross program this season and the biggest thing this program taught me was how to prepare for the intensity of the close, tight racing. Racing the first three rounds of AMSOIL Arenacross with the world's top athletes helped me gain experience with the aggression and intensity these races offer. I made the Main Events in both AMSOIL Arenacross Lites and Monster Energy Supercross 250SX and honestly it was such a huge accomplishment for me, a moment I will remember for the rest of my life. I have dreamed of this moment since I was little. So far, 2015 has been nothing but good to me and I have been accomplishing lifelong goals I have set for myself. I cannot wait to see what is next in my racing career!
What ultimately led to your decision to take advantage of the opportunity to race with ThermoTec/FMC Racing Yamaha and finish out the AMSOIL Arenacross season rather than continue racing in Monster Energy Supercross?
Now that I have gone and competed in some of the Monster Energy Supercross races I realized I may need more experience in this type of close, intense racing and to develop my skill sets a little bit more before competing in Monster Energy Supercross again. I am confident that being a part of the Thermotec/FMC Racing Yamaha team with Junior Jackson will help develop my intensity skills and gain more experience in this aggressive racing that I will be able to apply in my future Monster Energy Supercross races.
What skills and techniques have you found translate across both AMSOIL Arenacross and Monster Energy Supercross? Were you able to learn anything in your brief time in Monster Energy Supercross that you feel could work to your advantage when you return to AMSOIL Arenacross?
The most important skill I will be bringing from Monster Energy Supercross to AMSOIL Arenacross is how to pass. It is very huge in both supercross and arenacross, and I learned that you have to make your passes in the corners. The tracks are so short in arenacross that if you see a small window of opportunity you have to take it and run with it, even if it may be a little aggressive.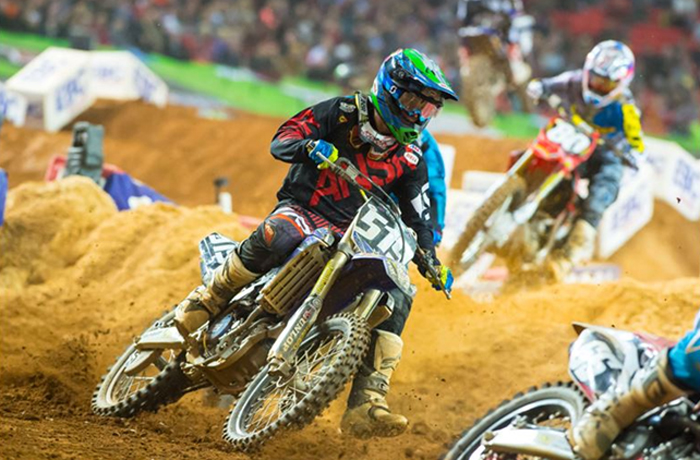 Cartwright qualified for his first Monster Energy Supercross 250SX Class Main Event last weekend in Atlanta and will return to AMSOIL Arenacross for the remainder of the 2015 season.
Photo: Simon Cudby
What advice would you give to future Road to Supercross riders that could help them even more in their progression to Monster Energy Supercross?
In practice, when you are trying to make it to the night show for your point, don't rush things. Make sure to get your whoops down, most importantly, but also your corner speed. Once you get into the night show, the first time will probably be a little overwhelming but, just like with everything, the more you compete the easier it will get. You will gain your speed and comfort, and before you know it you will be a top contender racing with the best athletes in the world!
Not only did you complete the Road to Supercross to continue pursuing your racing dreams, you recently graduated high school and are now a freshman at Florida State University. How do you balance your responsibilities in both school and racing? Has your experience in competition or your studies as a Biology major had any unexpected influence on one another?
I just graduated high school and I am now in my second semester at Florida State University. School has always been a big priority in my life. I have always been in school and kept my grades up, alongside of pursuing my dream of becoming a professional athlete. It has not been easy. I go to class Monday through Friday in the mornings and evenings to allow free time during the day for me to get in my riding and training. I want to be the first rider to have a degree and pursue being a professional athlete.
What are your goals with ThermoTec/FMC Racing Yamaha for the remainder of the AMSOIL Arenacross season?
I want to win as many AMSOIL Arenacross Lites Class Main Events as I can and work to catch up in the championship points chase. I want to be a positive representative for ThermoTec/FMC Racing Yamaha and work towards accomplishing the next set of goals I have set out for myself!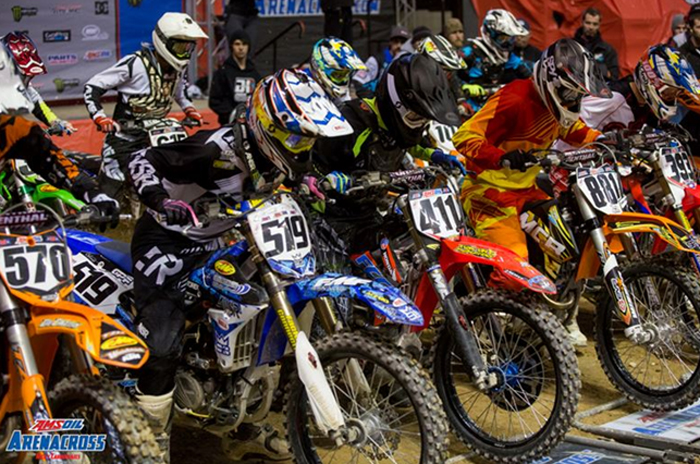 Cartwright (519) holds the rare distinction of being full time in both racing and in school, pursuing his degree at Florida State University.
Photo: Josh Rud / ShiftOne Photography
---